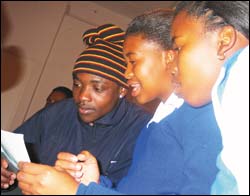 (Rhyme and reason: (From left) Zandile Pinana (grade 12), Asanda Tokozwayo (grade 11) and Ludwe Pakade (grade 11), all of Zisukhanyo Senior Secondary School in Philippi, pour over some of their poetry.
Promising young poets and prodigies from high schools on the Cape Flats flooded the Centre for African Studies (CAS) gallery during the vacation to honour new talent and show off some of their work.
The competition commemorated Youth Month 2004 and was sponsored by the South African Environment Project (SAEP), the Integrated Serviced Land Project and The Word Project of the Writers' Network at the Centre for the Book. The first of its kind, the organisers hope it will become an annual showcase of poetic talent.
The poetry of these young adults mirrored a host of concerns: appeals to unknown fathers, treatises against death, violence and crime, views on teenage pregnancy, tributes to political leaders like Steve Biko, and compositions on hope and the challenges and triumphs of life in the townships.
Prizes were awarded for the best writing in three categories: community poets, youth poets and high school poets. A panel that included the CAS's Dr Helen Moffett and Dr Harry Garuba, as well as local poet and publisher, Gus Ferguson, selected the winners. Each received books donated by Oxford University Press, Wordsworth Books (Tygerberg), and Tafelberg Press.
The programme also featured a reading of poems written by SAEP's "gap year" interns and students in extra-mural enrichment programmes conducted by SAEP in three township high schools: Sinethemba Senior Secondary School in Brown's Farm, Philippi, Zisukhanyo Senior Secondary School in Weltevreden Valley, and Oscar Mpetha High School in Nyanga East.
The winning poems will be published in late 2004/early 2005 in a special edition of Carapace, an established poetry journal published by Ferguson.
SAEP works with high school students throughout the Cape Flats in extending educational opportunities that include poetry, drama, and debate as well as academic support in mathematics, science, English and other subjects. (See www.saep.org.)
---
This work is licensed under a Creative Commons Attribution-NoDerivatives 4.0 International License.
Please view the republishing articles page for more information.
---