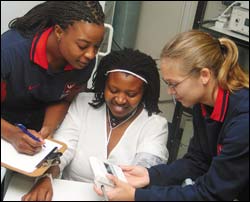 Pressure check: PhD student Zandile Mciza (left) and master's student Courtney Jennings (right) from the UCT/MRC Research Unit for Exercise Science and Sports medicine, prepare to take a blood pressure reading.
Until recently, obesity among black women was thought to be "healthy obesity" and not associated with metabolic illnesses or other health problems. But recent research has shown otherwise. Master's student Courtney Jennings of the UCT/MRC Research Unit for Exercise and Sports Medicine is researching the phenomenon and actively seeking black women for her study.
Obesity among black women is associated with high degree of associated illnesses, including diabetes (7% prevalence rate), insulin-resistance and hypertension (30% prevalence rate), as well as non-genetic factors like diet, activity level and socio-cultural influences.
And though obese white women suffer less from these maladies, they are prone to coronary heart disease and high cholesterol (hypercholesterolemia).
Obesity is a complex issue in black women with socio-cultural causes playing an important role. Studies have shown that an overweight body type is admired in the black South African community. Jennings says that when shown a range of body types, from very thin to very obese, black women chose a more ample body type as their ideal, while white women thought a leaner physique was more desirable.
"Being overweight in the black community symbolises beauty, affluence, good health and a negative HIV status," Jennings added. Nonetheless, the tendency to obesity was a cause for concern, especially among urbanised black women.
Studies show that 62% of urban black women are overweight, compared to only 28% of black urban men and 53% white urban women. Other research conducted by the unit's Associate Professor Vicki Lambert has estimated that the future prevalence of obesity in black girls at the age of 18 would be 37%, compared to 10% and 20% for white girls and coloured girls, respectively.
Jennings says that while non-genetic factors are significant, it is unlikely these factors alone would explain the higher incidence of obesity and associated illnesses among urban black women.
"Approximately 75% of the variation in the percentage of body fat and total fat mass is determined by culture and lifestyle, while 25% can be put down to genetic factors." Their study will thus also examine these genetic causes.
But information on black women is scarce. The genetics of obesity and its associated illnesses have been studied mainly in white, Asian and United States Pima Indian populations. "To our knowledge, no studies of this nature have been undertaken in a South African population," Jennings adds.
Recruiting a sample of 200 black women (100 obese and 100 lean) and 200 white women (100 obese and 100 lean), aged between 20 and 45, Jennings plans to investigate the frequency of polymorphisms within those genes believed to be associated with obesity and its related illnesses. "I also hope to investigate the interaction of these polymorphisms with socio-cultural factors."
However, recruiting suitable black women is taking some doing. Co-opting her colleagues from ESSM, Jennings has been offering basic health checks at churches and community centres, and even at UCT student residences, hoping to find willing and suitable subjects. Those who meet the inclusion criteria are invited to participate in the rest of the trial.
The two-part questionnaire the group is using was designed by PhD student Zandile Mciza as part of her research into health behaviour of South African women and their daughters, where influence might be transferred from mother to daughter and vice versa.
"Though obesity is a worldwide problem, we still lack South African validated culturally-sensitive instruments to understand the risks," she said. Mciza had designed two age-adjusted and culturally-sensitive questionnaires to measure weight-related attitudes and behaviour, and body image.
She also built in a construct called the Feel Ideal Index (FDI). Subjects choose a picture they feel reflects their current body type. They also choose their ideal body type. The FDI difference between the two determines whether the subject wants to lose or gain weight.
---
This work is licensed under a Creative Commons Attribution-NoDerivatives 4.0 International License.
Please view the republishing articles page for more information.
---