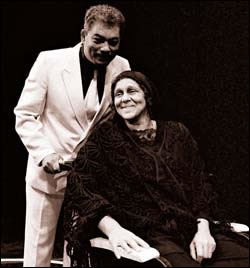 Peter Butler and Denise Newman star in Kanna Hy Kô Hystoe.
Grad edition of MP
It's snuck up on us again. Yes, June 18 is time for graduation and your favourite weekly publication is looking for worthy grad stories to publish that week. If you have a student or know of someone with an interesting grad story to tell, please contact Helen Théron at theronh@bremner.uct.ac.za,, tel 650-4145, with details. We're interested in graduands who have done fabulous or topical new research. They may even be the first in their family to graduate. Or perhaps this is their third/fourth/fifth degree. They may even have completed their studies against some tough odds. Our deadline is June 7, so please get in touch quickly.
PASS Forum party
Please diarise the PASS Forum mid-winter party when you can join your colleagues for glowing company, red-hot snacks and warming drinks on the shortest day of the year, Monday, June 21, 16h30 to 18h00, in the Senate Room. Please confirm your attendance (for catering purposes) by e-mailing Lesley Shackleton at lys@world.uct.ac.za..
Correction
In last week's Monday Paper in the story on Chupe Serote's election to the UCT Council, we incorrectly reported that AC Jordan, Pallo Jordan, Albie Sachs, Jack Simons and Sarlea Dollie were all former Council members. Dollie was in fact the only one to have been a member. We regret the error, which crept into the editing process.
Play returns to the Baxter after 19 years
To honour and pay tribute to the contribution made to South African theatre by local literary icon Dr Adam Small, the Baxter Theatre Centre proudly presents his critically acclaimed Cape classic Kanna Hy Kô Hystoe from June 2-19. Kanna returns to the Baxter after 19 years, but this time it is performed in its original language - Afrikaans. Directed by Royston Stoffels with a stellar cast led by Peter Butler and Denise Newman, this dynamic, new full-length production proves that this classic story of identity is still relevant today, nearly 40 years after it was first penned. Kanna has been performed extensively throughout South Africa by some of the country's top actors. The book is also currently the prescribed Afrikaans setwork in the school curriculum. Performances are at 20h00 nightly. For block bookings and charities please contact Sharon on 680 3962 or book at Computicket.
---
This work is licensed under a Creative Commons Attribution-NoDerivatives 4.0 International License.
Please view the republishing articles page for more information.
---