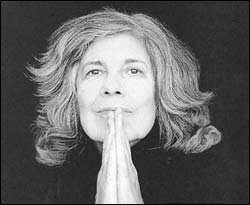 Outspoken: Susan Sontag will speak in the Jameson Hall at 18h00 on Wednesday, March 17.
Susan Sontag - writer, critic, filmmaker, stage director, human rights activist, icon and provocateur - speaks at UCT this week.
Although not one to shy away from controversy and not averse to panning, even post 9/11, either her country's foreign policies or its commander-in-chief, Sontag remains one of the US' most celebrated literary figures. Her writing, without fail, sparks as much debate as it elicits hosannas, and has graced some of America's leading publications.
Her 1987 anthologised story The Way We Live Now was included in both The Best American Short Stories of the Eighties and The Best American Short Stories of the Century.
Sontag's reputation at home is matched by her fame and notoriety outside of her native country. Her books have been translated into 32 languages, while her plays have been performed widely, from Mexico to Korea.
She was made an honorary citizen of Sarajevo after she staged an adaptation of Beckett's Waiting for Godot in the besieged city in 1993. From 1987 to 1989, she was president of the American Centre of PEN, the international writers' organisation dedicated to freedom of expression and the advancement of literature.
In addition, Sontag has also won a string of international awards, including the 2003 Peace Prize of the German Book Trade and the 2001 Jerusalem Prize.
Regarding the Pain of Others, her latest book - seen by some as a follow-up to her canonical 1977 treatise, On Photography - has been described as a "profound rethinking of the intersection of 'news' art, and understanding in the contemporary depiction of war and disaster".
And she has an equally admiring fan base in South Africa where, this week, she addresses a gathering at Wits University, before making her way to Cape Town and UCT to deliver a lecture here.
She is "phenomenally brilliant and a mature essayist", wrote UCT's Professor Joan Hambidge in Die Burger, shortly after news broke that the writer would be stopping over in South Africa. "Sontag has, second only to Roland Barthes, probably had the most formative influence on my thinking as an intellectual," she eulogised.
Another UCT scholar to credit Sontag with shaping her life and work is Associate Professor Lesley Marx who, through a colleague at Wits and a casual remark, initiated Sontag's visit to UCT.
"She has been one of my 'culture heroes' since I was 18," Marx said.
Commenting on some of Sontag's writing, Marx added: "Sontag's early (1965) essay, Against Interpretation, concludes, 'In place of a hermeneutics, we need an erotics of art'. "The ability to conclude with a sentence so beautifully balanced, so suggestive and so appropriately climactic to the force of her argument against interpretation is just one aspect of Sontag's mix of provocation and enchantment.
"Earlier in the same essay, Sontag tells us: 'Real art has the capacity to make us nervous.' Or, eight years later, in her seminal book on photography: 'To collect photographs is to collect the world', and again, the opening sentence of her powerful meditation on illness: "Illness is the night side of life, a more onerous citizenship'.
"These are not merely clever, elegant turns of phrase," noted Marx, "but distillations of a passionate mind and a fierce intelligence whose exploration and articulation of the multiple forms of expression and behaviour during the twentieth century and beyond have made Sontag one of the most enduring and always enthralling of thinkers."
---
This work is licensed under a Creative Commons Attribution-NoDerivatives 4.0 International License.
Please view the republishing articles page for more information.
---