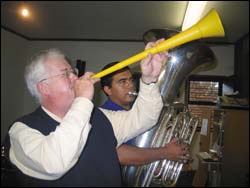 Viva vuvuzela:The South African College of Music's Sean Kierman hits the B flat - about the only note you can play on the soccer horn. Fourth-year student George Foster tries some accompaniment on the tuba.
It may be a mournful noise but get too close to a vuvuzela in full throttle and you may permanently damage your hearing, says South African College of Music's Sean Kierman.
"We're measuring it and it's a very intense sound, particularly in a large group," Kiernan adds, thinking of the thousands of soccer fans expected to converge on South Africa stadia for the 2010 FIFA World Cup.
But get used to hearing it. This is the sound and shape of local soccer festivities. Even Mother Anderson in Madam and Eve has hers at the ready for 2010. The fluted, brightly-coloured plastic horn that emits the cacophonous B flat will send any but the most zealous soccer devotee back through the turnstiles.
It's the length of the horn that determines the note, in this case a fundamental B flat. "That's why you can play the note down but not up," Kierman says. To the musically unschooled (MP writer included), the range of notes from a vuvuzela is otherwise very limited, which makes up for the monotony of the sound. (One bemused British journalist was prompted to ask if the noise was an African mating call.)
To get the sound you need to buzz your lips, says Kierman, much like small boys playing motorboats in the bath do. It takes a lot of air and you may find you resemble Dizzy Gillespie.
"It's not the sweetest sound possibly," Kierman concedes politely.
But before you dismiss it as a new-fangled, soccer thing, the vuvuzela has been around for a few years. Even European soccer has little to rival it, despite the tradition of English and Welsh soccer leaning towards constant song at their gatherings. "Each club has selected songs," Kierman explains. "Like the British Lions' rugby chorus 'Swing low sweet chariot'."
South Africa has a similar version in "Shosholoza" ("Chocholoza", or "Go forward"), the "call and response" characteristic of African music, with one voice being followed by others in harmony. But it's an incantation that tends to get the purists tut-tutting.
"It's a funny one that," Kierman adds. "We think it may have come from Zimbabwe. It's an onomatopoeic description of the sound of a steam engine and comes from the time the railway was being laid there."
Single-note instruments like the vuvuzela are a well-established part of African culture, like kudu horns. Other instruments that compare are the German hunting horn, made primarily of brass, but with a plastic component clad in leather. It plays a B flat much like a bugle. The English hunting horn is even shorter. "In design the vuvuzela is very much like the fish horns used at Muizenburg and Kalk Bay to announce the catch, though the fish horn is much shorter," notes Kierman.
Kierman has been following the soccer bid with interest, though he last put foot to ball in China (his parents were diplomats) in the early 1950s. "Getting the World Cup is a positive celebration," he says. "If you think about it, soccer is also a very democratic sport; all you need is ground and a ball."
When Monday Paper tried to buy a vuvuzela for closer inspection, the prices varied from R15 to R30. In the music room where Kierman and fourth-year student (BMus Orchestral Studies) George Foster are practising, the tuba is valued at around R75 000. So you may want to consider a vuvuzela instead. There is talk that manufacturers plan to pump up its sound by introducing a thethazela, a new horn that produces 10 times the volume of the vuvuzela.
Big noise. Big news.
---
This work is licensed under a Creative Commons Attribution-NoDerivatives 4.0 International License.
Please view the republishing articles page for more information.
---