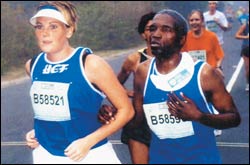 Running blind: Blind student Siphiwe Mashawu (right) with Caryn Barratt, at this year's Two Oceans half-marathon.
Siphiwe Mashawu is, as Professor John Simpson, chair of UCT Sports Council, pointed out at the university's sports awards dinner two weeks ago, not going to rewrite the record books anytime soon.
But the social science student's appearance in and completion of three half-marathons (including the Gun Run and the 21.2-km race at the Two Oceans) this year is remarkable for the fact that Mashawu did not see a single stride he took in any of these races. A particularly violent reaction to tear gas - a common bane in Soweto, his hometown, in the turbulent early-1980s - when he was only nine years old, rendered Mashawu totally blind by age 12.
But he didn't let the loss of sight stand in the way of his goals. And at the sports awards gala on Friday, October 17, Simpson saluted Mashawu's plucky performances by awarding him this year's Chairperson's Award - an unexpected thrill, Mashawu said - for special achievement in sport.
A second-year social science student, Mashawu navigates his way around campus with either a cane or on the friendly arm of a friend (he also showed, with the Monday Paper reporter in his wake, that he is very adept at finding his way to the Text Conversion and Assistive Technology Services [TCATS] centre in the Student Development and Services building, where he picks up his daily mainstay of Braille transcripts and recorded cassettes).
Finding his way around racing venues is trickier, however.
He's very dependent on his UCT Athletics Club teammates, both when training or competing, as he needs someone to run alongside him (an occasional voice instruction or touch on the arm keeps him on the straight and narrow). But often there's no-one around at practice to guide him, and he has to make his way back to residence without a run.
Occupational therapy student Caryn Barratt came to his aid for the 2002 Gun Run and this year's Two Oceans, however, training and racing with him for both events.
Mashawu is still basking in his sports awards coup - "It's nice to have one's achievements recognised" - but is taking time off for now to prepare for exams. Next year, however, he plans to realise a few modest goals on the local tracks and tarmac, such as improving his racing times.
"I take my running very seriously," he said. "It's hard to find someone to always train with, but I would like to do a few more 21-kays next year, and sometime in the future I would like to maybe run races in other parts of the country."
---
This work is licensed under a Creative Commons Attribution-NoDerivatives 4.0 International License.
Please view the republishing articles page for more information.
---