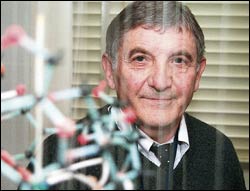 Gold rush: Prof Luigi Nassimbeni has been named as the 2003 recipient of the South African Chemical Institute's (SACI) prestigious Gold Medal, in homage to his contributions in the field of physical chemistry.
UCT professor of physical chemistry, Luigi Nassimbeni, has been named as the 2003 recipient of the South African Chemical Institute's (SACI) prestigious Gold Medal.
The medal, the institute's premier award, is made to persons whose contributions to the field of chemistry or chemical technology are considered to be of outstanding merit.
For Nassimbeni, the laurel caps - but in no way concludes - 38 years' of research and invention in physical chemistry at UCT. His continued curiosity in the make-up and design of inclusion compounds - the chemical trapping of small molecules within the spaces between other molecules - has spawned a number of highlights over the past decades, he noted.
These include the watershed purchases, in 1983 and 1998, of expensive state-of-the-art crystal diffractometers, thanks to the financial support of the Goldfields Foundation (for the second diffractometer) and the National Research Foundation (NRF). Previously relying on other institutions for data, the two machines afforded staff and students in the Department of Chemistry priceless scholarly freedom, Nassimbeni pointed out.
"These events were important for us because they allowed us to become independent and competitive," he said.
Another memorable occasion was the establishment of the Supramolecular Chemistry Group (SCG) alongside colleagues (and former students) Professors Susan Bourne and Mino Caira in 1998. This unit works on a spread of fundamental and applied problems, including boosting the bioavailability (suitable for the use of the body) of certain drugs through the design of appropriate capsules, and producing open metal structures for catalysis.
The group currently includes more than 20 master's, doctoral, and postdoctoral students. Identifying talented students and nurturing their curiosity and flair for the subject have made the past 38 years very rewarding, said Nassimbeni.
"A place like UCT gives you the chance to capture very good MSc and PhD students, very bright young people. And interacting with them is very stimulating.
"I've always believed that a professor is only as good as his or her students."
According to Nassimbeni, much of the credit for the SACI medal must go to his colleagues and students in the SCG. "The work we've done here has been very much a group effort," he noted.
Nassimbeni will be handed the medal - forged out of an ounce of gold - at SACI's 2004 conference, where he will also be obliged to deliver the plenary lecture.
---
This work is licensed under a Creative Commons Attribution-NoDerivatives 4.0 International License.
Please view the republishing articles page for more information.
---