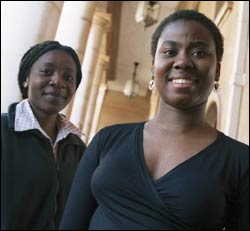 Anthropology achievers: Mozambican master's students Sandra Manuel (left) and Margarida Paulo who have done their department proud by winning a best paper award and a one-year research fellowship, respectively.
It has been a victorious period for UCT's social anthropology department with two of their master's students scooping a prestigious award and a fellowship.
Sandra Manuel received the Best Paper Award at a June PhD forum in Johannesburg, which took the form of a graduate workshop on HIV/AIDS and was part of an international conference entitled Sex and Secrecy.
The forum aims to stimulate academic debate and exchanges among postgraduate and doctoral students in the humanities and social sciences.
Among the seven papers presented, renowned anthropologists Peter Aggleton of the University of London and Richard Parker of Columbia University, said Manuel's presentation, Obstacles to condom use among secondary school students in Maputo City, had all the necessary ingredients when selecting a paper for publication.
She was encouraged to submit her paper to them for further consideration.
In her study, Manuel explored how young people construct and give meaning to their sexuality and she identified the cultural and social factors that hinder them from having safe sex.
She believes her study can assist policy makers and AIDS awareness campaign organisers in tackling these issues and restructuring their strategies to increase the number of people who use condoms.
"The AIDS awareness campaigns should focus on dismissing the self defence myths that young people hold, which give them a sense of immunity against the disease," she said. "And due to women's constraints when negotiating male condom usage, there must be more female condoms made available.
"The cost of obtaining such condoms must be reduced and it is essential that the availability of the female condom be advertised," said Manuel.
Young people should be encouraged to invest emotionally in their health by using a condom, she added.
In another coup for the department, Margarida Paulo was awarded an illustrious international fellowship for her research based in Mafalala (Maputo). This explores strategies for HIV/AIDS prevention in a context where many young people feel pressurised to prove their fertility.
The Council for the Development of Social Science Research in Africa (CODESRIA) in partnership with South Africa's National Research Foundation (NRF) and the Social Science Research Council (SSRC) chose Paulo's paper from 126 reviewed applications.
Once she has completed her master's at UCT, Paulo will return to Maputo to take up the year-long fellowship, which will allow her to further her research into how social norms pressurise young people to reproduce.
"Fertility and virility are seen as very important attributes as they lead to creating and expanding the family, which is sanctified," Paulo explained. "The problem is that in bowing to social pressures to prove themselves, young people are indulging in unsafe sexual practices."
Paulo hopes that the results of her research in Mafalala can be generalised to other areas in Maputo.
She said: "By providing NGOs and HIV/AIDS educators with information about the social and cultural practices young people face, I hope they will be able to change their initiatives to make them more applicable and successful.
"I know there is a lot of work coming my way," Paulo added. "But I'm ready for it and looking forward to the challenge of changing people's minds regarding the notion and construction of femininity and masculinity. Hopefully this will contribute to reducing the number of AIDS related deaths in the area.
"I would like to thank my supervisor, Dr Lesley Fordred Green, who was a constant source of encouragement during my fieldwork," Paulo concluded.
---
This work is licensed under a Creative Commons Attribution-NoDerivatives 4.0 International License.
Please view the republishing articles page for more information.
---