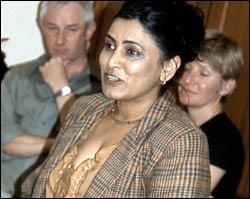 Partnership: Priscilla David (CTFL SETA), manager of the Clothing Chamber.
They come in all ages and guises, speaking many languages; some with school leaving qualifications, others with good writing and reading skills, many from the shop and factory floors of the Western Cape. They're on Campus to gain formal qualifications in adult education courses. And they're rubbing shoulders with the more mainstream academic achievers at UCT's graduation ceremonies. They are the changing face of education in South Africa.
In December next year, 24 participants in the CTFL SETA programme hope to graduate with a Diploma in Education. But these participants are not your average UCT students. They have been drawn from 16 clothing factories, one of the province's staple industries and a large employer of women. The programme is the UCT education department's first tailor made diploma course, designed specifically for the clothing, textile, footwear and leather industries, which fall under the CTFL Sector Education Training Authority (SETA). The SETA draws on Skills Fund money to pay for the learners on the programme, thus they come fully-funded.
"In South Africa and internationally there is a move to understand adult education in the context of lifelong learning," said Janice McMillan, Convenor of the Diplomam, and a lecturer in the Adult Learning Group within the Centre for Higher Education (CHED). Certainly in South Africa, adult educators are becoming more centrally positioned than ever before as changing education policies bring adult education closer to other forms of education, through the reform of qualification frameworks.
UCT offers a range of adult education qualifications, starting from an entry-level diploma (Level5 on the NQF) up to a master's degree. As indicated, students come from a variety of fields; human resource development, workplace training, health education and trade unions.
"In recent years greater priority has been placed on developing well-trained adult educators," McMillan added.
The University's work in the field has grown significantly since 1999 when the Adult Learning Group was first approached by the Textile Industry Training Board for help in developing their trainers.
"Students come to our courses with a wealth of experience and ideas and our courses enable them to develop professionally and increase their capacity for reflection and innovation by linking theory, practice and skills development."
In the first year the of the CTFL SETA Diploma in Education, students focus on design and facilitation skills: an introduction to adult learning, organisation development and designing and facilitating learning events. This is followed in the second year by the impact of organisational, social and policy contexts on their training practices. They also conduct a field study project.
The participants have many years of experience in the field of adult education and want to improve their practice by doing the Diploma.
"We provide them with a broader perspective, developing their learner roles as well as their educator roles," McMillan noted. While the focus is on developing their skills as critical reflective practitioners (practitioner role), there is also attention given to the development of academic reading and writing (learner role). This is because the Diploma has an alternative entry mechanism permitting entry without a matric or school leaving certificate.
This year the diploma course has seen another innovation: skills are being transferred from the university environment back to the factory. Line managers are being drawn in as mentors, so as to develop their own capacity and understanding of their roles on the factory floor, to identify relevant projects in their workplaces, and to provide support and mentoring for their emplyees who are learners on the Diploma. "Mentoring is a large part of the learnerships," McMillan added.
Like other adult education classes, this part-time group adds to campus diversity and broadens the students' social base. The CTFL SETA students are mainly Afrikaans-speaking and among the current cohort is a senior student, Ann Lingham who works for Cadema Fashions. She has many years' experience - in fact she is nearing the end of a 40-year career at Cadema Fashions! In addition, the students have a collective 600 years' work experience to share with their UCT facilitators who visit the factory sites where their students are based. These visits, McMillan believes, are vital for this work-based training: "It is important that the on-campus teaching takes seriously the context of the factory environment and the ways in which this can act to shape the educational experience."
The plan for 2004 is to offer a full Master's in Adult Education from the education department (senior lecturer Linda Cooper is the convenor), also drawing on staff from the Adult Learning Group and CHED.
"We hope that this new Diploma venture will provide the basis for a longer term, ongoing contractual relationship between UCT and the CTFL SETA," McMillan concluded.
---
This work is licensed under a Creative Commons Attribution-NoDerivatives 4.0 International License.
Please view the republishing articles page for more information.
---