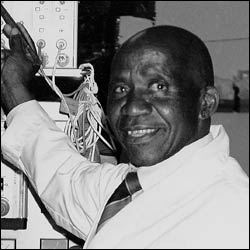 Former laboratory assistant Hamilton Naki.
The renowned rambling greenery that graces UCT's buildings may have gone into overwinter dormancy and lecture theatres and tutorial rooms may be silent as the semester winds down, but for several groups on Campus things are hotting up for the mid-year graduation on Friday, June 20. A prodigious 1 057 undergraduates and postgraduates will be capped and honorary degrees will be awarded to three of the City's finest citizens: the Anglican Archbishop of Cape Town, Njongonkulu Ndungane; satririst Pieter-Dirk Uys; and UCT retiree Hamilton Naki.
UCT's June graduand tally has steadily increased over the past three years. This year's figure of 1 057 is well up on both the 2002 and 2001 figures of 923 and 880, respectively. Especially inspiring is the large number of postgraduate students; 664, well over half the graduands (2001: 605).
At the 10h00 ceremony degrees and diplomas will be awarded to 495 Commerce students (2001: 417), and 57 Health Sciences students (2001:49). At 14h30 degrees and diplomas will be awarded to 92 Science students (2001: 82), 55 students from Engineering and the Built Environment (2001: 78), 241 from Humanities (2001:238) and 117 from Law (2001: 98 postgraduate students only). (Figures correct at time of going to press.)
In addition, three of the City's best citizens will also receive honorary degrees at the graduation ceremonies.
Satririst Pieter-Dirk Uys will be awarded the degree DLitt (honoris causa), for distinguished, socially responsible creative work. Uys who was born, bred and "invented" in Cape Town, is a writer and entertainer who has had his works performed all over Africa and abroad. He is the author of 35 plays, of which more than 15 have been published. In addition, he has appeared all over the world. Over the past 30 years his "humour therapy" has made him a national treasure. More recently, his range of characters, among them the inimitable Evita Bezuidenhout, has turned their attention to attitudes towards HIV/AIDS.
Uys said he was honoured to be thought of in such illustrious company. "The Archbishop of Cape Town is a great spirit and a great warrior on the battleground for peace and reconciliation. And Hamilton Naki is an inspiration to everyone who prays for dreams to come true.
"Me? Why me? I can't spell, I don't understand Chaucer or Blake, won't read Proust, love Jackie Collins, and now a DLitt. Maybe it's because Mrs Bezuidenhout has such great legs?" he told Monday Paper.
According to Uys, UCT provided him with the greatest view of the world - not just from the steps of Jameson Hall, but in the magical hoekies of the library.
Uys explained: "I must admit, I did more vroeteling than studying, but it was through my experiences at UCT that I realised Verwoed, Vorster and the NG Kerk were wrong. I'm still trying to find out if anyone was right. I'll let you all know."
The Anglican Archbishop of Cape Town Njongonkulu Ndungane, who has had a distinguished career as theologian and priest here and abroad, will be awarded the degree of DPhil (honoris causa) in the humanities for his commitment to socio-political issues and his courage in tackling sensitive issues. Among these is his call for accountability with regard to HIV/AIDS. He also heads the Inter-religious Commission on Crime and Violence in the Western Cape, and was the prime mover for the Annual Men's March against the abuse of women and children in Cape Town.
Hamilton Naki will receive an honorary Master of Science in Medicine for his pioneering work with heart transplant surgeon Professor Chris Barnard. Naki, who came to Cape Town at the age of 18, started his career at UCT as a gardener. He was recruited by Professor Robert Goetz as a laboratory assistant, where he learnt to anaesthetise a variety of animals, including a giraffe. Naki was anaesthetist to Barnard when they performed the work that led up to the first heart transplant. He was also one of the few people who could anaesthetise a pig and transplant its liver, virtually without any assistance. He retired from UCT in 1991.
For Naki, it will be a proud moment when he steps up to be capped, "gown and all". Speaking to Monday Paper prior to the event, Naki said he was extremely proud to be receiving an honorary degree. Members of his family will be there to root for him on the day, in addition to the family celebration that has been planned.
(This graduation edition highlights a handful of the many achievers who will be capped on Friday.)
---
This work is licensed under a Creative Commons Attribution-NoDerivatives 4.0 International License.
Please view the republishing articles page for more information.
---