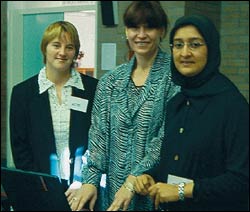 Aiding communication: (From left) Lori Michelson from UCT's Mfesane Project, Dr Kitty Uys and Shakila Dada from the University of Pretoria's Centre for Augmentative and Alternative Communication.
Addressing delegates at the opening of a functional communication workshop series, Lori Michelson, of UCT's Mfesane Project for the Early Identification and Management of Disabilities, reflected on the urgent need to provide those who can't speak with the opportunity to communicate, participate and learn in society.
The multi-disciplinary workshops for rehabilitation staff who work with severely disabled children, both in formal and informal settings, was held at the Red Cross Children's Hospital from May 19 to 21.
"We need to break the silence and enable communication with our most severely disabled children to take place. We hope the workshops will not only equip delegates with skills and knowledge but a new energy to put functional communication into practice," said Michelson.
The Mfesane Project for the Early Identification and Management of Disabilities hosted the workshops in collaboration with the University's School of Health and Rehabilitation Sciences.
Key speakers from the Centre for Augmentative and Alternative Communication (CAAC) at the University of Pretoria ran the workshops, which focused on early childhood intervention in aspects of play and functional communication.
The CAAC is an internationally recognised organisation that has developed and researched approaches for functional communication with severely disabled children, combining alternative low-tech communication systems with best positioning techniques and appropriate play and stimulation activities. Integral to these approaches are the principles of early intervention, multi-disciplinary collaboration, long-term community-based interventions and the appropriate use of resources.
Delegates (some of whom travelled from as far afield as Vredendal, George, Oudtshoorn, Port Elizabeth and the Free State) included rehabilitation staff working in childhood disability in health care facilities, and representatives from special schools and centres, training institutions, private practice and community-based programmes. They included occupational therapists, physiotherapists, speech pathologists and audiologists, teachers and educators and community-based rehabilitation workers, as well as caregivers of disabled children and representatives from disabled persons organisations.
According to Shakila Dada from the CAAC, the workshops also provided the opportunity to build infrastructure and expertise in this area, which until now had been "seriously lacking".
Dada said: "Getting Augmentative and Alternative Communication (AAC) going in the Western Cape ensures communication becomes a basic human right where people are no longer marginalised because they are unable to communicate.
"These delegates, by going back to their places of work and communities and sharing what they have learnt, will build infrastructure in the area of AAC. They will also ensure that individuals with complex communication needs will be able to return to society as contributing members," she added.
A separate workshop for final-year therapy students from UCT and Stellenbosch was held from May 21 to 23.
---
This work is licensed under a Creative Commons Attribution-NoDerivatives 4.0 International License.
Please view the republishing articles page for more information.
---