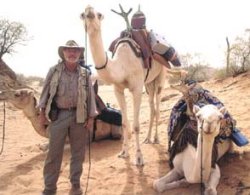 Camel man: Prof Heinz Rüther, with two of the camels from his caravan of 16 that travelled for two weeks through the southern Sahara and the difficult terrain of the Tasilin'Ajer mountain range in Algeria.
PROFESSOR Heinz Rüther, head of UCT's Department of Geomatics, is one of four experts who were recently filmed while searching for the rock art of the Tasilin'Ajer mountain range in Algeria.
Rüther lent his expertise in the field of heritage photogrammetry to the project, which was funded by the internationally renowned National Geographic Society and the Nairobi-based Trust for African Rock Art (TARA).
Rüther's use of digital photogrammetry to create three-dimensional digital models of some of Africa's most ancient monuments, made him the prime candidate for the task of recreating 3D images of the rock panel. This will appear later on the film and possibly in an article in the
National Geographic
magazine.
Rüther previously used photogrammetry to create 3D records of two World Heritage Sites; the 800 year-old, subterranean Ethiopian Orthodox church in Lalibela and the ancient hominid footprints, believed to be about 3.7-million years old, in Laetoli, Tanzania. He is presently involved in the documentation of another World Heritage Site, Kilwa, in Tanzania.
Photogrammetry is a digital imaging method that uses photographs to obtain precise measurements of 3D objects. In heritage photogrammetry, the technique is used to re-create plans of the structure into 3D models and computer visualisations, as well digital ortho-images.
Ortho-images, or "rectified" images, allow researchers to take measurements directly from the images, which is not possible with "un-rectified" photographs or images. "Ortho-images can be draped over the 3D model for virtual reality environments," explains Rüther.
The traditional (and still predominant) application of photogrammetry is the creation of technical and topographic maps or databases from aerial photographs (photogrammetric mapping). More recently, however, archaeologists and heritage conservationists have found photogrammetry to be particularly useful.
In these applications, the exact dimensions of the site make it easier for restorers to locate specific problem areas, and determine and quantify the extent of any damage. Photogrammetric recording also forms the basis for databases on heritage sites. These databases can contain contour lines, digital terrain models or profiles of surfaces, as well as written text about sites or structures.
Rüther's work with
National Geographic
was filmed in November last year, and involved a month-long trek, two weeks in a 4x4 and two weeks on a camel, through the southern Sahara in search of the Tasilin'Ajer mountain range rock art, and a search for new rock art sites.
David Coulson, Director of TARA and author of a number of books on Africa, led the expedition, and was assisted by Alec Campbell and Victoria Waldorf.
"The Tasilin'Ajer mountain rock art site that we documented, is a ten by ten metre wide, horizontal rock panel with very large giraffe engravings on it," Rüther explained. "Nobody has been able to view the rock art in its entirety because the site is horizontal and flat and there are no elevated points from where to actually view the engravings."
Rüther's task was to create a 3-D model, that could be reproduced and viewed as a single image. This involved taking 450 photographs from an elevated position in 35 degree centigrade heat. "The aluminium ladder that I intended using was partly lost at the airport on our arrival, so we had to construct the missing pieces from branches, which was difficult because there are not many trees in that area. But it was an exciting experience," he enthuses.
Rüther is full of praise for the team of Tuaregs who assisted him throughout the project and taught him how to cope with the environment — and some temperamental camels.
"I also could only work certain hours of the day because of the light conditions, and in order to avoid shadows on the images I had to vary positions continuously. As a result the documentation was a long, laborious process."
Rüther says that the Tasilin'Ajer rock art panel is significant because the roughly eight thousand year-old engravings depict historical passages of life in the southern Sahara.
"This area must have been relatively densely populated, covered with vegetation and a wealth of animals like giraffes, elephants, antelopes and hippopotami. And the engravings are not only from one period, these were done over time and are a reflection of a people's spiritual life and their understanding of their environment," he remarked.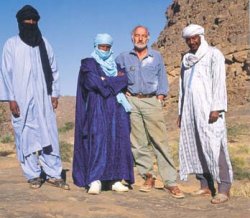 Mixing with the locals: Prof Heinz Rüther and three of the Tuaregs, indigenous people of Algeria, who assisted him during his month-long stay in the desert.
---
This work is licensed under a Creative Commons Attribution-NoDerivatives 4.0 International License.
Please view the republishing articles page for more information.
---