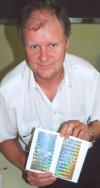 Stars of Hope: Groote Schuur Hospital senior paediatrician Dr Paul Roux with one of the handcrafted Stars of Hope. The beadwork is part of the
Positive Beadwork Project
used to provide jobs for HIV-positive mothers attached to his paediatric AIDS clinic. (If you would like to buy one of these cards, please contact Lauraine Vivian, email: lvivian@cormack.uct.ac.za).
DOCTOR, paediatrician, hawker and entrepreneur. It's not the official job title you would find in Dr Paul Roux's file, nonetheless the senior paediatrician and director of the Groote Schuur Hospital paediatric HIV/AIDS service in the G25 children's ward is all of the above.
Besides his day job, including weekly AIDS clinics for his small patients, Roux has found the enthusiasm to launch a successful fundraising initiative to buy precious anti-retroviral medicines at a reduced price from GlaxoSmithKline.
Using empty space in the ward (caused by budget cuts), he has also initiated job creation projects to assist the children's HIV-positive mothers and families, going far beyond the brief of the ordinary doctor.
"We who trained in paediatrics and paediatric nursing were not taught how to deal with our helplessness in the face of so many deaths. We have forced ourselves to change perspective on our work and its products. We had to learn to provide comfort rather than to help cure and to find ways to sustain the quality of as much life as our patients are given," he explained.
"The harsh truth of HIV/AIDS has caused many to look the other way. Talk in academic circles is often about prevention of mother-to-child infection or about so-called 'step-down' facilities to draw sick children away from acute care beds. Seldom are there positive ideas about how to deal with the reality of sick children."
Working with other health professionals in the ward, Roux has also launched a website
www.Kidzpostive.org
, an extension of the Kidzpositive Children's Fund, with help from Mark and Sean McLaughlin (Sean was working in ITS at the time).
"The families affected by HIV and AIDS were carrying an impossibly heavy burden that could in many ways be alleviated by financial support. But we will never have enough money to control AIDS. We shouldn't look to government for funds, nor should we look to charities. The cake is only so big. We thus resolved to make a positive contribution by raising funds for affected families by an appeal to foreign donors."
Recently the
One to One Children's Fund
in Britain (Terry Waite is a patron) made a major donation to the Fund; R1,5-m a year for three years. The funds can provide antiretrovirals for 200 children attached to Roux's clinic. He has also obtained permission to include 40 HIV-positive mothers in the programme, a major coup.
The Positive Beadwork Project
stems from the ward's model of health care delivery for paediatric HIV/AIDS children: a holistic in- and out-patient service for HIV-affected children.
The Project brings together HIV-positive mothers who use their beading skills to earn money. Between June and November 2002 they made just under R40Â 000 from beadwork products. (One of the biggest buyers was the Levi franchisee in London who bought 350 of the ribbons for his staff to wear on World AIDS Day.)
"The money puts food on the table," Roux explains. "It's essential to keep the whole family healthy for as long as possible, so that the children don't become AIDS orphans."
The latest beading project has a Christmas theme and is dubbed simply the
Star of Hope
. The mothers make delicate silver and blue beaded stars and attach these to Christmas cards. You put the star on your tree; an ideal gift and a steal at R20.
To visitors to the ward, Roux talks of ingenuity, versatility and resourcefulness, business survival concepts popularised in Clem Sunter's and Chantelle Illbury's book,
The Mind of a Fox
. He believes these are ideas doctors in state hospitals will need to embrace to cope with HIV/AIDS.
But the responsibilities are multifarious; the problems legion and the logistics even bigger in their miniscule detail: "Why aren't you doing beadwork?" he asks one of the mothers. She shrugs. "I don't have needles," she replies.
As Roux turns to deal with the respiratory problems of one of his tiny charges, he makes a mental note to add "beading needles" to a list.
In times gone by, syringe needles were probably the only needles he thought about.
---
This work is licensed under a Creative Commons Attribution-NoDerivatives 4.0 International License.
Please view the republishing articles page for more information.
---