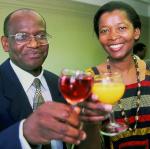 Cheers: Dr Duma Malaza, Director of Planning, here with his wife, will leave UCT at the end of the year for a new post at the University of Pretoria.
DR DUMA Malaza, UCT's Director of Planning, last week bade a "ceremonial" adieu to colleagues as he prepares himself to take up a new post at the University of Pretoria at the beginning of next year.
Malaza, a high-energy theoretical physicist by training, was recently appointed as Executive Director: Planning and Quality Assurance at Tukkies, and will move "back home" to Pretoria – he grew up in Springs – to take office on January 1, 2003. He has been Director of Planning at UCT since March 2002.
In addition to his academic posts at UCT, the ORSAY Laboratory, the University of Transkei and the University of the North, Malaza has also served as Deputy Vice-Chancellor and Acting Vice-Chancellor at Unitra prior to his move to UCT.
Speaking at last week's farewell lunch, Senior Deputy Vice-Chancellor Professor Wieland Gevers noted that Malaza had as UCT's first director of planning helped steer the University through a difficult period of transformation, a spell that featured the introduction and implementation of the AIMS (Audit and Integration of Management Systems) project. "We've been through some interesting — you could even say controversial — times together at UCT," he observed.
In his remarks, Malaza noted that Gevers had over the past two-and-a-chunk years served as a "source of inspiration" to him, and that he leaves UCT with an invaluable cache of experience in university planning. He observed that UCT still had some issues to tackle, specifically around employing and keeping black, specifically African, staff, a problem, he added, that was not "insurmountable", however.
In turn, Vice-Chancellor, Professor Njabulo Ndebele, said that Malaza had made an invaluable contribution to scenario planning at UCT. "What I found most valuable about him," he told those in attendance, "was his warmth, his personality and his expertise."
---
This work is licensed under a Creative Commons Attribution-NoDerivatives 4.0 International License.
Please view the republishing articles page for more information.
---