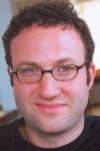 Hooked up: American Professor Peter Steinberg is one of the collaborators who will help a research group in the Dept of Physics prepare itself for a major international project.
IN PREPARING itself for its contribution to
A Large Ion Collider Experiment
(ALICE), a major international collaboration of the Swiss-based European Organisation for Nuclear Research (CERN), a research group in the UCT Department of Physics has over the past few months called in the services of a number of collaborators of its own.
Among these is Professor Peter Steinberg, an associate researcher from the Brookhaven National Laboratory in Long Island, New York, who has been at UCT since August as a Visiting Fulbright Scholar. Steinberg has made his way from the United States to South Africa specifically to work alongside the Department of Physics' Professor Jean Cleymans and Dr Zeblon Vilakazi, who are heading the UCT research group's involvement with CERN.
ALICE makes up one experiment of CERN's efforts to recreate a unique state of matter known as the Quark Gluon Plasma (QGP), in which quarks (fundamental matter particles that make up neutrons and protons) and gluons (which bind quarks together to form neutrons, protons and the like) roamed freely. Physicists believe that QGP may have existed for about fractions of microseconds after the Big Bang, when particles like protons and neutrons did not exist because it was simply too hot.
CERN will attempt, with its high-energy colliders currently under construction in Geneva, to break down the forces that confine the quarks to their particle cages – in the protons and neutrons – and in that way recreate the QGP.
"One of the hopes of this field of study is to try and illuminate whether any kind of dynamic of the early universe can be understood by the properties of the Quark Gluon Plasma," says Steinberg. In aiding the UCT research group, he will over the next year share the experiences he has gained working on the PHOBOS experiment at Brookhaven's Relativistic Heavy Ion Collider (RHIC), where high-energy collisions of gold nuclei are studied.
Another area in which he will be lending his expertise is around the processes and techniques that are required when working as part of a large collaboration, something he has been doing regularly over the past ten years at institutions such as Brookhaven, CERN and the Massachusetts Institute of Technology (MIT), among others. As such, he will assist in linking up the research group's 20-PC Carmen "supercomputer" (see
Monday Paper
, vol 21 no 32) with similar systems around the world (ALICE requires the input of around 1 000 researchers at 78 institutions).
"I have with my previous collaborations become familiar with the processes of working with many people at the same time," Steinberg says. "And that's exactly what this project is all about; how you use computing and modern technology to continue doing active research, even when at some distance from the centre of a project."
When not working directly on the collaboration, he will be presenting lectures on heavy ion physics (these can be found
on his website,
and related topics. And to give a lucky UCT student some exposure to ongoing research in the field – ALICE only goes online sometime in 2007 – Steinberg has arranged a student exchange for UCT's Bruce Becker, who will go to Brookhaven for a few months next year.
Working in South Africa has its pitfalls – the lack of bandwith makes working "remotely" very difficult – but working with Cleymans ("Jean's reputation precedes him"), Vilakazi (whom he met socially at CERN some years back) and UCT's enthusiastic band of students has been very exciting, he comments. "The physics we're working on is a really great field of research, because it really allows geographically isolated countries like South Africa to get involved."
The CERN experiments also open many new avenues of research for physicists in South Africa and elsewhere, he adds.
"For me, one of the most satisfying experiences about being here is really about working with the students and being involved in the training of the next generation of South African scientists."
---
This work is licensed under a Creative Commons Attribution-NoDerivatives 4.0 International License.
Please view the republishing articles page for more information.
---