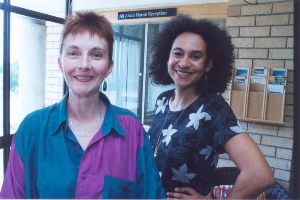 Taking charge: Dr Jane Bennett (left) and Prof Amina Mama jointly head the African Gender Institute as of the beginning of 2002.
THE African Gender Institute (AGI) started 2002 off with a new look to its management structure when senior lecturer Dr Jane Bennett joined Professor Amina Mama at the helm of the Institute.
With its activities and projects growing steadily over the past few years, the AGI recently decided to separate the two posts previously filled by Mama, ie that of Chair of Gender Studies and Director of the Institute. Mama will remain as Chair, passing on the mantle of Director to Bennett (who filled the position in an "acting" capacity prior to Mama taking office at the beginning of 1999).
As Chair, Mama will keep the intellectual and strategic leadership of the AGI, supporting and advising the Director on certain areas if and when required. In turn, Bennett will take on the usual intellectual leadership functions of a head of department, as well as many of the administrative responsibilities pertaining to the Institute's place in the Faculty of Humanities.
"The AGI has grown and has taken on a substantial amount of project work, and that has meant that the Director's portfolio has grown enormously," Mama said, adding that an expanding teaching load in the Institute has also reinforced the need for a division of labour. "This will also enable us to fulfil our mandate to support scholarship and transformation efforts in institutions across the continent by releasing me to do much more – it's a full-time job administering any structure within UCT."
It will also allow the Institute to play both a local - UCT specifically – and global role at full capacity, added Bennett. "And at full human relationships – you can't just read emails and go to meetings, you actually need to know people, and that involves as much body power as possible.
"So once there was one, and now there are two."
---
This work is licensed under a Creative Commons Attribution-NoDerivatives 4.0 International License.
Please view the republishing articles page for more information.
---