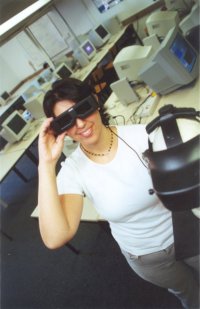 Through the looking glass: for her Honours project in computer science, Ilda Ladeira plans to tell a traditional San story using virtual reality technology. To give her research a kick-start, the South African Women in Science (SAWISE) have awarded Ladeira a generous scholarship.
COMPUTER Science student Ilda Ladeira has won a generous grant from the South African Women in Science and Engineering (SAWISE) towards her Honours research project that will place a traditional San story in the world of virtual reality.
Ladeira will retell the story of the mantis who, in San tradition, is a notorious trickster with a penchant for scaring children.
"I found the San stories really beautiful and interesting, different from how people are used to hearing stories in European Western culture," she said of her choice of undertaking. "It's a challenge trying to convey that in a virtual environment -- the challenge of conveying the way the San tell the story using a different narrative."
Ladeira will work on the project with Professor Edwin Blake, Director of the Collaborative Visual Computing lab in the Department of Computer Science, and fellow students Sarah Brown and Cara Winterbottom. In addition to telling the San story, the group will also run a series of tests on the use of virtual reality.
In her project, Ladeira will bring together her studies in computer science and psychology. "Psychology comes into play in quite a few areas, such as usability, testing how people perceive virtual reality, how they handle gadgets and how they respond to certain programmes," she explained.
"My interest lies in the interfaces between computers and people, an aspect of computing which I find is often highly lacking," Ladeira added. "I also find the study of how human perception, and thinking, influences human-computer interaction fascinating and vital."
The R11 000 SAWISE Angus Scholarship will go a long way towards making her virtual story become a reality, said Ladeira. "I wanted to laugh and cry at the same time," she said of her reaction to hearing the good news from SAWISE scholarships officer, Associate Professor Anusuya Chinsamy-Turan.
Ladeira notes that computer science has been her greatest academic challenge, as she started her studies at UCT knowing very little about the daunting world of computers. "I feel highly privileged to be a woman in computer science at the present time - more and more female students are making their presence known in the previously male-dominated field," she noted in her letter of motivation to SAWISE.
SAWISE is an association of men and women who support the idea of strengthening the role of women in science and engineering in South Africa.
---
This work is licensed under a Creative Commons Attribution-NoDerivatives 4.0 International License.
Please view the republishing articles page for more information.
---