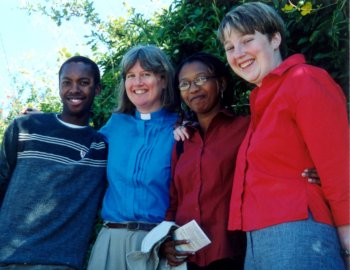 Showing solidarity: members of the executive committee of UCT's Anglican Society (ANSOC) underwent HIV testing to de-stigmatise the process and to show solidarity with those who are HIV positive. They included (from left) Siyabonga Ndlovu; UCT Anglican Chaplain, Rev. Wilma Jacobsen; Nokothula Mavuso and Jennie Morgan.
A GROUP of students from the executive committee of UCT's Anglican Society (ANSOC) have undergone voluntary HIV testing to de-stigmatise the procedure and to demonstrate their solidarity with people who are HIV positive.
Chair of ANSOC Siyabonga Ndlovu, a third-year chemical engineering student, said he wanted to be at the "forefront in the struggle to fight the spread of AIDS". "We must remove the stigma associated with going for testing," he said. "There is no shame in going for a test.
There is also life after being diagnosed HIV positive, so it's important to know your status in order to change your lifestyle if you have to."
Two years ago Anglican bishops in South Africa agreed to undergo voluntary testing in a bid to highlight the AIDS pandemic in southern Africa and to demonstrate the Church's solidarity with people "infected and affected" by HIV/AIDS.
Ndlovu said many students preferred not to know their status as they were then able to get on with life and make plans for the future. "They're not convinced to go for testing. Many feel once you know you're HIV positive, your life ends. We want to try and bring a new perspective; that it is the responsible thing to do and that you can't run from it. You have to face it.
"Our generation has relaxed. In the past when there were political issues in the apartheid era, students had a passion. But AIDS is the issue that must be fought now. And it's not confined to one group or race; it affects everyone."
Another student and member of ANSOC Mabalemi Maleka said the experience had given her some insight into the anxiety many people face when going for an HIV test. "I always assumed I was HIV negative, but still, it gets you thinking, what if? How will I deal with it? Who will I tell? Will I continue studying?"
Maleka reckons students are knowledgeable about HIV/AIDS, but says this has not yet impacted on behavioural change. She would recommend students go for HIV testing. "You can be infected through many things. You can't assume you're HIV negative. You need to know. It's about taking responsibility for your life so that you know what kind of life to live."
Reverend Wilma Jacobsen, the Anglican chaplain at UCT, accompanied the group and was also tested. "This has been very exciting. The Church has always been involved in social issues, but has been slow on the uptake as far as HIV/AIDS has been concerned. There are moves within the Church to change that so that we can take the lead. Every community and class in society is well-placed to do something about AIDS."
She said the decision that members of ANSOC go for HIV testing had been "considered very carefully" and was entirely voluntary.
---
This work is licensed under a Creative Commons Attribution-NoDerivatives 4.0 International License.
Please view the republishing articles page for more information.
---