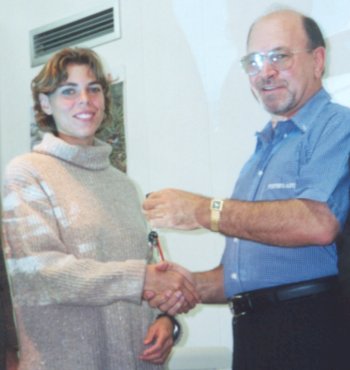 Cause for celebration: Colin Schmidt of Porter's Auto presents the keys for a Bantam bakkie to PhD student Kathy Calf at the function to celebrate the recent move of the Avian Demography Unit. The bakkie is already being used to aid the Unit's research on Robben Island.
"ASCEND to the next floor where the coffee will be fresh and hot", the invitation read. And so we did, following its aromatic trail into the spacious new home of the Avian Demography Unit (ADU) on the second floor of the PD Hahn Building.
Not only does the freshly painted space offer the famous (remember the penguins) Unit much needed extended floor space, but the ADU has now been "reunited" with its mother department, Statistical Sciences.
Speaking at the function, Director Professor Les Underhill paid tribute to his staff and students and highlighted some of the Unit's recent successes. The Southern African Frog Atlas Project is nearing completion and it is "set to rival" the Unit's landmark 1 600-page Atlas of Southern African Birds.
Acting Deputy Vice-Chancellor (Research), Professor Daya Reddy praised the Unit, reminding guests that the ADU had hit double figures in December last year when it celebrated its 10th birthday.
Reddy said that the Bird Atlas project and the publication of Peter the Penguin typified the Unit's achievements of "good science and good outreach", and congratulated Underhill on his fund-raising initiatives to grow the enterprise and support 14 postgraduate students.
The celebratory "Unit warming" breakfast was also an opportunity for the official handover by Colin Schmidt (Porter's Auto) of the keys to a new acquisition, a Ford Bantam bakkie. The ADU's postgraduate students on Robben Island are already using the vehicle to transport them around the Island so that they can collect research data far more efficiently than in the past.
Doctoral student Kathy Calf said she and other students had spent hours trekking about the Island collecting information on birds such as penguins and oystercatchers. "The new bakkie now allows us to sneak up on oystercatcher chicks and collect data from 10 to 15 nests a day, many more than we could on foot."
---
This work is licensed under a Creative Commons Attribution-NoDerivatives 4.0 International License.
Please view the republishing articles page for more information.
---