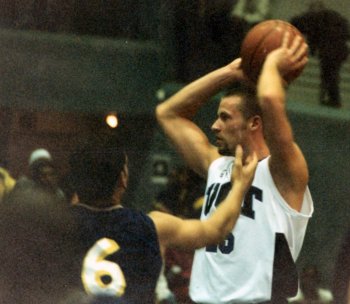 Going for gold: UCT takes charge during the side's game against Cape Tech
THE UCT basketball first-team qualified for the national Campus Basketball League recently when they beat the Cape Technikon Cats by a convincing 81-63 in the second of best-of-three finals, following on their more hard-pressed 75-73 victory in the first tie.
UCT looked the better side right from the start of the second match, going up 6-0 in the first minute. Cape Tech had to wait for the fourth minute of the first quarter before they could get the ball through the hoop, doing so well as they drew level with two three-pointers.
This was about the only time they could match the UCT students however, and the latter had pulled away to a 20-13 lead at the end of the first quarter. UCT's Tomi Amosun was the star of this period of the game as he played himself to a near-standstill in his search for points.
By early in the second-quarter, UCT extended this lead to 13 points with the score at 28-15. It was a frustrating match for Cape Tech, for as soon as they made inroads into the lead, UCT would respond with a few quick two- and three-pointers.
There was still plenty to play for at the end of the second-quarter, UCT leading by 38-28.
The third-quarter decided the match, as UCT extended the lead and took the score to 57-43 with just 10 minutes left. The diminutive UCT captain, Chipego Himonga, led his team's assault, going on a number of decisive charges through the middle to set up scoring opportunities for his teammates.
Frustrated at not being able to pull UCT back, the Cats let the game slip and allowed the UCT side to extend their lead to 69-50 in the final quarter. With the game just about won, UCT played with more confidence and flair, an acrobatic slam-dunk by Jesse Okiror, one of the side's visiting players from the United States, receiving an appreciative round of applause from the UCT fans.
UCT's 81-63 victory makes them eligible for the Campus Basketball League, where they will take on tertiary institutions from around the country.
---
This work is licensed under a Creative Commons Attribution-NoDerivatives 4.0 International License.
Please view the republishing articles page for more information.
---