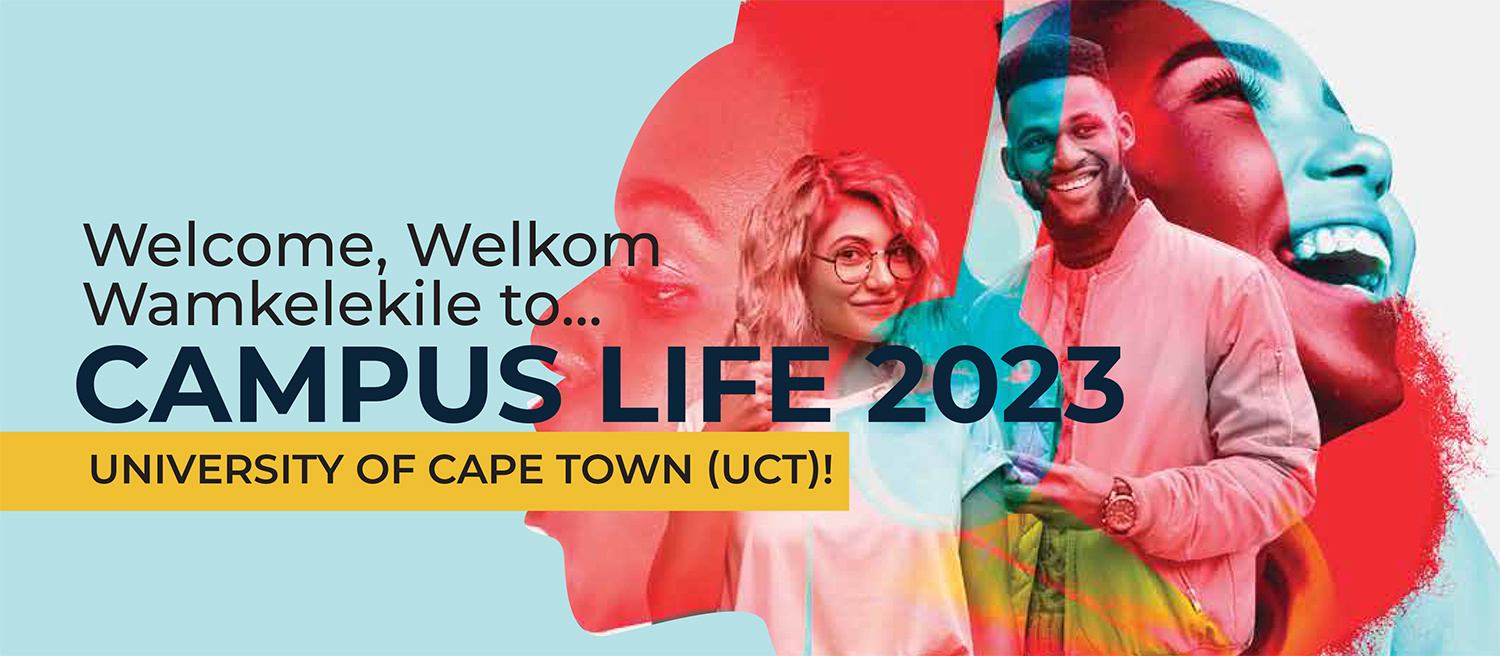 Welcome
---
Hello, first-years! Hallo almal! Molweni! Sanibonani! Dumelang!
Welcome to the University of Cape Town (UCT). We know you have made the choice to come here to follow your higher education dream – and we're glad you did! Thank you for choosing this great institution. We offer you not only life-changing learning, but also opportunities for personal growth, leadership training, relationship-building, personal transformation and even the possibility of developing your entrepreneurial skills to take your ideas into the business world.
UCT has very high standards, and that can make new students feel nervous about the year ahead. But your success is UCT's success. You have been offered a place here because of the hard work and perseverance you have demonstrated so far. And those same qualities will help you to earn your degree.
Of course, studying at university is a very different experience from high school. It takes discipline and focus to complete a degree programme. I know this first-hand, because when I was studying for my bachelor's degree, I knew my parents could not afford to pay for more than three years of university for me. So I had to put my head down and work hard. I have no doubt you all have the capability to do the same.
But at the beginning, it takes time and energy just to find your way around and meet all the new people on campus. Please don't be afraid to ask questions and to seek help when you need it. Every faculty at UCT has programmes and people in place to help you succeed. We are all here to assist you.
UCT is the top-rated university in Africa and one of the top-rated in the world. We strive for excellence among our students and staff members. We are committed to transformation so that each of you can fulfil your true potential. We want you to realise your goals, to graduate and to contribute to the growth of South Africa and the continent.
UCT's Vision 2030 strategy is for everyone at UCT to "unleash human potential to create a fair and just society". Many of our alumni become leaders in their chosen fields, and through them UCT's influence is felt across the world.
As a student, you have access to UCT's range of support facilities. We invite you to join in a wide range of extracurricular activities and clubs on campus, and to spend time getting to know other students and making friendships that can last a lifetime. Living a balanced life will help you to get the best out of our trusted academic excellence.
Your physical and mental health and well-being are important to us. Please don't struggle on your own. If you need any assistance, please reach out to our Student Wellness Service, which offers onsite, online and telephonic counselling and support, or contact the UCT Student Careline (0800 24 25 26 or SMS 31393 for a call-back), which is available 24/7.
I'm so glad you have chosen to come to UCT. My colleagues and I look forward to getting to know you, celebrating your accomplishments and walking beside you every step of the way in this new chapter in your life.
Sincerely
Professor Mamokgethi Phakeng
Vice-Chancellor