University is a new space for most of you, and it will take a while to get used to the differences between school and university work. With so much to read and remember, it's natural to sometimes feel overwhelmed, particularly since you'll be tackling things during the COVID-19 pandemic. Online learning takes a bit of getting used to, but if you follow some of the suggestions below, you'll be flying.
Tips for studying through a pandemic
We've put together some top studying tips from students who have been there, done that. They work!
---
Stay up to date
"Make sure that you are always up to date with the lecturer's announcements to avoid late submissions. Don't wait until it's too late. Try to cover your notes on time so that you will get enough time to prepare for your assignments, tests and exams."

– Munyai Phalanndwa, Faculty of Engineering & the Built Environment, BSc Eng Mechanical and Mechatronic Engineering
"You can talk to your professors; they're not as scary as you think." – Marion
Minimise eye strain
"Online classes cause an increased dependency on digital screens. Here are three ways to minimise eyestrain:
Limit your daily screen time. Prioritise and plan what is done in that time.
Take a break from the screen every day to engage in offline activities (eg, chores, exercise).
Develop off-screen study habits (eg, turn PDF files into audio files; write or print out notes)."
– Sindi Kalumba, Faculty of Science, BSc Property studies
---
Structure your day
"I structured my day the same way I would if I were attending on-campus lectures, beginning by waking up early. I was consistent with my daily routine and it helped me stay on top of my work. Avoid the pernicious assumption that 'you have a lot of time' because you're learning from home. One can easily end up falling behind lectures and/or neglecting other courses."

– Rutendo Petros, Faculty of Engineering & the Built Environment, BSc Chemical Engineering
"I wish I'd known that the more questions I ask, the more it improves my own and my peers' learning." – Pavo
Plan, and maintain a balance
"Something that may be overlooked when at home is spending time with your own thoughts … so take some time away from your smartphone and laptop where you can just let your mind wander. This lets the things you have learnt assimilate in your mind and can bring forth many new ideas and thoughts."
– Sanveer Sookdawe, Faculty of Science, BSc Computer Science
---
Join a study group
"A study group is a must-have! Pick a few individuals from class and share materials and updates on the course. And have those MS Teams sessions, especially when prepping for an exam. You can arrange a consultation with your group and the lecturer."

– Sandele Hlangadala, Faculty of Law.
"The students who feel comfortable to talk in tuts are not smarter than me; they just did the readings." – Sarah
Stick to a plan
"Make a plan and stick to it. When I'm feeling stressed and overwhelmed, I always make a list from most important to least important and set aside a day to work through that list. This always leaves me feeling better."

– Tara Panton, Faculty of Science, BSc Marine Biology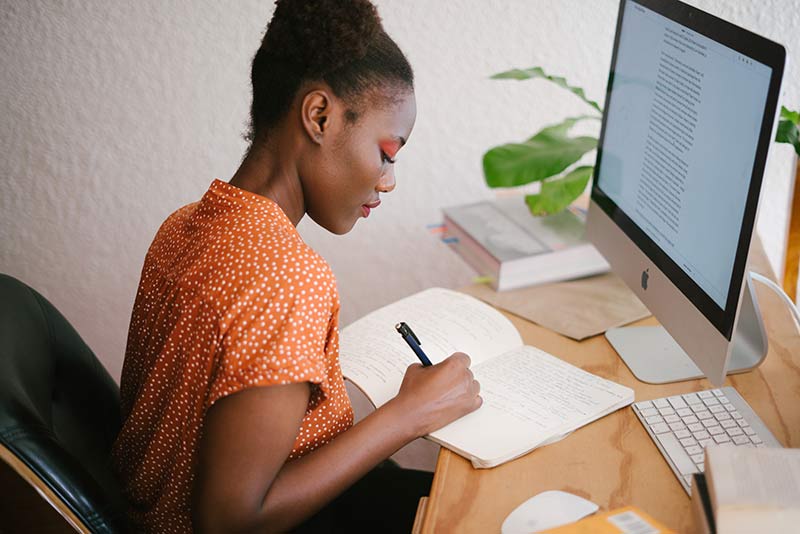 Take a break from being at your desk
"I made sure to schedule in some me-time for exercise and such so that I wasn't at the desk all day. There's also this thing called the Pomodoro technique where, for optimal focus, you do work for 25 minutes and then take a break for 5 minutes. This didn't really work for me so instead I tweaked it for my optimal focus time, which is 50 minutes and break for 15 minutes. Also invest in blue light glasses if you can because staring at a screen all day doing work can be taxing on your eyes."

– Maya Munoz, Faculty of Science, BSc Physics and Astrophysics
---
Know when to work
"The factor that made the most difference was knowing WHEN to work. If you can keep the daily routine as normal as it was on campus, then great, but if you can't, you should adapt it to be any time that works best. Even if that means working at midnight. Trying to work in the morning didn't work at all for me, and I'd waste the day instead. But working extremely late at night helped me get through my lectures and assignments much more efficiently. It's a good chance to make use of the asynchronous classes!"

– Yasmeen de Villiers, Faculty of Science
---
Brush up on your writing skills
Consultants at the UCT Writing Centre can help you improve the quality of your academic writing. The Writing Centre's one-on-one consultation sessions offer you a chance to discuss your writing with an attentive, critical but non-judgmental reader. During these conversations, you will be able to explore new ideas, evaluate the clarity of proposed arguments, and establish a better sense of the inner workings of academic writing.
Book a session online or contact the Writing Centre for more info.

Level 6, Steve Biko Students' Union building, upper campus
021 650 5021
"I was not fully aware of the services that the Writing Centre was able to offer. I often struggled to get assignments and essays written on time, owing to a lack of confidence in what I was writing. I wish I had taken the opportunity to understand the amazing resources that were available." – Kylie
Extended degree programmes
An Extended Degree Programme (EDP) gives you the option of taking more time and being offered support to help you complete your degree.
About EDP
It offers extra academic and social support to help you make the school-to-university transition and adjust to university life. The EDP also helps you to plan your curriculum over a longer period.
The benefits
You're able to complete your degree with stronger transcripts and it improves your chances of getting into postgraduate studies.
How it supports you
Mentoring, more time in class and loads of interaction outside the classroom. The classes are smaller too.
"I wish I'd had more of an idea what university would be like, ie lectures and class load. A bridging or general year would be great for people like me who changed their majors every year!" – Kaylee
The effect on your curriculum and degree
Depending on the faculty, the alternative curriculum usually takes between six months and a year longer than the standard route. The degree earned remains the same.
Is it right for you?
First-year students may be selected, advised or may choose to follow an EDP depending on the faculty. The admissions criteria vary. When students can enter the EDP also differs from faculty to faculty.
For more info
For more information, contact your faculty's Education Development Unit. You can also speak to someone at the First-Year Experience to find out more, or speak to someone from the Centre for Higher Education Development (CHED) – they pioneered UCT's extended degree programmes.
---
This work is licensed under a Creative Commons Attribution-NoDerivatives 4.0 International License.
Please view the republishing articles page for more information.
---