Vice-Chancellor Professor Mamokgethi Phakeng celebrated her first 100 days in office by introducing the new Vice-Chancellor's Open Lecture Series. The inaugural lecture this week saw the Vice-Chancellor of the University of Johannesburg (UJ), Professor Tshilidzi Marwala, take to the podium to unpack the fourth industrial revolution and artificial intelligence, and their impacts on society.
The Open Lecture Series offers the greater community outside of the University of Cape Town (UCT) an opportunity to attend talks and presentations by respected academics, researchers and innovators who have distinguished themselves in their areas of expertise.
"It is our hope that these lectures will offer us a new way to appreciate the world in which we live and inspire us to greatness," said Phakeng.
Distinguished guest lecturers
As far as distinguished guest lecturers go, the Open Lecture Series could hardly have started off on a higher note.
During his years in academia, Marwala has proved himself to be not only an outstanding, diversely talented academic, but also an exceptional leader. Before becoming vice-chancellor of UJ, he served as deputy vice-chancellor of research and internationalisation and executive dean of the Faculty of Engineering and the Built Environment at the same institution.
Coming from humble beginnings in rural Venda, Marwala didn't let his circumstances define him and, as a young man, managed to balance his school work with herding livestock for his family. He was so successful in his pursuit of academic excellence that he won the National Youth Science Olympiad in 1989 while in matric at Mbilwi Secondary School.
In many ways, this achievement laid a strong foundation for a future abounding with accolades and awards. Marwala also has a tenuous connection to UCT.
"He describes himself as a UCT dropout. But let me explain what happened," Phakeng said during her introductory speech. "In 1991, he came to UCT and did his first semester in the Faculty of Engineering & the Built Environment and got a 103% pass for physics during his first semester exams."
"Basically, the fourth industrial revolution is going to merge the physical with the biological with the digital. It is going to absolutely automate everything around us."
This led to a scholarship from the Educational Opportunities Council to study mechanical engineering at Case Western Reserve University in Ohio, in the US, where he graduated magna cum laude.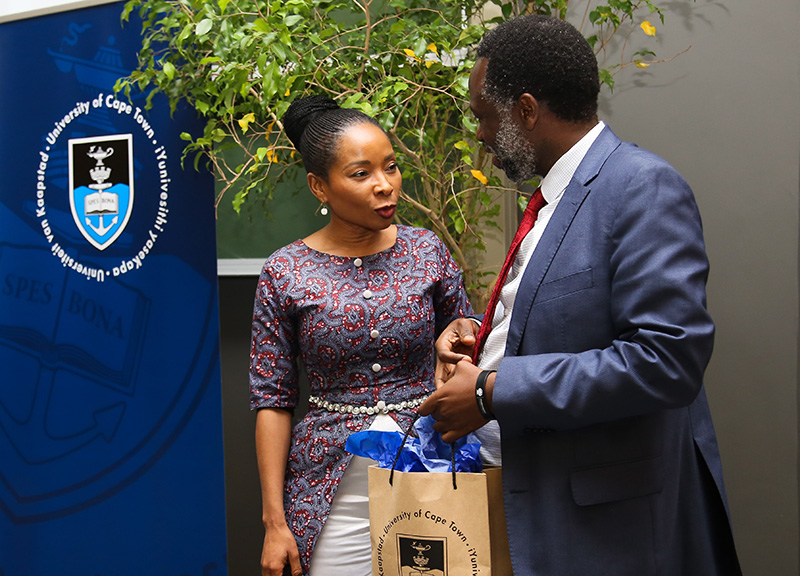 Benefits of artificial intelligence
Marwala's research expertise lies in artificial intelligence (AI) and the ways in which it impacts all aspects of society – from economics and politics, to psychology and education.
"With the fourth industrial revolution upon us, understanding AI and how it affects us is paramount to utilising it to the benefit of all," said Phakeng.
During his open lecture, Marwala shared his passion for his research around AI and the fourth industrial revolution with great clarity and a good sprinkling of humour.
He started by unpacking how the three industrial revolutions preceding the current one led to the formulation, evolution and distribution of knowledge. The revolution we are currently experiencing can be defined by the unprecedented mutation of knowledge, he said.
"Basically, the fourth industrial revolution is going to merge the physical with the biological with the digital," Marwala explained. "It is going to absolutely automate everything around us."
This sort of mutation of knowledge holds great benefit for most industries – especially trade, banking, medicine and engineering.
The introduction of AI into stock trading, for instance, has the ability to create more stable and efficient markets. The reason for this is simple: When human traders are replaced by artificially intelligent traders, factors such as emotion are subtracted, and decisions can be made based purely on data.
In a similar vein, the introduction of AI into healthcare – specifically the reading of medical imagery – can also assist with making more consistent and accurate diagnoses, he said.
As far as politics is concerned, AI is already being used to predict the probability of two countries going to war against one another, using information related to a number of variables including whether they share a border, the distance between the two capitals, governing ideologies, trade relations, and so on.
Summing up the benefits AI could have on global socio-economic factors, Marwala said: "Basically what AI is doing is helping us make rational decisions."
Negative impacts to keep in mind
However, he warned, it doesn't take a large leap of imagination to realise that the fourth industrial revolution – like each of its predecessors – comes with a very real shadow side, which will be felt most clearly in the way in which we work. Or more likely, don't work.
"The fourth industrial revolution is going to throw at us human irrelevance."
"Trade unions were invented to fight exploitation, but the fourth industrial revolution is going to throw at us human irrelevance," said Marwala. "How are we going to deal with this?"
The knock-on effects of this process of automation are also simply terrifying, including greater inequality and possibly even increased discrimination, he continued.
The latter has actually already come to the fore in facial recognition algorithms. According to Marwala, since most have been designed using databases gathered largely from North America and Asia, people of African descent – for instance – are excluded.
While this may lead to light frustration while using social media, it can have very real consequences as this technology extends to something like automated border control – where a camera is taught to match the picture on the passport to the face in front of them – at ports of entry and exit.
Apart from this, bounded personal and democratic freedom will also become the order of the day, calling into question everything we have come to understand about human rights.
Marwala concluded that the fourth industrial revolution requires a new prism through which to view the world – with new theories of psychology and economics being paramount to the well-being of humanity.
Finally, he pointed out that universities have an important role to play in this, by offering students a multidisciplinary education that will enable them to understand, imagine and maybe even revolutionise technologies that reflect ever-increasing levels of AI and human interaction.
---
This work is licensed under a Creative Commons Attribution-NoDerivatives 4.0 International License.
Please view the republishing articles page for more information.
---