Making learning fun is the aim of a new internet-based platform and mobile app designed to encourage interest and excitement about career possibilities in genomics and other life sciences among high school learners.
The platform, mGenAfrica, was launched at the University of Cape Town (UCT) on Saturday, 18 August. It is funded by the pan-African bioinformatics network H3ABioNet Consortium.
It includes quizzes, live chat sessions with UCT researchers, a career corner and online competitions. It also offers learning material, videos and online comics, and has a section where users can translate biomedical terms into different languages.
"The main aim of mGenAfrica is to educate learners about genomics and genetics and related life sciences," said Dr Victoria Nembaware, a bioinformatician and the project coordinator for mGenAfrica.
"This is such a fascinating field. We want learners to have fun while understanding concepts in a way they can relate to."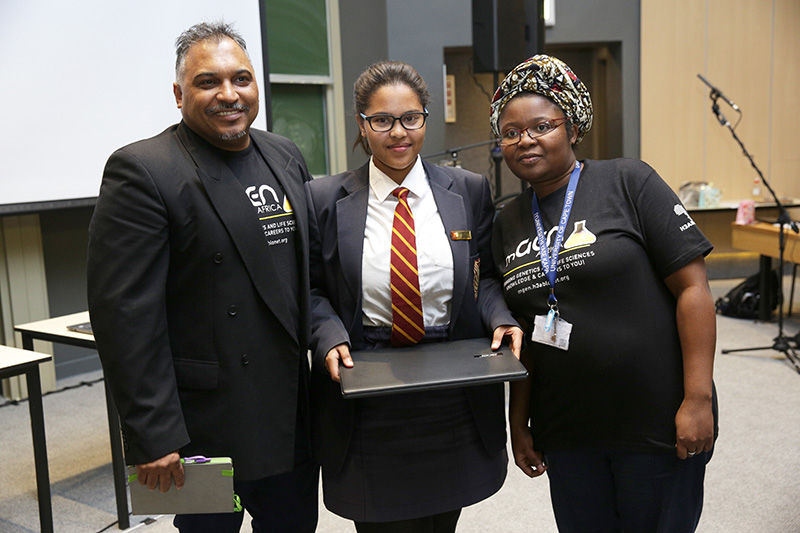 Career options
Professor Nicola Mulder, from UCT's Department of Integrative Biomedical Sciences, said the technology for genomics, which studies the DNA sequence, is becoming cheaper and more accessible. It has also opened the way for a range of career options and will soon become a vital part of everyday life.
"Genomics answers so many more questions about biology and life that we didn't know before. It can answer questions about whether you are predisposed to a disease," she said.
"Understanding the genomics of the apple tree can help you to work on better agriculture. You can use it for food security, for veterinary science, for understanding viruses and for understanding outbreaks of diseases.
"There are a range of study paths at UCT and careers you could follow with genomics. It's a very cool career," she said.
"There are a range of study paths at UCT and careers you could follow with genomics. It's a very cool career."
Through the app and the website, learners can ask questions and chat online with UCT researchers, who have been generous with their time and are keen to make a difference. It was piloted at two schools where it got the thumbs-up from the learners.
Life Sciences curriculum adviser for the Western Cape Education Department's Metro South Education District (MSED), Gabriel Agulhas, said he was excited about learners exploring the field of genomics and life sciences in an innovative and interactive way.
Innovation and interaction
"At many schools, learners tend to rewrite the textbook, but this programme brings life sciences alive," said Agulhas.
"Being able to ask questions, complete quizzes, see video clips and have online chat sessions with researchers makes a big difference. It makes learners think out of their comfort zone."
The platform also encourages learners to think about sensitive, ethical questions, particularly when it comes to diseases, which are an important part of the syllabus in both grades 10 and 11.
A "Have your say" section enables them to give their opinions on key ethical and social topics.
"We ask questions such as: If you are expecting a baby and you learnt about a genetic defect, what would you do?" said Nembaware.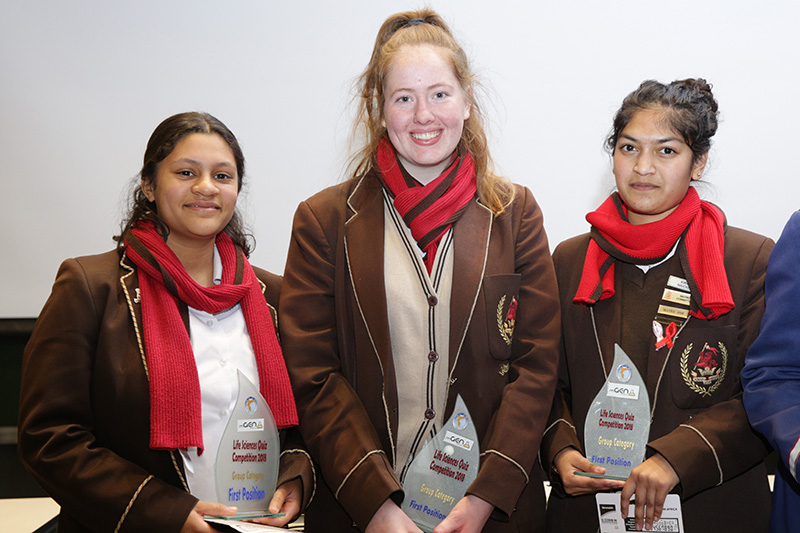 "There's no right or wrong answer, but high school learners in our pilot programme thought it was a great platform to be able to think about these things."
The launch was held in tandem with the finals of a quiz competition in life sciences that drew grade 12 learners from 39 schools across Cape Town to UCT.
Agulhas and the MSED e-learning advisers worked very closely with Nembaware on the inter-schools quiz, which he hopes will become an annual feature. He has a provincial quiz in his sights as well.
"We want to make learning hip and fun. This quiz augers well for the future," said Agulhas, after noting the enthusiasm of the learners who packed the lecture theatre.
Learners had initial question-and-answer sessions in their classrooms. Teams from the 39 schools then got together at UCT for a series of heats, before drilling down to the finals.
Quiz competition
The questions focused on a range of issues, from the school curriculum and on life sciences in general, including questions such as what is a fossil fuel or the collective name of the middle ear bone,s and which organ in the human body is made up of cardiac cells.
The learners also watched a short video and answered related questions.
"I've never experienced something like this before and it was fun."
The winner of the individual competition, Jamie-Lee Stemmet from South Peninsula High School, was delighted to scoop the first prize.
"It was an amazing experience. I enjoyed it a lot. I've never experienced something like this before and it was fun. Competitions like this are so important. They build character. I'm very excited to have come first," she said.
The group competition was won by Wynberg Girls' High, followed by Bergvliet High in second place, with South Peninsula High and Simon's Town High taking third and fourth places.
Nembaware hopes that initiatives such as mGenAfrica will help prepare South Africa for the future, and mould the next generation to be at the forefront of technology and science.
To find out more, go to https://mgen.h3abionet.org
---
This work is licensed under a Creative Commons Attribution-NoDerivatives 4.0 International License.
Please view the republishing articles page for more information.
---