"We live in a reality of being in a class with classmates who carry plastic bags as school bags; we live in a reality [where] a young girl has to walk kilometres to get to school, sometimes in broken shoes and often on an empty stomach. We live in a reality of xenophobia, and a reality of dysfunctional healthcare systems," said Simamkele Dingiswayo.
But the Mastercard Foundation has changed this reality for Dingiswayo and thousands of young people living on the margins across Africa. The life-changing, transformational Mastercard Foundation Scholars Program has enriched the lives of undergraduate and postgraduate African students, been a catalyst for change and has given impetus to the spirit of ubuntu.
Changing the trajectory
"For us as Mastercard Foundation scholars, the reality of living in this world has been eased because we have been afforded a purpose to use our voices to shape the world," Dingiswayo said.
As a Mastercard Foundation scholar, who's pursuing her master's in public health at the University of Cape Town (UCT), she has every reason to be thankful for this once-in-a-lifetime opportunity. So, it came as no surprise that her address, during a special reception arranged in honour of the new cohort of scholars, underpinned gratitude. The event, titled "International Office Mastercard Foundation Scholars Program Engagement", was hosted by UCT Vice-Chancellor interim Emeritus Professor Daya Reddy and was organised by the university's International Office. It was held at UCT's Hasso Plattner School of Design Thinking Afrika (d-school Afrika) on Monday, 16 October, and was used as a springboard from which to launch a publication that focuses on Mastercard Foundation alumni scholars' stories and highlights how they are applying their education to create sustainable solutions for African problems. The publication was produced by the international office.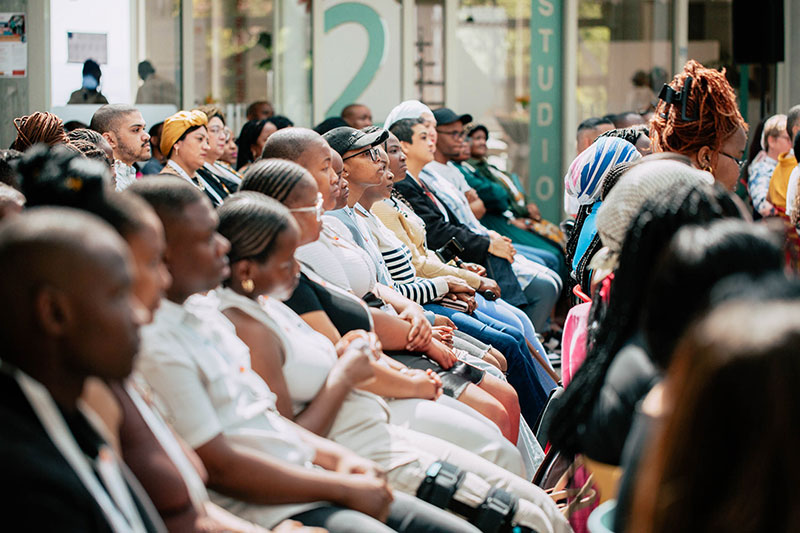 The Mastercard Foundation Scholars Program launched in 2012 with six university partners (including UCT). In only a decade it has changed the trajectory of thousands of young Africans, with ripple effects across the continent. Many other Mastercard Foundation Scholars Program in other countries around the world have also benefitted. Scholars receive financial support, as well as mentoring, leadership development, assistance with their academic work, and life skills training.
A catalyst for African development
Delivering his opening remarks, Emeritus Professor Reddy told the audience, which included scholars, delegates from the Mastercard Foundation and UCT, that the university's partnership with the foundation has become a significant catalyst for African development through education. UCT partnered with the Mastercard Foundation Scholars Program in 2014 to promote access to education for academically talented youth across the continent, who have also demonstrated a strong sense of social responsibility and who are committed to making a positive impact within their communities.
Since then, the programme has given approximately 342 African scholars from more than 20 African countries an opportunity to pursue undergraduate and postgraduate study at UCT. The current scholar target is 444 (60% postgraduates and 40% undergraduates).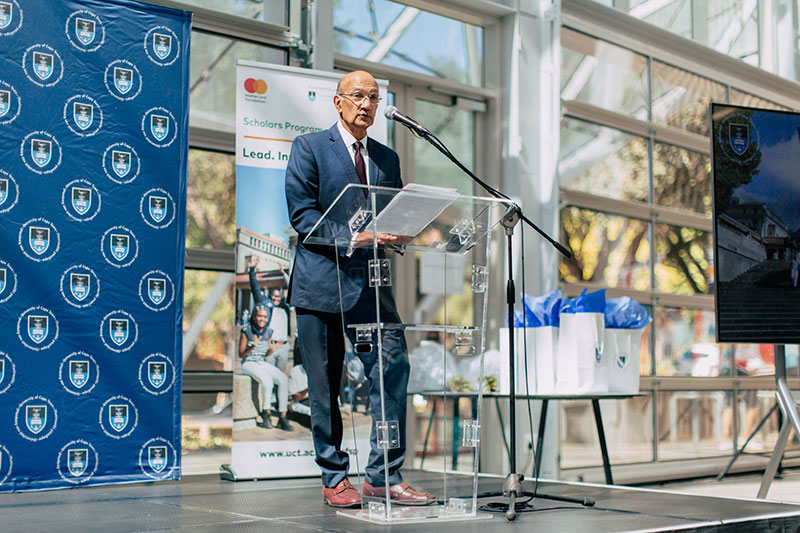 "The aim is to develop Africa's next generation of transformative leaders with excellent academic standing who will lead within their communities and make a positive and sustainable impact in society at large," Reddy said.
Increasing diversity, inclusivity among scholars
Owing to its success, the programme has now been extended to June 2026 and additional funding agreements have been made through the Scholars Entrepreneurship Fund, the Scholars Research Fund and other initiatives.
Another focus for UCT at the moment, Reddy said, is to work in with the foundation to renew this partnership beyond June 2026. And part of the plan is to introduce a second phase that will further boost the diversity and inclusivity on the programme and focus on students with disabilities, internally displaced persons, refugees and women who demonstrate the potential of becoming transformative African leaders.
"The … second phase will tie in with the foundation's Young Africa Works strategy to enable as many as 30 million people in Africa, especially young women, to secure employment they see as dignified and fulfilling, and to help create a vibrant and inclusive future of work in Africa," he said.

Building a network

The programme is on its way to achieving this goal.
And what's unique, said Deputy Vice-Chancellor for Research and Internationalisation Professor Sue Harrison, is that it doesn't just allow students to study; it helps to build a strong network of scholars across Africa. This means that when scholars graduate and return to their countries of birth or take up employment opportunities elsewhere in the world, they can easily leverage the relationships they developed at university with fellow scholars across multiple disciplines.
"[Because] they've made friends here, they take those networks and camaraderie back. And all of us know that our networks are hugely important to where we go and what we do, and forming this network across Africa is something which is really, really exciting," Professor Harrison said.

"The Mastercard Foundation Scholars Program [aims] to develop transformative leaders – it's actually what we want to do with every student at UCT. But the scholars programme really facilitates that. It allows us to develop students' soft skills and mentorship [competencies]. It allows us to get students to think about careers, community engagement and entrepreneurship. We need to grow strongly in everything that we do, and the Mastercard Foundation Scholars Program helps to facilitate that."
Developing next generation of transformative leaders
According to Dr Peter Materu, the global chief programme officer for the Mastercard Foundation Scholars Program, when the foundation first opened its doors in 2006, part of its mandate was to focus on education and learning for young people and financial inclusion for the poor – to catalyse prosperity in developing countries.
"We are led by a set of values: humility, listening, kindness and respect, co-creation and impact."
"We are led by a set of values: humility, listening, kindness and respect, co-creation and impact. And what drives us – the passion we have, the commitment we have – is grounded in the belief that everyone, irrespective of his or her beginnings, can learn and prosper," Dr Materu said.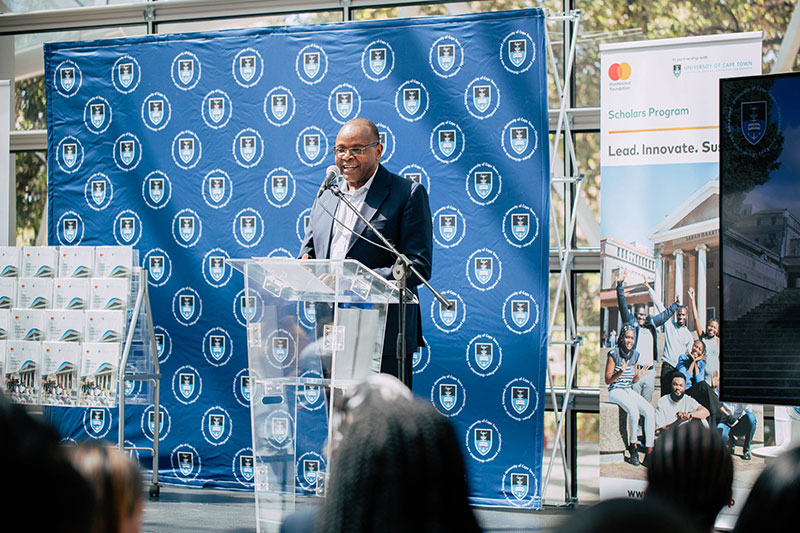 He told the audience that the foundation has two goals: to focus on the youth in Africa and the indigenous youth in Canada. In Africa, the goal is to see 30 million young people in "dignified and fulfilling" jobs by 2030. Currently, between 6 and 7 million young people have already accomplished this goal and there are plans in place to scale this number even further. Afterall, he said, developing the next generation of transformative leaders in Africa using education, and focusing on youth from disadvantaged backgrounds, has the power to eradicate the vicious cycle of poverty.
The four areas
Reflecting on the scholars programme, he said the aim has always been to provide the youth with a transformational experience through a combination of four key areas:
an opportunity to access quality education
provide developmental experiences for young people that encompasses transformative leadership learning and an opportunity to practise these via "give back" opportunities already built into the programme
transition successfully into the world of work, because it's not just about education, it's about ensuring young people make this transition successfully to become transformative leaders over time
build an alumni network that plays a mentoring role and supports students on their journey to becoming transformative leaders.
"We partner with institutions that share the same vision, values and goals as the scholars programme, and that share the foundation's commitment to safeguard young people. These must be institutions recognised in their own countries that demonstrate commitment to inclusion, equity and diversity," he said. "We emphasise the need for collaboration and learning from each other, because no one can do it by themselves."
It's about hope
But ultimately, Materu said, the scholars programme comes down to hope.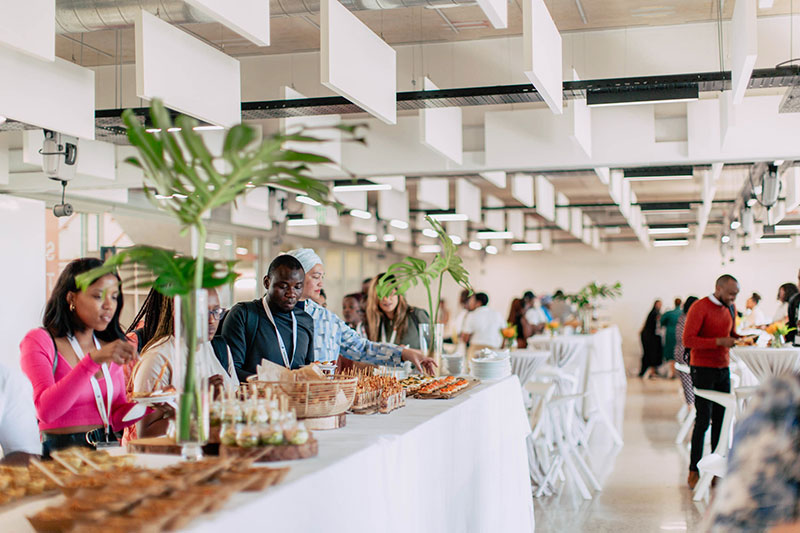 "The hope that the growing network of scholars and alumni will embody the way to find solutions to [global] challenges. Hope that with the right actions and investments we can overcome these [global] challenges. Hope in young people," Materu said.
As they embark on their respective learning journeys, he also encouraged new and existing scholars to consider the legacy they wish to build and to think about what they want to be recognised for years down the line. He reminded them that the foundation will help them build that legacy.
"As we begin climbing the next hill towards the second decade of success, I welcome everyone to join us on this journey."
"As we begin climbing the next hill towards the second decade of success, I welcome everyone to join us on this journey. And for those joining the programme at UCT for the first time: welcome. Cease the opportunity. To the alumni, always remember that graduation is not the end of the journey, it's just one milestone in a longer journey to become transformative leaders and we count on you to mentor others and to be part of that march toward that transformational generation that we are all seeking to build," he said.
Others who contributed to this event included Chris Cooter, High Commissioner for Canada in South Africa; and Sidney Muchemwa, Mastercard Foundation Scholar pursuing his master's in occupational therapy at UCT.
---
This work is licensed under a Creative Commons Attribution-NoDerivatives 4.0 International License.
Please view the republishing articles page for more information.
---