University of Cape Town (UCT) lecturer Gaontebale Nodoba, in collaboration with the Gauteng Department of Education (GDE) Johannesburg North District recently engaged with young boys at a workshop themed "A Conversation with the Boy Child – Masikhulume Ndoda" (Men, let us talk) – on what it means to be a man in this day and age.
Nodoba, the head of the Professional Communication Unit and a lecturer in the School of Management Studies, could not pass up the opportunity to work with GDE Johannesburg North District chief education specialist, Dr Kemoneilwe Metsing, in facilitating the workshop that brought together over 150 Grade 9, 10 and 11 learners, as well as some of the educators in the region.
Dr Metsing is the chief educational psychologist who heads the education support sub-directorate.
At its core, the workshop unpacked boys' perceptions of what a man is, while simultaneously finding out what kind of man they want to be in society.
"Boys aren't taught that being able to talk about your vulnerabilities is part of transforming the self because socialisation – an offset of patriarchy – doesn't allow them to speak about that. As beneficiaries of patriarchy, they are easily victims of it too," Nodoba said as he shared on some of the engagements that took place at the workshop hosted at Delta School in Randburg, Johannesburg.
"The boy child, it was realised, has not been taught how to love; how then can he give love? Talking about one's vulnerabilities is part of both cultural and economic transformation."
"Silence has become a protection from a society that seems not to care for the family."
Some of the stories that emerged from this inaugural workshop included that of a young boy, who said that he doesn't see the need to speak with a therapist or his friends about what he goes through because he feels they won't be able to help. As a result, the young boy uses drugs to escape the pressures of life. Another workshop participant relayed how his father – who he looks up to – has always told him to respect women and to never be a perpetrator of gender-based violence and femicide (GBVF).
"He told us that while his father has given him this lesson, he [the father] is violent towards his mother and beats her in their presence while rendering the family into silence and complicity. Silence has become a protection from a society that seems not to care for the family. Silence also brings loneliness," said Nodoba.
Overarching themes
The workshop had four overarching themes: conversations with boys; global recognition of the boy child; key ideas about masculinity; and conversations on diversity. The boys in attendance were also presented with a training manual aimed at providing them with knowledge and critical skills to deal with, inter alia, self-care, conversations on intimacy as well as confronting patriarchy.
Nodoba observed: "Through the workshop, we realised that the boy child has been suffocated by the broader society through the socialisation of the boy child. For instance, as a country, we do not celebrate the global recognition of the boy child. [International Day of the Boy Child falls on 16 May.] This day was established by the United Nations to recognise and celebrate the rights and achievements of boys worldwide. On this day, all boys should be celebrated and empowered to reach their full potential."
Alternative narratives
On 6 October, Nodoba and Dr Metsing will present a paper at the 27th Annual South Africa Psychology Congress (PsySSA) titled: Exploring the challenges of a singular narrative on being a man: Stories told through the lens of young men, Masikhulume Ndoda.
The paper emphasises the importance of providing alternative narratives of being a man that encourage a more nuanced and diverse view, allowing for recognition and expression of emotions beyond anger and aggression.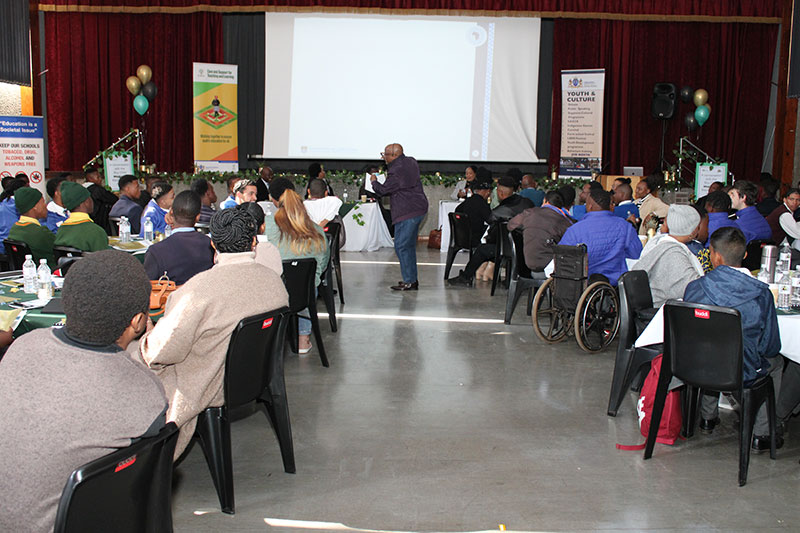 Phase two of their workshop will turn the spotlight to parents and caregivers of the boys who attended the workshop. In this way, a level of accountability will be asked of the adults, because, as Nodoba puts it, parents abdicate their responsibility.
"There seems to be a concerted move from parents to outsource the raising of their children to educators, and it shouldn't be like that. Educators are overwhelmed and schools are not equipped to take on this added responsibility," Nodoba reflected.
What's more, older men seem to have relinquished their responsibility towards society in ending the rampant violence against women.
"I don't think the average man in society is a good role model in terms of taking their responsibility of curbing the scourge of GBVF seriously. At the centre of it all is the socialisation process; flashy cars, drugs and crime syndicates are all things that attract the youth (not in a good way). Instant gratification and satisfaction are what is out there and what the youth is being bombarded with. These things can't be what the youth should look up to," Nodoba said.
The boys and workshop participants were presented with a life-changing story which encouraged them to make a difference.
"We told them they are all unique individuals and that the workshop signifies their rebirth as learners … having attended the inaugural workshop, the boys were expected to radiate a positive attitude towards life and ooze with motivation. They are to train other boys and help combat GBVF."
---
This work is licensed under a Creative Commons Attribution-NoDerivatives 4.0 International License.
Please view the republishing articles page for more information.
---