In gathering the botanical data for his PhD, the University of Cape Town's (UCT) Brian du Preez clocked up some impressive numbers scouring the Greater Cape Floristic Region's (GCFR) remote regions: hundreds of kilometres on foot, in and out of mountains and kloofs, and thousands by car. In that time, he surveyed 150 different taxa, collected specimens of 50 undescribed Indigofera species, discovered a further three new species, and rediscovered two species thought to be extinct.
Brian will graduate among 104 PhD candidates – 20 from the Faculty of Science – in the Sarah Baartman Hall on 21 July. His joint supervisors were UCT's Professor Muthama Muasya and Associate Professor Samson Chimphango, and Stellenbosch University's Professor Leanne Dreyer. His advisors and mentors were Dr Brian Schrire and Professor Charles Stirton of the Royal Botanic Gardens, Kew, in the United Kingdom (UK).
Taxonomical revision
Working with a retired Indigofera specialist in the United Kingdom, Brian's task was to taxonomically revise the genus Indigofera within the GCFR in the winter rainfall region from Lüderitz in southern Namibia to Grahamstown, excluding the Great Karoo.
Indigofera is a large, near-globally distributed genus of over 750 species belonging to the pea family, Fabaceae.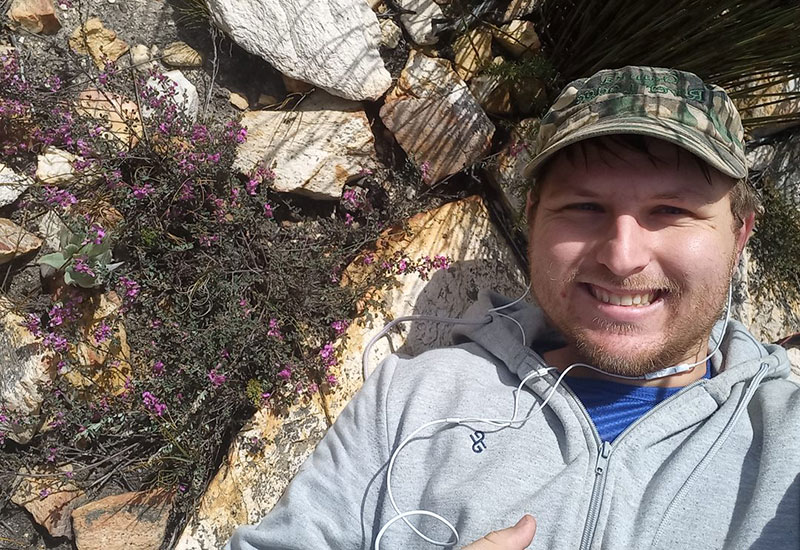 The GCFR is a biodiversity hotspot of global significance, and the smallest of the six global floristic kingdoms. Covering roughly 200 000 km2,, it is defined by its Mediterranean climate. About 12 000 species occur in this region, of which 70% are found nowhere else in the world.
On his journeys, Brian collected approximately 150 Indigofera taxa from the GCFR, which formed the basis of his taxonomic research. He also looked at patterns of morphological character evolution and historical biogeography, underpinned by intensive genetics work, he said.
'Extinct' treasures
It was not just research, but an adventure – of the kind that Brian, describing himself as a "nature lover", has revelled in since he was a teen growing up in George. The fieldwork called for a hard head and stout boots to cover the extent of the territory, and to satisfy his single-minded pursuit of plants.
"What made the work exceptional was that I undertook to do intensive field sampling, partially necessitated by COVID-19, with a goal of collecting every species in the region – and in many cases numerous collections of several species, to cover interspecific morphological variation," he said.
And at the turn of the year (2022/23), Brian collected the last target species – an undescribed species, Indigofera vlokii, known from a few high peaks in the rugged and inaccessible Kouga Mountains. He had failed on two previous attempts, both resulting in severe dehydration.
"As they say, third time's a charm."
For every collection he made, Brian did a detailed floral dissection and preservation. One of the most notable was the rediscovery of Indigofera limosa, an endemic species that had not been recorded in 110 years. This was from a single collection dating from 1911, from the Kamiesberg in Namaqualand.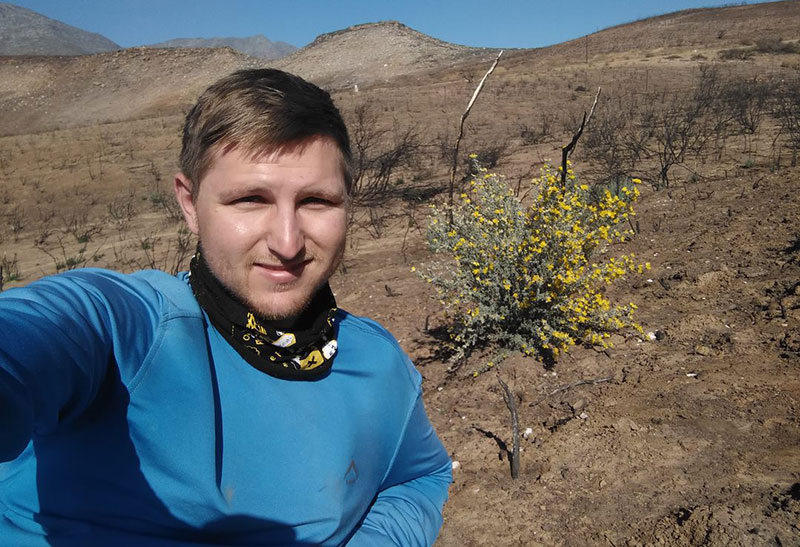 He also rediscovered two species believed to be extinct, and discovered two (and possibly a third) species new to science and belonging to other plant genera while doing his Indigofera fieldwork. The rediscovered species are Psoralea cataracta (first collected in the early 1800s) and Aspalathus complicata (collected in 1934), both considered to be extinct.
Botany by degrees
Brian's post-school academic career started with a National Diploma in Nature Conservation at Nelson Mandela University, George, in 2012. His lecturer at the time, Dr Corli Coetsee, recognised his talent for identifying and remembering the scientific names of the 100 trees they had to identify in plant module practicals.
"She encouraged me to make use of iSpotZA (we now use iNaturalist), a citizen science platform. Through this, I contacted a local group of volunteers who monitor threatened plant species in the Garden Route District."
This was how he became involved in the South African National Biodiversity Institute's (SANBI) Custodians of Rare and Endangered Wildflowers (CREW) programme, joining the Outramps CREW group based in George.
"I was soon assigned to become the legume (Fabaceae) specialist of the group."
Brian discovered his first two new species in 2013, both in the genus Aspalathus, which sparked his interest.
"Over the next few years my academic interest in the Cape Flora grew, and I realised that the BTech (Nature Conservation) was not going to be sufficient for me."
In 2015 he contacted Professor Dreyer at Stellenbosch University and was accepted for a BSc Honours in botany and zoology. Brian describes 2016 as a breakthrough year.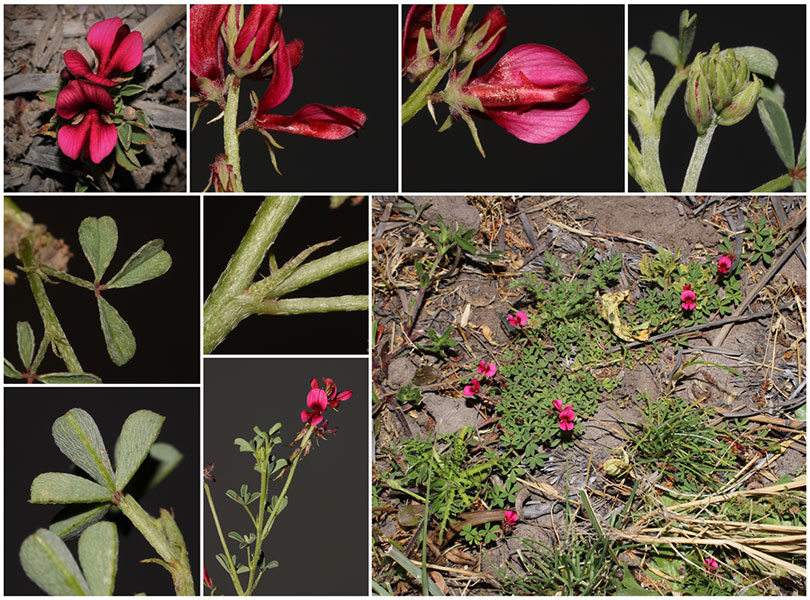 "I rediscovered two plant species that were believed to be extinct; one of them, Polhillia ignota, proved to be the inspiration for my MSc. I worked on the genus Polhillia for my MSc, which I graduated cum laude in April 2019. The focus of this research was a systematic revision of the genus, an investigation of each species' edaphic needs and a conservation assessment."
Brian ended up describing four new species, one discovered by accident just a few months before his submission deadline.
"At this point I wanted to gain more experience, particularly in the field of plant taxonomy, and was offered the opportunity to work alongside retired botanist and Indigofera specialist Dr Schrire on this genus."
With decades of baseline work by Schrire, it was evident that there were many undescribed poorly known and/or threatened Indigofera species in the Cape Floristic Region, and Brian chose this challenge for his PhD study. He worked on his research and dissertation from 2019 to 2023.
"I'm driven by a passion to conserve our biodiversity by ensuring that unnamed species are formally described."
"In the face of an extinction crisis of our biodiversity, it is generally accepted that we cannot conserve species that are not named. I'm driven by a passion to conserve our biodiversity by ensuring that unnamed species are formally described," Brian noted.
Part of the naming process involves assessing how threatened each species is by doing field surveys and designating a red-list status based on the International Union for Conservation of Nature categories and criteria.
"This information is also shared with landowners and conservation agencies," he said. "I also collect seed, if possible, of many of these species, to be stored in a seedbank or grown as part of ex situ conservation collections in botanical gardens.
"Crazy hikes"
Brian's PhD presented significant logistical challenges over the many months in the mountains and wilds. But first came the limitations imposed by COVID-19 lockdown. He couldn't visit the Kew Herbarium in the UK to work with Schrire on Indigofera specimens, required as the base for his study. He was also unable to visit local herbaria. But in that 'down' time he did extensive fieldwork, aiming to collect every species in the GCFR.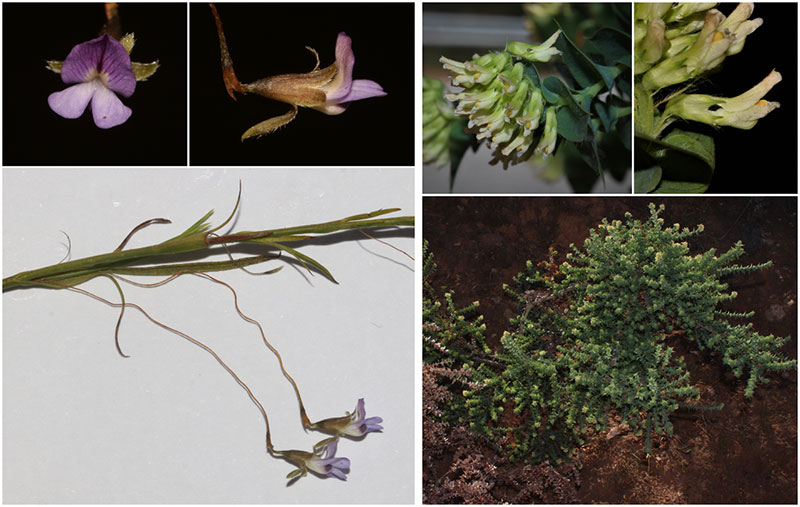 "I even used the grace periods during hard lockdown to travel and do fieldwork. I was even allowed into the Richtersveld National Park during lockdown Level 3, when it was not yet open for tourism."
Another challenge was the sheer scale of the project; finding and collecting almost 150 taxa (species and infra-specific taxa) is a massive ask. And that took a physical toll – long, exhausting hikes, with the longest being 31 km in a day.
It became an obsession, driving Brian to undertake "crazy hikes" that could have ended badly, through dehydration, falls and exhaustion. He recalls one bad fall in an isolated Karoo mountain range.
"It was painful, and I bruised some ribs and wrote off an expensive macro camera lens. But I always made a quick recovery, and often returned to the mountains within days. In the end, I was able to collect every taxon that I wanted to find, including finding Indigofera limosa."
The world of plant taxonomy rarely requires botanists to undertake such extensive fieldwork, but Brian believes there are many benefits to intensive field research.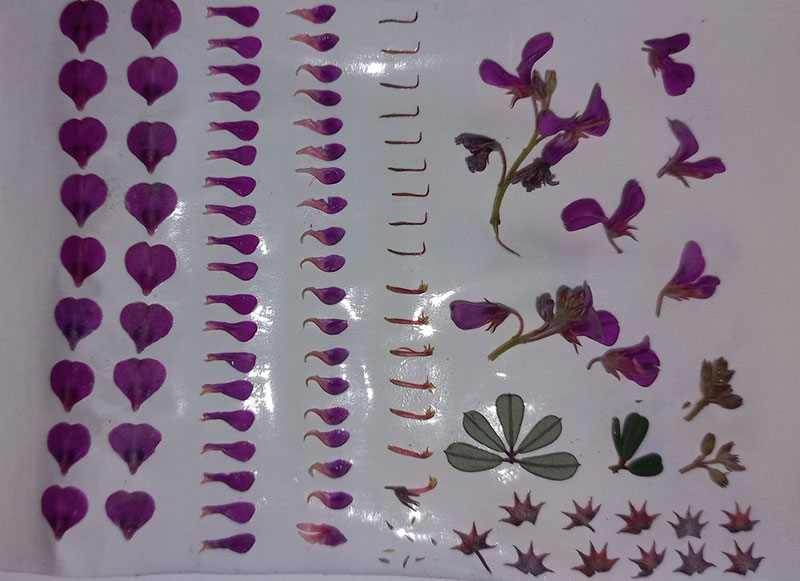 "Many modern-day taxonomists rarely, if ever, visit their study species in their natural habitat, and are not able to gain as deep insights into their study species, particularly in terms of conservation, ecology and how morphological character can be influenced by environmental conditions."
His mission was more than accomplished.
"I additionally found several other rare or long-last-seen species over this period that have not been mentioned."
He also pays tribute to the many citizen scientists who posted Indigofera observations on iNaturalist.
"The additional eyes and boots in the field helped me find several target species and contribute an additional 7 500 locality records of various Indigofera species in the GCFR," he noted.
Graduation will be a special occasion, another marker on his botanical journey, which Brian hopes to further as a taxonomist with SANBI, or through a postdoctoral research fellowship. But afterwards there will be an evening reserved for some social ballroom and Latin American dancing, another passion.
His feet, he said, have recovered well!
---
This work is licensed under a Creative Commons Attribution-NoDerivatives 4.0 International License.
Please view the republishing articles page for more information.
---