The director of the Modelling and Simulation Hub, Africa (MASHA) within the University of Cape Town's (UCT) Department of Statistical Sciences, Associate Professor Sheetal Silal, invited the postgraduate student cohort and staff at MASHA to celebrate Africa Day and reflect on what it means to be African.
On her vision for the MASHA programme, Malaria Modelling and Analytics: Leaders in Africa (MMALA), Professor Silal said, "For many years I have been advocating that Africa will solve its own problems." While the field of disease modelling previously did not have much representation from the African continent, Silal said that she was trying "really hard" to change that.
"But with you [MMALA students], this is the dream; this is exactly how we are changing that."
She also recited a poem by Wayne Visser titled "I am an African" with a notable excerpt reading as follows:
I am an African
For her blue skies take my breath away
And my hope for the future is bright
I am an African
For her people greet me as family
And teach me the meaning of community
Reflections
The message resonated with the group and sparked reflections on their personal journeys to joining MASHA. The prevailing sentiment revolved around the celebration of diversity, the overcoming of personal challenges, a sense of community, and humility. The cohort has embraced the opportunity to be part of MASHA, recognising the need for African expertise in proposing contextually appropriate solutions for the African context.
Lovemore Mapahla, a PhD student, highlighted the vision of the Organisation of African Unity at its formation on 25 May 1963, and noted the similarity of the multi-country approach adopted by the MMALA programme. In light of Africa's ongoing public health challenges, the comprehensive training provided to this diverse group of African modellers instils hope for a future where the capacity to address these problems is achieved. Post-training, the MMALA cohort is driven to take up critical roles in their respective countries. This is intended to further bolster collaborative leadership throughout the region and foster evidence-based decision-making in pursuit of malaria control and elimination.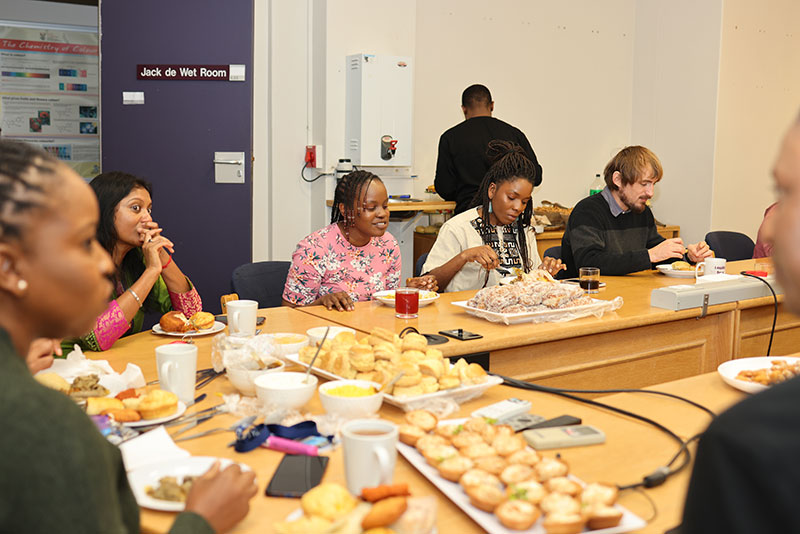 In light of Africa Day, a variety of cuisines from across different African countries were shared. Many foods, such as tripe (also known as mogodu in Setswana, omatangara in Oshiwambo, and matumbo in Shona and Swahili) and fat-cakes (known as amagwinya, vetkoek or puff-puff) were familiar across many cultures – a reminder of our common heritage.
The day also included formal portraits for the MASHA website; a lovely display of the group's traditional attire and the diversity thereof
---
This work is licensed under a Creative Commons Attribution-NoDerivatives 4.0 International License.
Please view the republishing articles page for more information.
---