Rain, wind and chilly conditions may have dampened spirits among many Capetonians on Earth Day on 22 April, but not the group linked to the Office for Inclusivity & Change (OIC) Disability Service unit at the University of Cape Town (UCT), in partnership with the Students with Disabilities Forum (a Students' Representative Council sub-group). Thumbing their noses at the weather, they took to the Rondebosch Common for a 5 km disability inclusive walk to celebrate nature and its healing connections.
Earth Day is an annual event that supports environmental protection. First held on 22 April 1970, it now offers a wide range of events coordinated globally by EARTHDAY.ORG, which includes one billion people in more than 193 countries. The official theme for 2023 is "Invest In Our Planet".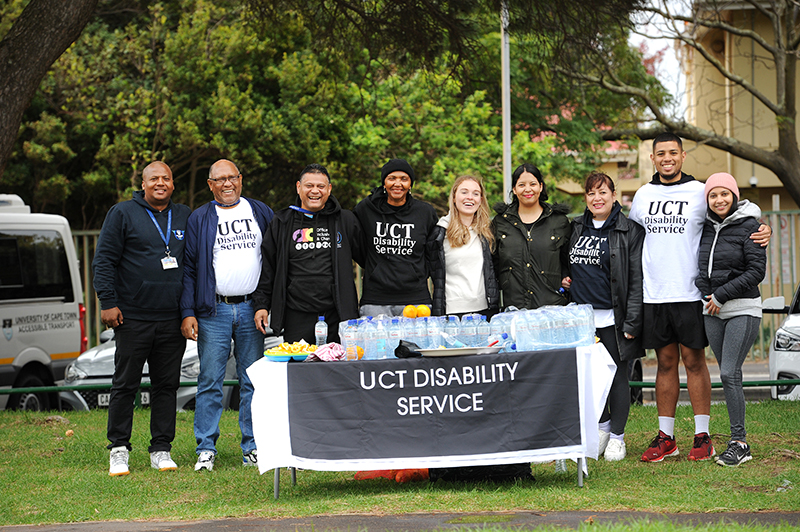 Among those who'd wrapped up well to join the camaraderie were students and staff living with disabilities; their families and friends; members of the OIC Disability Service unit, the Students with Disabilities Forum; Professor Elelwani Ramugondo, the deputy vice-chancellor for Transformation, Student Affairs and Social Responsiveness; Dr Sianne Alves, the director of the OIC; and Edwina Ghall, the Disability Service manager.
"Our generation may not have an Earth in 10 years. We have to work now."
The core of the Earth Day exercise and 2023 theme was succinctly summed up by participating BSocSci student Tessa du Plessis: "Our generation might not have an Earth in 10 years. We have to work now."
Du Plessis was accompanied by members of her family, including their three Golden Retrievers, Pepper, Honey and Cupcake, who were determined to make the most of the excursion – and the adoring throng.
Natural health benefits
The strong connections between the natural world and health and mental health were also spelled out loudly.
Dr Alves, said: "This walk is to promote well-being and our connection to the earth to promote healthy living. We wanted to share this day with our students and staff and get together to create a moment of inclusion for all."
She continued: "UCT is really focused on including students with disability and we often focus on the academic mainstreaming of our Disability Service through universal design for teaching and learning and physical accessibility.
"As universities we sometimes forget that there is a social element of inclusion required, which is why we are here on a brisk Saturday morning. We wanted to create a vibe for students and staff to get to know each other outside of the academic spaces and create more social engagements."
Professor Ramugondo reminded the gathering of the decimating effects of not maintaining or investing in ones poor mental health, the "silent disability". These effects, primarily depression, manifest in various forms, and can often accompany and aggravate other forms of disability. But nature is an important antidote to the pressures of the academic world and associated sedentary lifestyle, she said.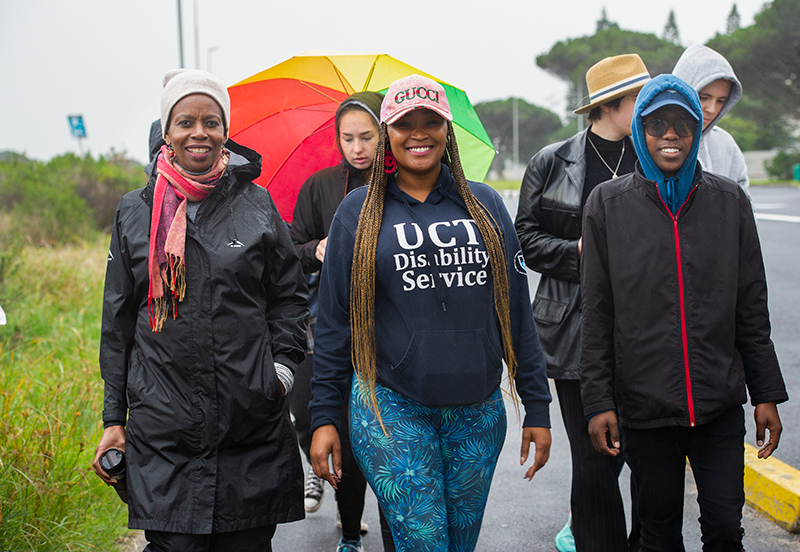 "We must remind ourselves that we do have a body," said Ramugondo, referring to the sedentary lifestyle associated with the rigours and long hours of academic study. "And when we talk about inclusivity, we also include mental health."
Getting out and about to celebrate all the earth has to offer is good for mental health too, she noted, "an opportunity to connect mind, body and soul".
Educate, advocate, celebrate
Speaking on behalf of the Students With Disabilities Forum, co-chairperson Andrew Roets said that part of the forum's mission is to educate, advocate and celebrate.
"I'm hoping this [walk] will achieve a sense of community and celebration among persons with disabilities. We're hoping to inspire them to take their mental health seriously; to show them alternative ways to deal with some of the challenges and struggles that we face."
Roets is a BA honours student in Historical Studies whose dissertation is on the medical history of autism spectrum disorder. His undergraduate majors are Politics & Governance, History, and African Studies. He has a special interest in disability history and his honours research focuses on historical representations and portrayals of autism spectrum disorder in the media.
"We've got people of various cultures, abilities, disabilities but today we are walking as one."
The final word to the effervescent Lesego Modutle, a disability advocacy specialist with UCT's Disability Service: "We're doing this for our physical and mental health. Just walking out as a community is really great for us. I'm proud of you for being here in this weather. The vibe is awesome. What's important about this walk today is that it is disability-inclusive. We've got people of various cultures, abilities, disabilities but today we are walking as one."
---
This work is licensed under a Creative Commons Attribution-NoDerivatives 4.0 International License.
Please view the republishing articles page for more information.
---