After 20 years in accelerating change in the world of catalysis, the University of Cape Town's (UCT) c*change (Centre of Excellence in Catalysis) has reached the end of its funding cycle.
Centres of excellence were established in South Africa's science scene in conjunction with the Department of Science and Innovation and the National Research Foundation (NRF) to give prominence to essential areas of research. With this agreement in place, the various centres were housed in the country's leading institutions.
"The world of catalysis is inaccessible to most people. Essentially, it explains accelerating chemical reactions of various kinds through a catalyst, or 'sparking' agent," said c*change director, Professor Michael Claeys, at the 20-year celebration function hosted in Tokai, Cape Town.
The occasion also marked the end of its funding cycle, which was initially meant to be for 10 years, but was later extended.
"Just as we were given our chance to invest resources and attention into catalysis back in the early 2000s, the time has come to make way for other important research initiatives in different fields of science."
"In reflecting on change, our starting point was the idea of 'sea change'."
With a curious title of 'c*change', Professor Claeys said that they needed a name that would signify the centre's broad contribution to transformation.
"The name is a constant reminder that we wanted to do things differently.
"In reflecting on change, our starting point was the idea of 'sea change', a phrase that means a profound and notable transition, aptly taken from Ariel's song in a book I haven't read, but promise to, The Tempest, by William Shakespeare," he said.
The centre has several partner institutions, including the University of the Western Cape, University of Limpopo, Stellenbosch University, Nelson Mandela University and University of South Africa, to name a few.
The size of the centre has included participation of 20 to 25 researchers and 55 to 65 postgraduate students annually from these universities, spanning research groups from chemical engineering, chemistry and biochemistry who have been working on defined research themes.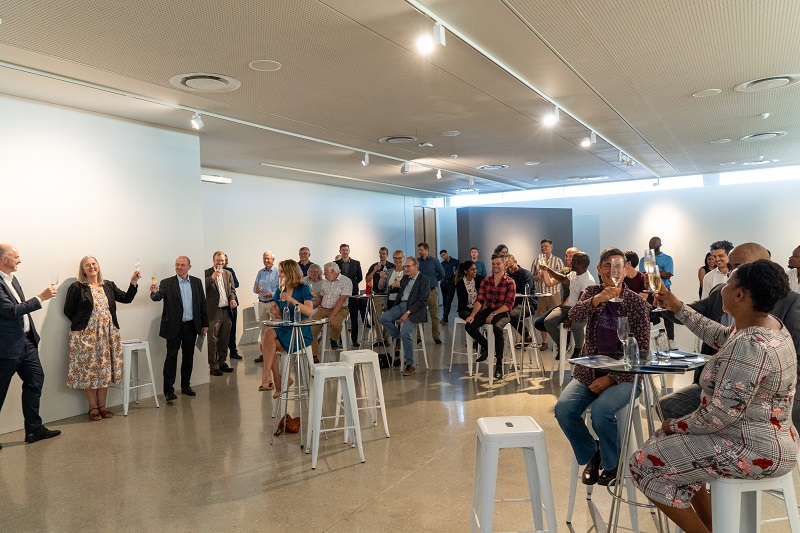 The original scientific aegis of the centre was made up of four research programmes, namely the Synthesis Gas Programme, the Paraffin Activation Programme, the RSA Olefins Programme and the Small Volume Chemicals Programme.
Furthermore, the centre launched the c*STAR Projects, which allocated seed funding and a team of researchers toward promising research and outreach initiatives. The aim, according to the centre, "was to move ideas and even patents to their next level of development and/or commercialisation".
Speaking at the event, Professor Sue Harrison, the deputy vice-chancellor for Research and Internationalisation, lauded the alliance of knowledge that has been brought about by c*change.
"One of the things we struggle with [at] South African universities is our level of competition between us; we're a small scientific group and we like to compete for everything," said Professor Harrison.
"What c*change did, is get us to frame our research questions together to build a community of catalysis in the country. Not long ago, disciplines would not work with each other; now we have learned each other's language. And that has impacted all of us in how we work."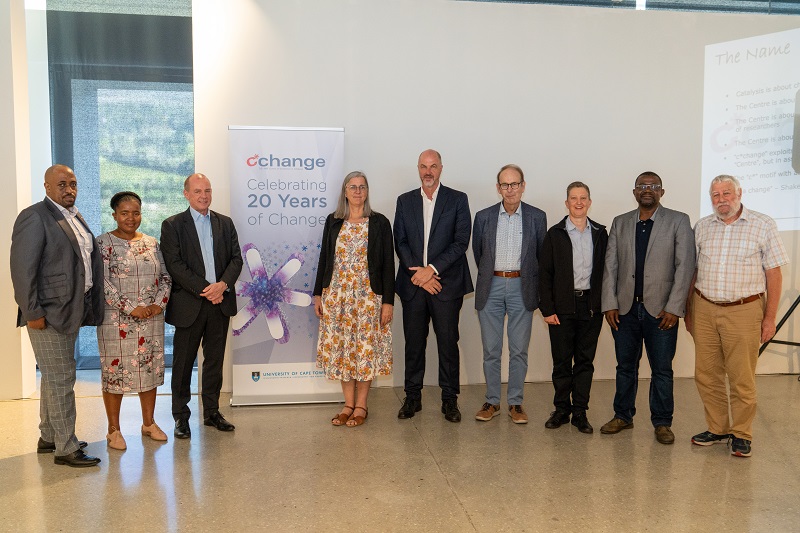 Former director at c*change, Professor Jack Fletcher, reflected: "Stretching science beyond a narrow purview of development requires embracing diverse perspectives … to this end, the centre worked to deliberately tap into underutilised talent by creating specific pathways for black and women students and researchers to enter this research space. This ensured a dual win for science and transformation."
Some c*change highlights in summary:
Chemical industries resource pack: A new Grade 12 Physical Science syllabus required learners to study the chemical industry in South Africa, with particular emphasis on the manufacturing of petrochemicals and synthetic fuels, chlor-alkali derivatives, fertilisers and batteries. It had been recognised that teaching materials for this part of the new syllabus were lacking and, as such, c*change initiated the compilation of similarly styled material to the very successful industry-sponsored Grade 11 Mining Resource Pack released in 2008.
Research outputs: 400 peer-reviewed journal publications; 33 published conference proceedings; 38 provisional or granted patents were produced by c*change.
Graduates: c*change has graduated 164 South African, 33 other African and 13 non-African postgraduate students; 144 MSc and 66 PhD students have graduated from c*change (69% and 31% of the total, respectively).
---
This work is licensed under a Creative Commons Attribution-NoDerivatives 4.0 International License.
Please view the republishing articles page for more information.
---