Two Vice-Chancellor's Blue Carpet Scholars are ready to set off on their respective ambitions in the field of commerce, film, and media.
Shaneel Govind hails from Durban, and his goal is to assist South Africans in being money savvy. Another student, Westerford High School educated Inge Meyer, received the scholarship letter, after which she cancelled her gap year plans.
Together, they join some of the country's top performing matriculants who were recently invited for lunch by outgoing Vice-Chancellor (VC) Professor Mamokgethi Phakeng.
Govind, a student in the Faculty of Commerce's College of Accounting, said he is not feeling any pressure being part of this year's cohort.
"I look at it as an opportunity and chance to prove myself – and I'm excited about that, so I'm going to take it as it [comes] and hope for the best."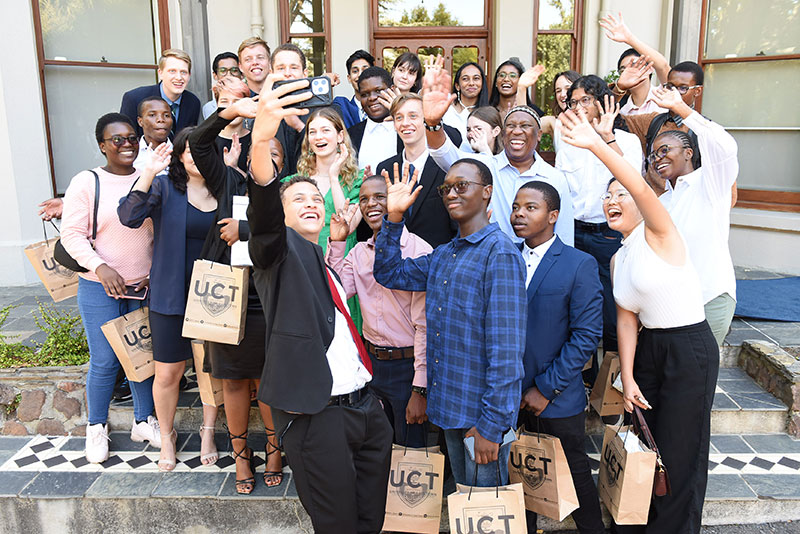 He added: "Shout-out to Crawford College because they played a big part in me getting here. This is a big change for me … I have got no family here, but I love the challenge; I love the adventure. A lot of my friends from Crawford are here. It has been fun getting around."
Govind's goal after he completes his studies is to "instil a sense of financial literacy within [the] youth of South Africa because I find that even I struggle with things associated with financial literacy: like budgeting, which will be key as a student".
"This way we can make better decisions with our money and get more involved in the field of commerce – not just the people who specialise there, but for everyday citizens, so we know how to manage our money better."
Gap year
Meyer, an aspiring film producer, was determined to take a gap year in 2023 and had already started working before the scholarship put paid to those plans.
Her goal is to feature the country's best talent on popular streaming services to "show the richness of the talent and resources available in South Africa".
"I fully committed to the gap year and within a space of 24 hours my life changed. I had the call with the VC and after that I looked at my parents and said we are doing this," she said.
"I have a passion for film and media and writing and will work to ensure there are more South African productions across television screens."
She added: "Representation is incredibly important: whether it's seeing yourself, your story or people like you on screen."
---
This work is licensed under a Creative Commons Attribution-NoDerivatives 4.0 International License.
Please view the republishing articles page for more information.
---