It will not be enough to focus solely on issues that affect us in silos, rather, as high commissioners and ambassadors to South Africa who gathered at the University of Cape Town (UCT) heard recently, we should be obsessed with developing a sustainable future for the world.
At the sixth annual Heads of Mission breakfast, which took place on Thursday, 9 February, UCT Vice-Chancellor (VC) Professor Mamokgethi Phakeng told guests: "UCT is important – not only to South Africa, but to the African continent and the world. We are proud of the truly global diversity of our campus and our partnerships.
"By spending this time with us, you are helping to build a sense of community between UCT and your own constituencies, and this opens a way for our work to have a positive impact beyond our country and continent."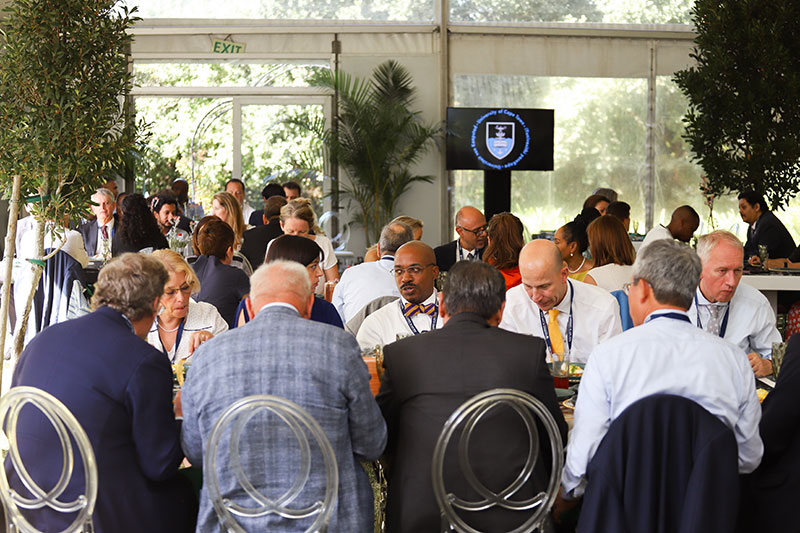 Pandemic, climate change, warfare
Professor Phakeng said she got goosebumps at a recent event when UCT welcomed students from 88 countries.
"I believe all of us in this room share the same concern about how we can develop a sustainable future for the world. Indeed, it is no longer enough to seek out the best for our own countries and communities.
"The pandemic, climate change, warfare and economic uncertainty all reinforce the message that the actions of one country, one multinational corporation or even one individual can have dramatic consequences for everybody on the planet, including wildlife and the environment," she said.
"UCT is committed to seeking out effective solutions for the problems South Africa and this continent share with the rest of the world. At the core of UCT's Vision 2030, our strategic plan for addressing the challenges of the coming decade, is our massive transformative purpose to unleash human potential for a fair and just society."
Phakeng concluded: "African expertise cannot only develop African solutions to African problems but can also solve or contribute to the solutions to global problems with the perspective that other countries may not have – especially countries in the Global North where scientists may not be familiar with the specific challenges of developing countries.
Other academics who weighed in were Dr Elona Toska, chief research officer at UCT's Centre for Social Science Research; Associate Professor Amir Patel from the Department of Electrical Engineering; and Associate Professor Malebogo Ngoepe from the Department of Mechanical Engineering.
Supporting adolescents and young people
Dr Toska is a social scientist working at the intersection of public health, psychology, social work and development, with a focus on adolescence.
Her research focuses on ways to help adolescents and young people, including those living with HIV and those who are adolescent parents. The aim is to help them have safe and healthy relationships with partners, caregivers, teachers and healthcare providers.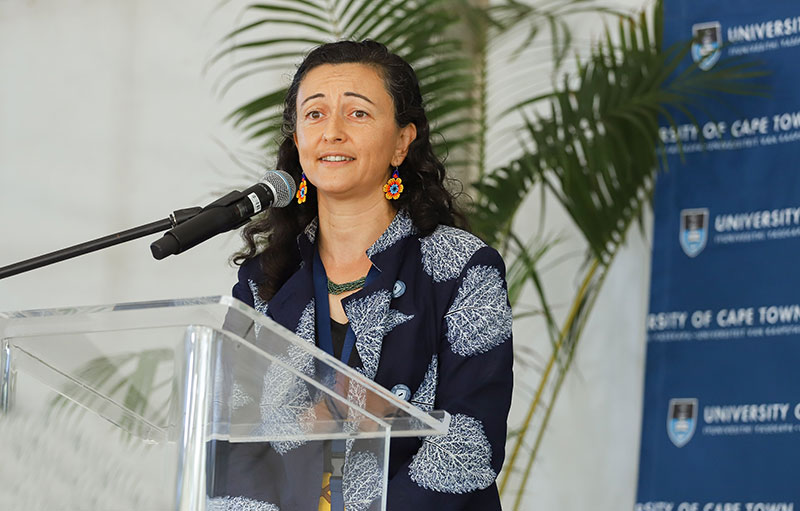 "Our lives are about investing in the future and in the team I'm with we're all activist academics. We really come together to try and understand, using data and methodologies of different kinds, how we can support adolescents and young people better, and through them, their families and communities they interact with," she said.
Toska said that they conducted a study on 1 000 adolescents living with HIV in the Eastern Cape.
"What we are trying to figure out is who are those who need the most help. We're also trying to figure out what happens in the lives of adolescents living with HIV in South Africa.
"We heard a lot about 'slow learners' – an informal way to denote young people who are not progressing efficiently at school – and what we noticed is almost all the slow learners were living with HIV.
"What we see is that they were not just doing badly physically, they also had worse mental health and worse cognitive development."
Safe schools, grants, parental supervision
There is, however, a way to change the course of the situation, Toska noted.
"There is difference-making data, which include positive measures such as going to a safe school, [receiving] a child support grant, and parental supervision which shows that … the cohort of adolescents who receive all three showed improvements in not only one area but … improvements in health and education [as well]. They reduced their sexual risk and there was a reduction in violence."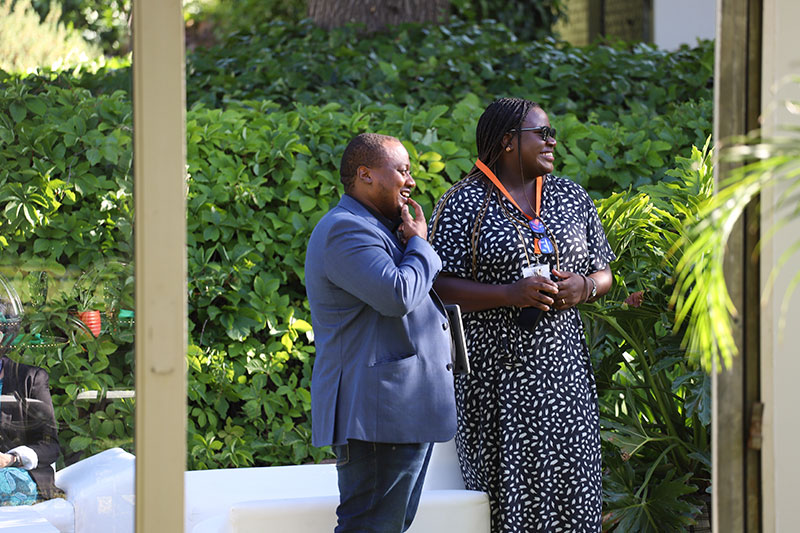 Young women also carry the risk of falling pregnant while still at school – and this needs to be addressed. The way around it, said Toska, is to become more proactive. "We tested different factors and one of the strongest is having enough food to eat at school.
"The other factor was childcare because no one thinks to do that for young mothers. We just expect them to carry on and deal with the issues in their lives. Those with access to childcare saw improvements in their own education and were better parents," she said.
Ground-breaking research
Following Toska's presentation, Associate Professor Patel shared with the audience how he has applied his studies of cheetahs' movements – especially their tails – to create a ground-breaking robot design based on the science of movement and stability in animals.
"If we are ever going to move robots out of our laboratories, we need to think about how our robots can manoeuvre: accelerating, turning, jumping," Patel said.
"What I found when I started my research is that it is sparsely understood and studied in robotics. Animals are adept at manoeuvrability, but even so, biologists are not clear on how they are able to manoeuvre in such an amazing fashion. We use robotics to give insight to biology."
Patel was awarded the Google Research Scholarship in 2021 for his project, "WildPose: 3D animal biomechanics in the field using multi-sensor data fusion".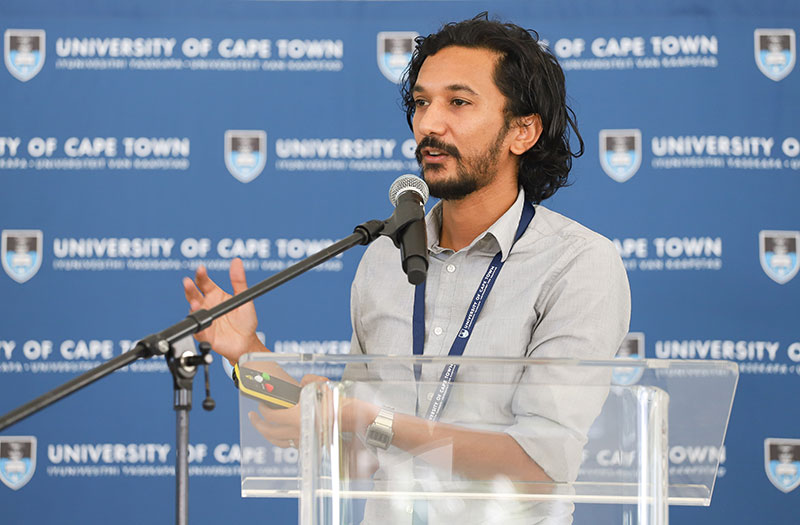 The WildPose sought to enable videographers to capture biomechanical data from animals such as cheetahs and lions in the wild, using a single handheld device, and creating a new source for data collection.
"The place I have been spending my time on as well is trying to find out what animals are doing; how are they moving? If things were different, I would take this cheetah and put it in a bio-mechanics lab, on a treadmill, in front of a fancy motion-capture system. I cannot do that because it's a wild animal.
"We couldn't use a GPS collar because it doesn't capture information about how the head is being stabilised, what legs it uses and its tail.
"I put more sensors on the animal and so we developed a system which is a harness around the animal which has a motion capture measurement unit, a GPS and cameras on the cheetah. And we can now reconstruct the motion without having cameras pointing at it, so it could run around freely."
For Associate Professor Ngoepe, who focuses her research on the application of mechanics to human biological systems including blood clotting, heart disease and even curly hair, she has come to find that blood clots aren't always bad.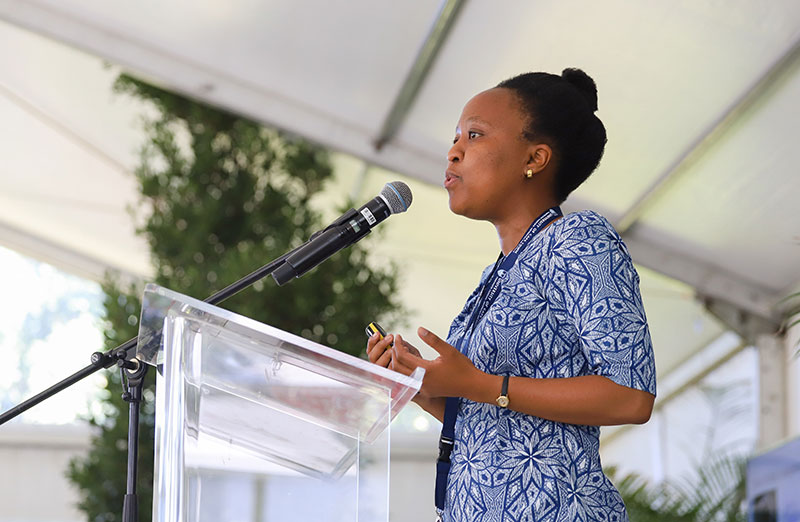 "They play good cop and bad cop … depending on the specific disease you're focusing on," she said.
"One of the systems that we study are brain aneurysms (weakening of a blood vessel on the brain that then forms a balloon that's likely to pop). What doctors try and do is to get a blood clot to form in that balloon because it acts as a natural barrier that prevents the aneurysm from popping, but of course some people clot too much."
"We've developed techniques that enable us to predict blood clotting in the aneurysm on [a] patient [by] patient basis so we can see if the treatment would result in a good clot or bad clot."
She said they use a "range of computational methods to develop our models", which includes a scan of a brain with an aneurysm. They then take that and the surrounding blood vessels and reconstruct it into a virtual aneurysm on computers, and model blood flowing.
"How do we know this is true in real life and not creating a clotting metaverse that doesn't make sense in real life? We spent a lot of time working with collaborators on experimental techniques that allowed us to run experiments," Ngoepe said.
Her other area of expertise is the study of hair, and while studies around hair have been done, Ngoepe noted, the only difference is that most of the samples used have been of straight hair. "And those with curly hair will know it has a life of its own," she said.
"We went out and carried out mechanical testing on hair fibre. The result, mapped up on a graph, gives tons of information on how material behaves. The curly hair begins flat, then rises steeply and becomes flat again. Straight hair fibres rise steeply and flattens out.
"When we first saw it in the lab, we thought we were just seeing things until we carried out tests on other people, which eventually confirmed the results," she said.
---
This work is licensed under a Creative Commons Attribution-NoDerivatives 4.0 International License.
Please view the republishing articles page for more information.
---