"Yours is not a profession but a calling because you are dealing with human life, human emotion, human dignity and human suffering – and that's an ethical issue," Gift of the Givers' Dr Imtiaz Sooliman told University of Cape Town (UCT) returning second-, third- and fourth-year physiotherapy students at a welcome event on 3 February.
Because of COVID-19 restrictions, it was the first on-campus welcome since the head of the Division of Physiotherapy, Dr Shamila Manie, introduced the event in 2020. Hybrid formats were held in 2021 and 2022.
It was also an opportunity to introduce the department's 2023 theme #MakingaDifference and guest speaker Dr Sooliman's address was a strong challenge in an era of medical moonlighting in the public service ("Not looking after what has been legally paid for"), and a lack of care and ethics.
And the students were rapt; struck by the impassioned message from a man who has seen all manner of disaster: earthquakes, fires, droughts, floods, explosions and even hostage situations.
Sooliman continued, "And if you are afraid to die in the healthcare field, you should reconsider your choice. Find another job. Do something else."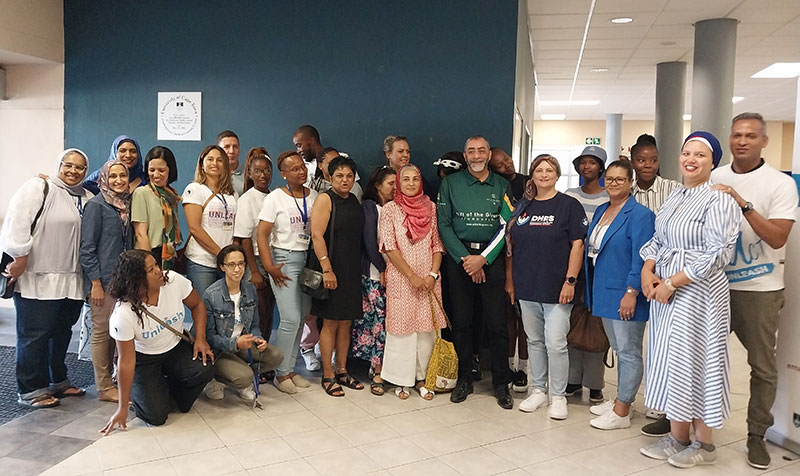 He said that two years of COVID-19 lockdown had shown who among healthcare professionals had shirked their duties and who had come to the fore to treat and care for patients, regardless of the risks to their own lives.
"Those are the heroes. And the physiotherapists were at the frontline, attending to the chest patients, the small children, the elderly. They understood they had a chance of becoming infected and dying. And those are the types of physiotherapists we need."
Reflection is important too, Sooliman noted.
"Reflection helps us to know whether we're going forward, staying static, or going backwards. It's important you reflect on everything that you do in life."
And while ethics, compassion, care, mercy and love are paramount in the profession, it is important that students keep their distance too.
"Do your job. Don't get attached to the person, the baby, the adult or the situation."
His teams had learnt that in the aftermath of many rescue missions.
Language of the heart
Sooliman's direct, to-the-heart approach has permeated every facet of the internationally renowned Gift of the Givers Foundation.
He recounted how a post-Gulf War visit to Turkey in 1992 had changed his life and given birth to the organisation.
"I didn't just wake up one morning and think, 'I'm going to start an organisation'."
It came via the heart, he said, during a visit to a mosque where he saw people of all faiths, denominations and nations coming together as one nation of mankind under one God. There a Sufi holy man led him to a new vision for his life's work. And he gave Sooliman the name of the organisation he later found.
In 1994 he gave up his medical practices in Pietermatizburg to form and lead Gift of the Givers, driven by people of different faiths, races, creeds and skills that would serve humanity, bring hope and restore dignity to the most vulnerable.
It has since become the largest disaster response non-governmental organisation of African origin on the continent. That has translated into R4.5 billion in aid to 45 countries in 30 years through a six-pronged disaster assistance plan encompassing disaster response, hunger alleviation, water provision, healthcare, education and human development.
But it takes a special language to do this work, said Sooliman. Not someone who easily takes no for an answer, he has learnt that communicating through "the language of the heart" can move mountains.
"I want to speak to the Pope."
And this facilitated his 'can-do' attitude during disasters.
"I want to speak to the Pope", "I need helicopters", "We must recommission this hospital". These requests were all converted into quick action because he was able to articulate the human need.
After the monster earthquake in Pakistan in 2005 that destroyed most of the north-western region, rescue and medical teams were cut off from the disaster zone. Sooliman knew they'd need helicopters. But the Pakistanis couldn't supply them.
"You've got to think on your feet," he said. Spotting a black man in an American Air Force uniform, Sooliman approached him.
"I say, 'My brother, where are you from? He says, 'We're from America'. I say, 'You are a black American. You're from Africa. We are from Africa. Let's speak, brother to brother'."
In no time Sooliman had two Black Hawks and another chopper to carry his teams and supplies into the ravaged region.
"You see, he understood the language of the heart; the language of love and compassion. And he was brave enough, dedicated enough, to make expensive decisions without waiting for a senior to authorise it."
And when Sooliman approached the local hospital, exuding the "stench of death and gangrene", and saw children on stretchers with no intravenous lines, water, food or medical devices, he approached a Pakistani doctor.
"Is this an organised killing field?" Sooliman asked.
The doctor replied, "Don't you know we are decommissioning this hospital?"
Sooliman was aghast.
"The mountain has swallowed towns and villages and you are shutting it down? Bring me these items and I'll show you what we can do," Sooliman said, handing him a list of medical supplies.
In 24 hours, the supplies arrived. The Gift of the Givers' scientific and medical team turned the facility into a 400-bed emergency hospital, doing 75 operations a day, and saving lives.
"You can't think negatively. Life is about positivity; about love and our relationships," he said.
'We can do this'
That force was revealed when the team rallied to help in Haiti after an earthquake in 2010 that left Port au Prince devastated.
"Two hundred and fifty thousand people died in 40 seconds. There was looting and shooting in the streets, no functional government. Everything was in chaos."
Ignoring formidable logistics, Sooliman swung into action. Just eight days after the earthquake he and his emergency medical and search and rescue teams arrived at the border between the Dominican Republic and Haiti.
The first to arrive, the South African team made world history.
The search and rescue team went in first. Three hours later, after hearing sounds under a collapsed church, they pulled out a 64-year-old woman. She was alive.
"Her first words to my team were 'I love God'. Her second words were, 'I love you'.
"Love is the foundation of human existence and never in the history of the world has any team from Africa taken anybody alive out of rubble in an earthquake outside Africa."
"The South African team stepped forward and said, 'We can do this'."
When other medical teams arrived, they said, "We can't do this. There are no MRIs, no CT scanners, no functional theatres."
Sooliman countered: "I said, what do you expect? This is an earthquake. But the South African team stepped forward and said, 'We can do this'.
"And where did we learn [our skills]? In these schools. In these universities. In these provinces and in this country – and we have set the standard."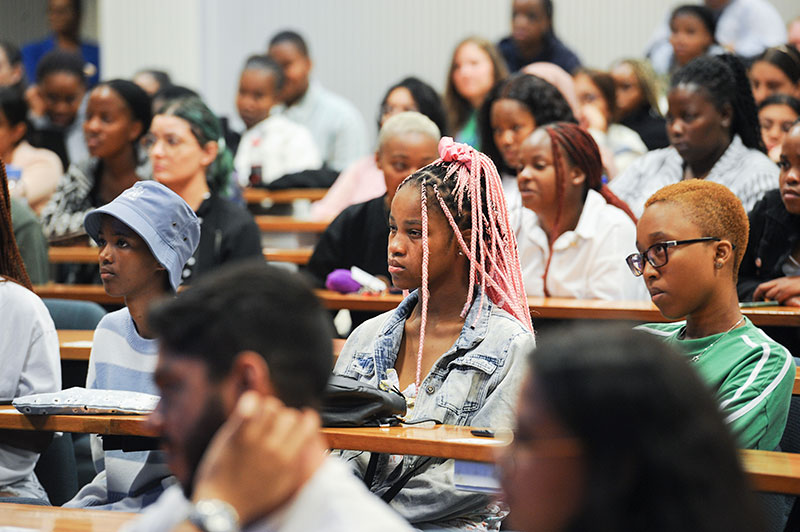 They get thousands of calls from volunteers all over the world, said Sooliman. But the most important skills they look for are love, compassion, dignity and ethics.
"Let me tell you how important that is," said Sooliman. "Those first-world countries sent medical teams. But they came to practise. And people died from bleeding and because they didn't do their job properly.
"And they brought the amputated kids to us. And we realised that whoever had performed these amputations didn't know what they were doing. We had to re-amputate all the children. So now the elbow has gone, the knee has gone. And there were hundreds of them; lost because of poor ethics; it was not their child; it was not their country."
The event was also an opportunity to alert students to Gift of the Givers' third series of Touws River clinics, which qualified physiotherapist and occupational therapist attended in 2022. These outreach clinics provide a range of services to a town hit by high unemployment and little access to essential medical services.
The Division of Physiotherapy hopes to collaborate with the foundation regarding these outreach clinics with their students in 2023.
Sooliman's lessons will no doubt sow seeds among this year's volunteers.
(At the time of writing two massive earthquakes hit Turkey and Syria, precipitating a humanitarian crisis. Here is how the Gift of the Givers is responding.)
---
This work is licensed under a Creative Commons Attribution-NoDerivatives 4.0 International License.
Please view the republishing articles page for more information.
---