In a coup for the University of Cape Town's (UCT) African Research Society (ARS), two Nobel Prize winners – medical researcher Dr Harvey J Alter and molecular biologist Dr Richard Henderson – addressed a packed auditorium at the Faculty of Health Sciences (FHS) on their research journeys to the ultimate award in science. The ARS is a student organisation that aims to link students with research opportunities.
"I did not set out with a grand goal," said Dr Alter, addressing the seminar, which was titled "Inside a Researcher's Mindset", via Zoom from his study in the United States. "I set out to investigate hepatitis in blood transfusions."
Alter, who jokingly describes himself as the poet laureate of hepatitis and peppers his public addresses with his humorous poetry, read out a poem which begins, "When I grew up in Ridgewood, Queens, I never had no Nobel dreams", to describe his four-decade journey to discovering the hepatitis C virus (HCV), which won him the Nobel Prize in Physiology or Medicine 2020.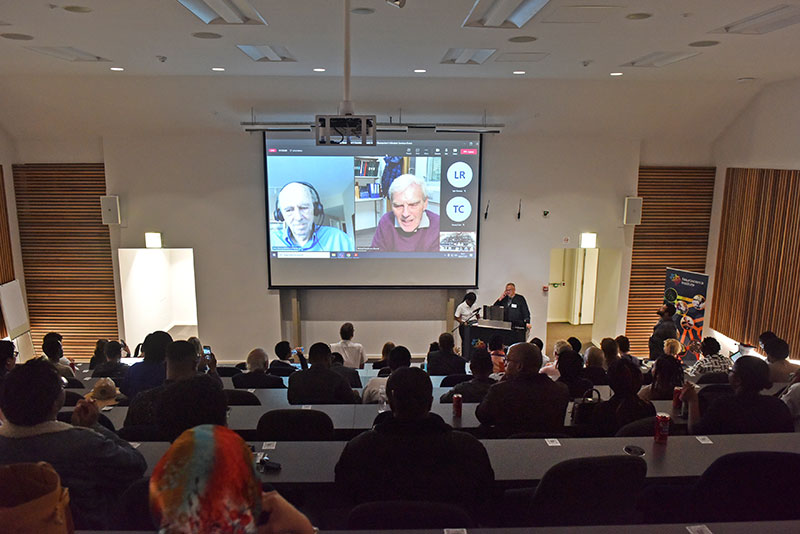 Having set out in the 1970s to study the incidence of hepatitis in blood transfusions, his research had shown high levels of hepatitis in paid blood donations, 51%, versus 7% in free donations, which led to transmissibility work with chimps, a patient named Mr H, and, ultimately, to the discovery of a third hepatitis virus. "In a step of brilliant deductive reasoning, we said if it's not A and not B, we will call it non-A and non-B." It was in fact hepatitis C.
Today post-transfusion transmissions are essentially zero, with a one in two million chance of it, and drug therapies are virtually 100% effective.
Find out what you want to work on
"It is very important, whatever your age, to do as much research as you can to find all the opportunities you might be particularly interested in," advised Dr Henderson, a Scot whose work on developing cryo-electron microscopy for the high-resolution structure determination of biomolecules in solution won him the 2017 Nobel Prize in Chemistry.
Henderson was the first to produce a 3D image of a biological molecule at atomic resolution. His refinement of imaging methods allowed biomolecules to be captured in their natural shape.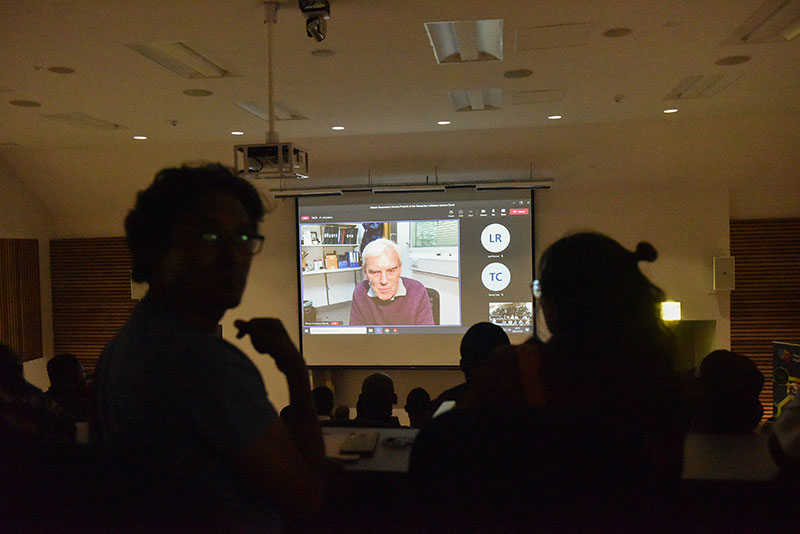 "I would never have made the discovery I did, without finding info, reading, visiting places and talking to people," he said. He quoted a professor at the Chemistry department at Yale who had said: "Don't look at the next step. You are young. Look 10 or 20 years down the line.
"Forget the Nobel Prize and pick goals with funding available," he said. "A lot of research is long haul, so you can only have your goal on the next hurdle."
Future researchers
The advice of the laureates was targeted at encouraging young, future researchers.
"The research gap at UCT, and throughout Africa, highlights the importance of investing in young minds entering the space," said Yanelisa Pulani, intercalated Bachelor of Medical Science honours student and the co-founder of ARS, who was driven towards medicine and research after losing her grandmother and aunt to cancer within eight months of each other.
Pulani had noticed a significant gap between students and the world of research, and establishing a society was one way of attempting to bridge that gap for students, and towards helping researchers.
"We are passionate about African-centric research," said Tao-Mae van Heerden, secretary general of ARS. "When we think of research done by the Western world, it is often not focused on problems faced within our societies, illnesses such as HIV and TB, which are very important public health problems within the African continent. These are issues we need to tackle ourselves."
Three messages
"There is no elevator to success. You have to take the stairs." So read one of Alter's slides, and hard work was the message from the laureates, both of whom grew up in impoverished households – Alter as the son of Jewish immigrants in New York during the Great Depression, and Henderson as a rural Scot whose father was a baker and mother worked in agriculture.
"There are three messages that are important for me," said Henderson. "Find out what interests you by doing lots of investigation. Once you know what you want to do, find somewhere or someone to help you, and constantly evaluate your progress. Don't be frightened to change track, while always keeping an eye on long-term interests."
Asked how a goal-setting youngster could aim for a Nobel Prize, Alter answered: "Change your goal!
Don't start out with that goal. Start with something you are interested in. Find a good mentor and try to become the best you can in the niche that interests you."
Mentorship
What it was like to approach a Nobel laureate? "It was probably the scariest thing I've ever done," laughed Pulani.
"However, I had nothing to lose and everything to gain. It was the best decision I've ever made. I didn't tell anyone because I feared people would think I was crazy. I only informed my team when I received responses. Everyone was ecstatic.
"The future is safe, because of these young people. We celebrate an old today with a new tomorrow."
"Dr Alter and Dr Henderson both responded openly to my invitation. I was happy to see people who attended the event experiencing them in the same light of love, kindness and mentorship that I had received when chatting to them."
Dean of the FHS, Associate Professor Lionel Green-Thompson, commented on how extraordinary it was that two icons in science responded to an unknown voice from Africa in the interest of mentorship.
"You are doing new things," he told the gathered students. "The future is safe, because of these young people. We celebrate an old today with a new tomorrow."
A final word
"How do you go about days with no progress? Try harder," said Henderson.
"If you want to be a scientist, it is much better to be an optimist. If you are a pessimist, go into another occupation like insurance."
Consider Alter, who set out to look at post-transfusion hepatitis, and discovered a new virus.
"Sometimes you have to shift from your plan, but if you are lucky, you find something better," Alter said.
---
This work is licensed under a Creative Commons Attribution-NoDerivatives 4.0 International License.
Please view the republishing articles page for more information.
---