The University of Cape Town's (UCT) Emeritus Professor George Vicatos has been recognised with an Innovation Award by the ARGO-Brussels Hellenic Network in the body's annual awards for his innovative work in biomedical design.
A policy think tank and business do-tank, ARGO aims to cultivate and disseminate a positive message about Greece to its social and business network. Its annual awards recognise individuals from the Greek diaspora for their contribution to excellence in their profession in the fields of science, innovation, entrepreneurship, arts and culture, public affairs, sport, and philanthropy.
In a note about Emeritus Professor Vicatos' accomplishments, ARGO executive committee president, Spyros Pappas, pointed out that Vicatos was not only chosen for his outstanding work in designing and developing orthopaedic devices, but also the passion he shows for his craft.
"The committee paid special attention to … the quality and magnitude of your scientific innovative contribution, its consistency and the love with which you have accomplished it," wrote Pappas.
"As I used to say to my students: In your life, you have to consider the daily affairs of your profession and what is going to make you happy."
Speaking with Vicatos, this passion and innovative mindset immediately shine through. He is quick to point out that much of his success can be attributed to the fact that he sought a vocation which married his skills and interests. This pursuit, he highlights, has led him to a career that has been both stimulating and soul-stirring.
"As I used to say to my students: In your life, you have to consider the daily affairs of your profession and what is going to make you happy. If you can combine both, it will give you professional excellence and make you happy to be doing something for your own being. Then you have really made it in life," he said.
Anatomy stories, not fairy tales
Born in Greece, Vicatos developed a keen interest in the human body and its inner workings at a young age. A few months after burying some lab frogs in his backyard, he had been digging around and found that there were no longer frogs but bones in their burial places.
"We had a ceremonial burial in a flower box and, after a couple of months, I was digging and saw a skeleton. I couldn't understand what it was, because before there was a frog. So my mom [a medical doctor] explained to me that this skeleton is a hard material that we have inside of us.
"I started looking at anatomy books and I was amazed at the pictures I could see. I couldn't read, but the pictures were very, very vivid. At night, my mother used to explain to me what I was looking at. So instead of telling me fairy stories, she was telling me anatomy. That was so intriguing," he said.
"I was searching all the time for engineering aspects to fulfil my design interest."
In addition to this fascination with physiology, Vicatos had a talent for design. After seeing the diagrams that his older brother – who was studying engineering at the time – brought home from university and having his interest in aeroplanes piqued by a Jesuit monk at St Aloysius College in Malta, Vicatos enrolled in mechanical engineering at the University of Newcastle Upon Tyne.
Mechanical engineering unfortunately wasn't all he had hoped it would be and Vicatos found himself somewhat bored with the lack of practicality presented by the course. "After the first year, I wasn't happy because it was boring. So I changed to mechanical-electrical engineering," he said.
This change wouldn't be the last of his career. In fact, it was just one in a series of decisions that would set Vicatos on the path to orthopaedic design. "I graduated mechanical-electrical and then I realised that it was not exactly what I wanted. Then I did marine engineering to supplement my knowledge.
"I was searching all the time for engineering aspects to fulfil my design interest. So I went to do aeronautics at the Imperial College London to learn about aircraft control and stability and all of the things about aircraft," he added.
Searching for "something else"
After university, Vicatos spent a few years working in the shipping industry in England and Greece. This pursuit was unfortunately cut short by uncontrollable and unforeseeable external forces, and Vicatos' wife suggested that they move to Cape Town and join the academia at UCT.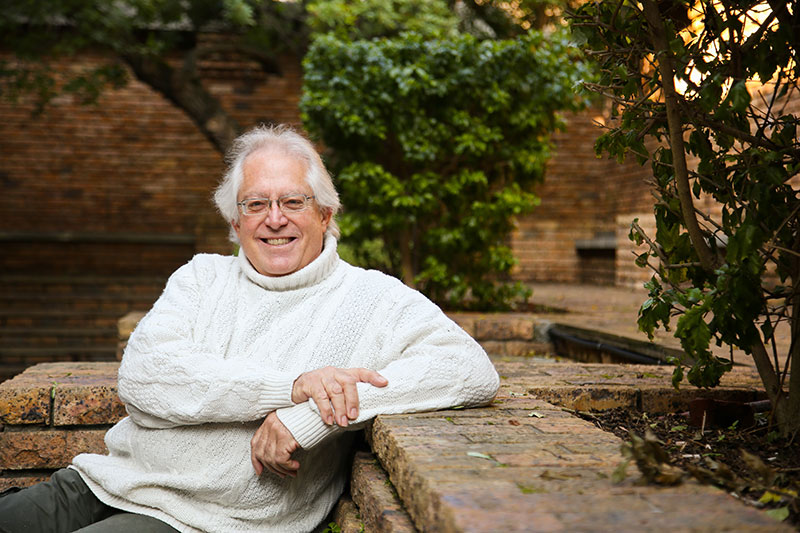 While he found great fulfilment in the academic field, Vicatos couldn't shake the feeling that there was something more that he was looking for in his career. "I liked the idea [of being in academia] because I like to propagate knowledge and I like to explain things. So, I came over here and started my PhD in thermodynamics and refrigeration.
"Then, after receiving my PhD, I realised that something was still missing. It was always like I was trying to fulfil an unknown sparkle and I couldn't understand what it was. I was sensationally happy having reached the peak of my education, but something inside of me was saying, 'Go for something else,'" he said.
It was at this point that Vicatos decided to do exactly that and went "for something else". He followed the passion of his youth and enrolled in an anatomy course. "I did exactly what I wanted. I went and I studied anatomy at UCT in the Department of Biomedical Engineering.
"Then I saw that the spark which I had since a young boy come to fruition. I homed into the skeleton; of course, there were other things like physiology, but the skeleton and its structure made sense with my engineering," he noted.
A passion for palliating
Throughout the course of his career, Vicatos' designs have helped innumerable patients. While the design of modular implants – which he affectionately refers to as his "Lego system" – has had a greater effect on the field of orthopaedics, his greatest professional fulfilment comes from custom implants.
"There is an affinity with the patients because I work continuously with them. I have their MRI and their X-Rays and I'm looking inside them. There is a special link when I design something and I know that this part of their skeleton is going to come out and my design will go in and make it functional again.
"It's an honour for a person to entrust their body in my hands – to do something for a human being. It's indescribable."
"It's an awesome experience which I actually cannot put into words. It's an honour for a person to entrust their body in my hands – to do something for a human being. It's indescribable."
This mix of humanity and passion for his craft has helped Vicatos create life-changing biomedical innovations and build a successful career in orthopaedics over the past 22 years – something that has not gone unnoticed by his peers. While he has received various other awards, Vicatos said that the ARGO Award is particularly special.
"When I got it, I felt humbled and proud. Humbled because I was recognised and proud that somebody saw my work as being important. It was a strange combination of feelings," he said. "What makes it important is that this award is international, and it will show that South Africa has a niche of excellence – and particularly Cape Town and UCT. It's going to show surgeons, medical aid schemes, and patients that what we do here is valuable."
The award ceremony will take place at 19:30 on 12 October at the Benaki Museum in Athens, Greece.
---
This work is licensed under a Creative Commons Attribution-NoDerivatives 4.0 International License.
Please view the republishing articles page for more information.
---