The Sarah Baartman Hall stepped out of COVID-19 dormancy on 22 July to host a joyful mid-year PhD graduation ceremony. It was the first live ceremony in the hall in more than two years. Over 100 doctoral graduates were capped by Chancellor Dr Precious Moloi-Motsepe at the morning and afternoon sessions; a celebration of human potential that is the bedrock of the University of Cape Town's (UCT) Vision 2030.
It was clear from the PhD abstracts published in Friday's graduation booklet just how wide and deep that human potential is.
Welcoming the doctoral graduands from the faculties of Law, Commerce, Science, and Engineering & the Built Environment, and their multigenerational families and supporters, Vice-Chancellor Professor Mamokgethi Phakeng said, "This is about you. We have rolled out the [proverbial] red carpet ... Walk it!"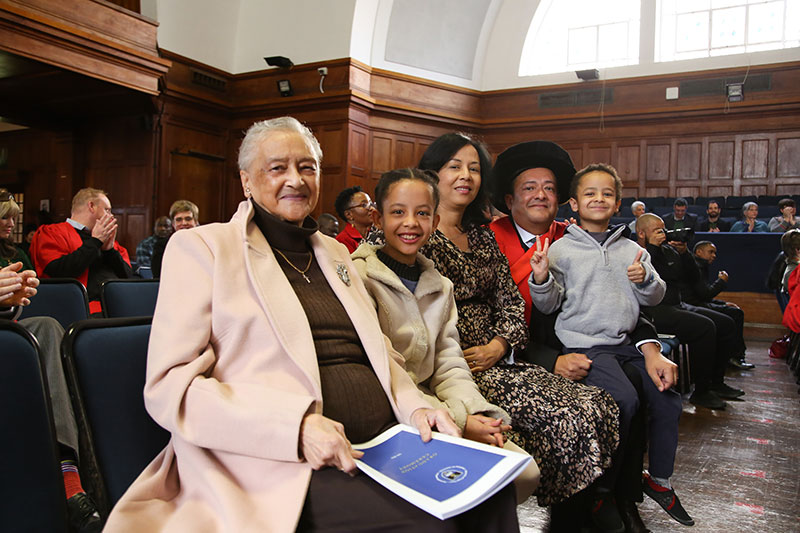 In an earlier communiqué to the campus community, Professor Phakeng referred to the rich human potential they embody.
"They have no doubt made outstanding scholarly contributions to prove the value of African-based research and to contribute to the national and global knowledge bank. Our doctoral students are proof of UCT's mission to be the best on the continent through research that makes a meaningful difference in people's lives."
Phakeng added, "Postgraduate education and research are among the cornerstones of and critical to UCT's long-term vision of being the leading research-intensive university in South Africa and on the continent, which will place us among the best globally."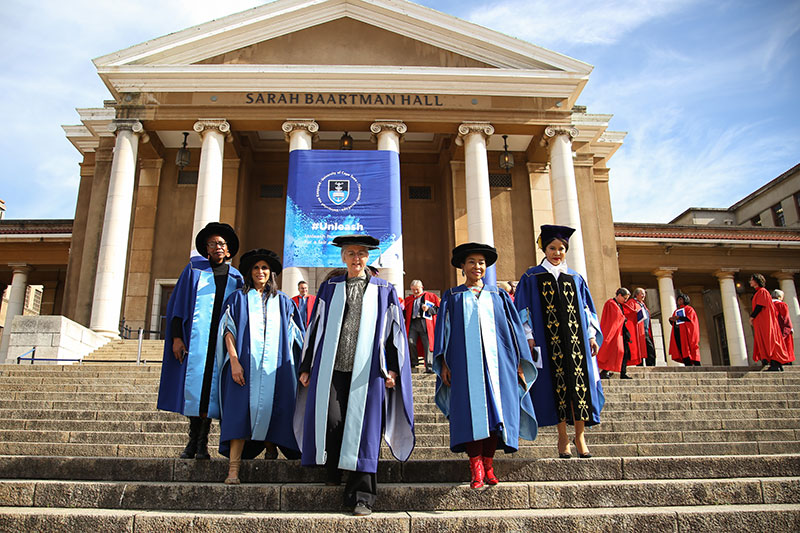 Not forgotten
The welcome banners in the hall proclaimed, "You did it!" And while the ceremony was a time of rejoicing and recognising graduates' hard work and tenacity, UCT had not forgotten those who had missed the opportunity to graduate in the Sarah Baartman Hall, Phakeng said in the communiqué.
"With the COVID-19 regulations having been repealed recently, we will in due course make an announcement around the belated physical celebration moment for the 2020 and 2021 graduates, for whom we have already had official virtual graduation ceremonies due to the restrictions imposed by the lockdown that was in place then," Phakeng added.
Honorary doctorates
The graduation was also an opportunity to present other high academic honours.
The UCT Book Award for 2021 was awarded (in absentia) to Philippe-Joseph Salazar, Distinguished Professor of Rhetoric in the Faculty of Law, for his work, Words are Weapons: Inside ISIS's Rhetoric of Terror. In addition, honorary doctorates were conferred on seven individuals with long and illustrious records of working to create a fair and just society. At the morning ceremony those honours went to: Sir Franklin Berman QC (Doctor of Laws); Geoff Budlender; and Robert Adam (Doctor of Science).
Honorary doctorates, morning ceremony
Geoffrey Budlender SC, Doctor of Laws (honoris causa)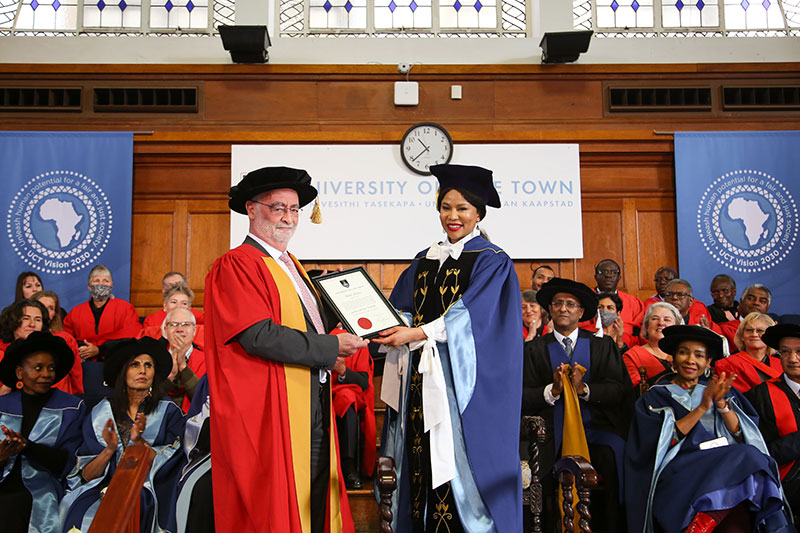 A UCT alumnus, Budlender is a towering figure in the South African legal profession, respected throughout Africa and beyond. His record of struggle for the greater good, social justice and human rights began as a student at UCT in the early 1970s.
Dr Robert Adam, Doctor of Science (honoris causa)
Dr Adam is the managing director of the South African Radio Astronomy Observatory. A UCT alumnus, he was honoured for outstanding and life-long contributions to science and technology in South Africa, and to astronomy and physics.
Sir Franklin Berman QC, Doctor of Laws (honoris causa)
A UCT alumni, Sir Frank was honoured for his contributions to international law and dispute resolution and to the university. He has not only flown the UCT flag high on the international stage, but also directly contributed significantly to increasing alumni engagement with and support to UCT.
Addressing the congregation after receiving his honorary doctorate, Sir Frank said he was delighted and proud to have been honoured by his alma mater.
"A graduation ceremony is above all a day of pride," he said. That pride extended to the graduands and their families and supporters, academic staff, and UCT's pride in the quality of its students.
When he moved on from UCT to study at the University of Oxford, two things had surprised him, he said. The first was how well UCT had prepared him for Oxford.
"I had to struggle and work harder than I'd ever worked before, but UCT brought me to a condition in which I felt able to do it."
The second – "And that was a real surprise" – was being surrounded in Oxford by large numbers of fellow students who, like him, had no university in their family background.
"I hope that the experience of being the first in a family to attend university will resonate with many families here this morning."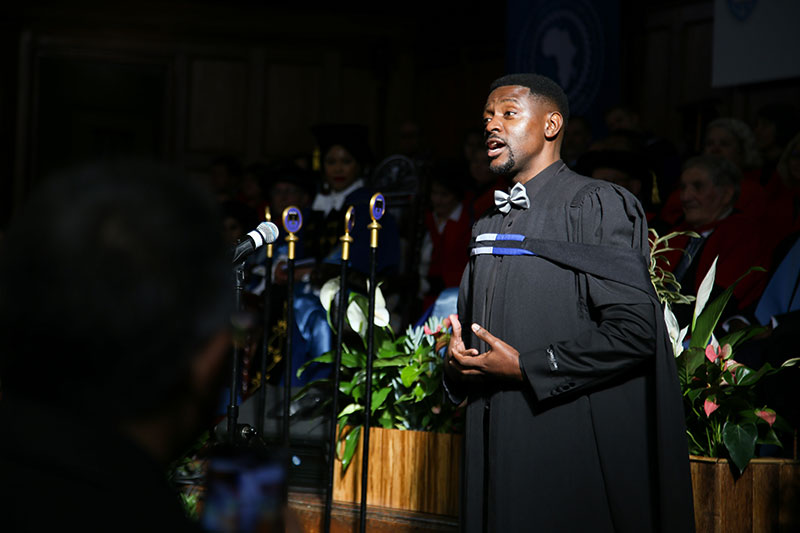 He also lauded UCT for its research, particularly its impressive research publications count and author contributions, directed at the problems the country and wider world experience in the 21st century.
Citing the university's transformation, Sir Frank paid tribute to the late Dr Stuart Saunders, a former UCT vice-chancellor, and the leadership that followed. Apartheid had dealt the university many blows.
"UCT's academic freedom, its freedom to choose whom to teach, was taken away by a piece of legislation, mockingly entitled The Extension of University Act No 45 of 1959.
From the time it was first mooted, UCT opposed the draft legislation that eventually became the Extension of the University Education Act.
"But extension, in fact, meant deprivation, and [it] was insulting," said Sir Frank.
"It's a common characteristic of dictatorial regimes, from far left to the furthest right, that they seek to control a narrative to impose the names on things, and to force debate onto their own ground.
Chancellor, Vice-Chancellor, I hope that one of the main things you and your talented colleagues have instilled in your students is … to listen and to question. And above all to think for themselves. To learn not just what they do know but also what it is they don't know. And in that case, to set about finding it."
---
This work is licensed under a Creative Commons Attribution-NoDerivatives 4.0 International License.
Please view the republishing articles page for more information.
---