University of Cape Town (UCT) student Cwenga Koyana and together with four other young African women took the top spot at the UNESCO and Women@Dior Global E-conference. The event took place in Paris, France, on Wednesday, 23 March and welcomed 75 teams from across the globe.
Having established its first talent incubator in 1947, Christian Dior has long had a tradition of uplifting those who work for the brand and in the fashion industry through education and knowledge sharing. Since the founding of its Women@Dior programme in 2017, the fashion house has extended that tradition to provide mentorship and education to young women with diverse backgrounds and spheres of interest.
The initiative aims to highlight the importance of education in imagining a more sustainable and united world, while simultaneously enabling young women to build a better future by developing their autonomy.
In 2020, Women@Dior partnered with UNESCO, and the programme has since formed part of UNESCO's Global Coalition for Education, which was launched in response to the ongoing COVID-19 pandemic. The platform promotes "collaboration and exchange to protect the right to education during this unprecedented disruption and beyond" by bringing together 175 members from the United Nations (UN), civil society, academia and the private sector.
Giving young women a chance
To help the young women who participate reach their full potential, UNESCO and Women@Dior aim to cover topics and skills that are not taught in the educational system. Themes include gender equality and women's leadership for a sustainable future, while key lessons include "self-confidence" and the freedom to "dream for [their] career destiny".
With the focus of enhancing participants' skills in these areas, the programme is built on five foundations:
Mentorship: Providing guidance to participants through Dior Talent.
State-of-the-art online education: Led by professors from the world's most prestigious institutions as well as guest speakers who are prominent in their fields.
The Dream for Change project: A practical initiative developed by participants to support the empowerment of young girls.
Community: Creating an alliance of women connected through local and online events and members.
A global conference: Introducing inspiring speakers to empower the participants and affirm the power of sorority.
According to UNESCO Assistant Director-General for Education Stefania Giannini, initiatives such as this one are important for giving women from disadvantaged backgrounds a boost – especially during difficult times such as those the world is currently facing. "Talent is universal, but opportunity is not, especially for a generation of young women whose education has been severely affected by the pandemic," she said.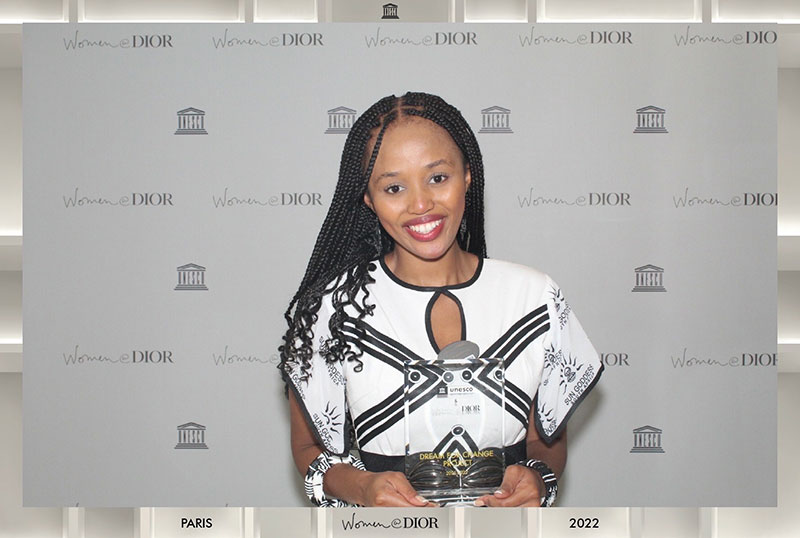 "By joining the Global Coalition for Education with an initiative that empowers and carries promise for the future, the Dior couture house is sending a strong message of commitment and confidence, giving young women from disadvantaged backgrounds the chance to fulfil their dreams."
Helping teen mothers
The Dream for Change project and associated conference are the culmination of a year of hard work from Women@Dior programme participants.
Participants are required to create an initiative that supports the empowerment of young girls in their communities. These projects are presented on and assessed by a panel of judges at the e-conference, and those that are seen to have the greatest potential impact are eligible for support from Dior and its parent company, the LVMH group.
"Our team was the only one of the three winning projects that the judges unanimously voted for to win the title of Most Inspiring Dream for Change Project."
This year, Talitha Together was named the most inspiring Dream for Change project at the global e-conference by unanimous vote from the judges. The team, which consisted of five young African women, included UCT student Cwenga Koyana.
"Talitha Together was founded by five young African women: Caroline Motsi, Itai Dzinotyiwei, Tumelo Makgotla, Mitchell Jonathan and myself, Cwenga Koyana," said Koyana.
"Of the 75 teams that entered, we came out in the top three and the jury was pleased to inform me that our team was the only one of the three winning projects that the judges unanimously voted for to win the title of Most Inspiring Dream for Change Project."
The initiative focuses on helping pregnant teens navigate their journey into motherhood as well as life thereafter. "We provide education to pregnant teenage girls through the provision of in-person and online education," she noted.
During the pandemic, the rate of teen pregnancy is reported to have ballooned by 60%. According to Koyana, this was the motivation behind the founding of Talitha Together. "We chose this project as a result of the dire statistics around teenage pregnancy in Africa, which have been exacerbated by COVID-19. We want to contribute to the healing and emancipation of pregnant girls."
The name Talitha Together was chosen for its link to and promotion of sorority, a key tenet of the UNESCO and Women@Dior programme. "Talitha is a biblical name that means 'young girl' and together we are embracing and encouraging these girls to rise with us and evolve into independent and successful women," said Koyana.
A winning approach
As pregnancy and early motherhood are leading causes of young women dropping out of school, Talitha Together has created a multifaceted programme that provides these young women and girls with an ongoing, well-rounded education.
"We provide tutoring and extra lessons for the girls to help them with their schoolwork to ensure that they are able to continue their education during their pregnancy. Our programmes focus on imparting entrepreneurial skills through various initiatives that help the teens to earn an income. For example, starting small clothing sale businesses or creating ecobricks.
"We also offer emotional support through professional counselling during and post pregnancy. We also provide expecting moms with Talitha Together gift bags, which contain supplies for new-born babies. Most importantly, we assign volunteer mentors who help the girls through the early stages of motherhood," Koyana explained.
Thus far, Talitha Together has successfully implemented its plan to help 20 pregnant teenagers. The group has also raised funds for additional young women and girls to attend the classes on offer.
Following their success at the UNESCO and Women@Dior Global E-conference, Talitha Together will receive further support from these bodies and stands an excellent chance of securing more funding to enable the team to scale the initiative.
---
This work is licensed under a Creative Commons Attribution-NoDerivatives 4.0 International License.
Please view the republishing articles page for more information.
---