Antarctica, remote, ice-covered and inhospitable to all but the hardiest. But the continent and its teeming wildlife is now in need of urgent protection. Visiting this polar desert and hotspot of climate change has been a dream come true for University of Cape Town (UCT) students Catherine Dunn and Madina Mothupi. The duo joined the 2041 ClimateForce Antarctica Expedition.
Dunn is a student in the Faculty of Commerce and Mothupi in the Faculty of Humanities. They were reportedly the only two South Africans among the 150 young leaders chosen from 38 nations to join Robert Swan's Leadership on the Edge programme, under the banner of 2041 ClimateForce Antarctica. The group will return on 4 April.
Having travelled via Argentina with a stop-over in Ushaia, one of the world's southernmost cities, the diverse group participated in a range of learning exercises with renowned experts on issues of climate change, sustainability and energy use. The goal is to give participants tools they can use to implement and protect the Antarctic – and their home countries too.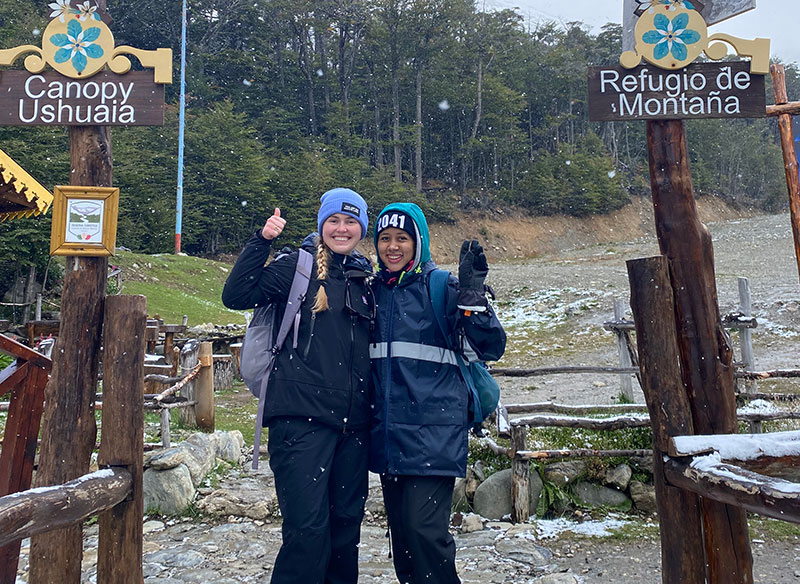 The 2041 ClimateForce Antarctica Expedition is the brainchild of Sir Robert Swan, the first person to have walked to both Poles. He is an advocate for the protection of Antarctica, and renewable energy.
Founder of the 2041 Foundation, he is dedicated to preserving Antarctica. Swan is the co-author with Gil Reavill of Antarctica 2041: My Quest to Save the Earth's Last Wilderness. In November 2017, he undertook the South Pole Energy Challenge, the first expedition of its kind: a 600-mile journey to the South Pole with his son, Barney, using renewable energy to survive.
Argentina to the Antarctic
From Ushaia the group boarded the Ocean Victory, a "sustainable and environmentally friendly" fuel-efficient ship, which aligns with the Global Green initiative and the Polar Carbon Negative Initiative. The Global Green initiative is a reforestation programme to offset greenhouse gases emitted by human activities. The Polar Carbon Negative Initiative has established a set of C02 standard protocols for the global travel industry embarking on sea expeditions to the Antarctic and Arctic regions.
Reporting from Argentina, Dunn's said the experience has been surreal.
"Each Antarctic Ambassador on this trip has a unique story as to how they arrived here and their intentions for this trip."
"I have jumped over numerous hurdles day after day to arrive here … After fundraising and sponsorship woes, to airline dramas, to [positive] COVID-19 tests and losing motivation, I managed to arrive. Snowflakes on the aeroplane's window, snow-capped mountains and scenery out of a movie, this city holds so much beauty."
She added: "I have been left awestruck and inspired by these powerful narratives. I was rather surprised to learn that there are not many people younger than myself here and feel an even greater responsibility to be a representative for the youth of my community and country."
Big dreams
Dunn described herself as an "ocean advocate. Soccer enthusiast. Language lover. Girl with the bun".
"Above all, I'm just a university student with big dreams!"
"Climate change threatens us all but as the African continent, we are most vulnerable to its effects."
She added: "I wanted to join so that I could learn more about climate change and solutions to protect our planet. Climate change threatens us all but as the African continent, we are most vulnerable to its effects. Yet [we are] often underrepresented in climate activism and dialogue about finding solutions. I wanted to go on the expedition to add my voice and support and represent the voice of South Africa and Africa."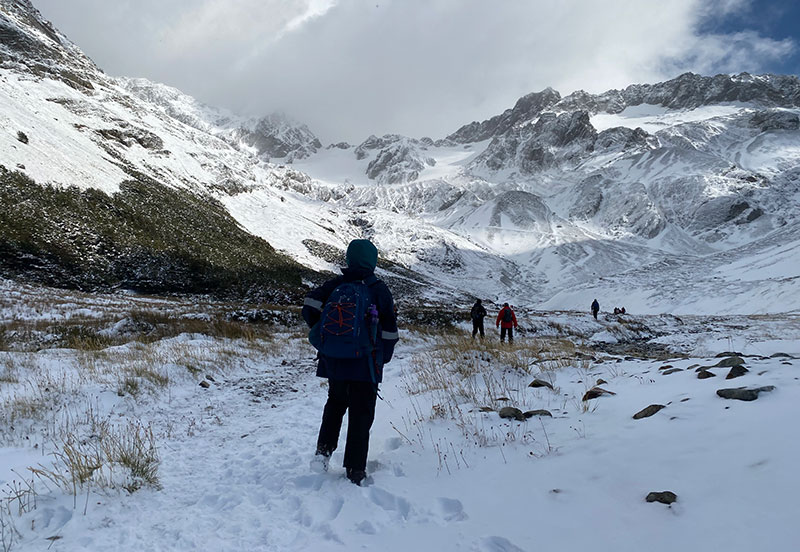 In Antarctica the duo had an adventure-filled itinerary planned for each day of the expedition.
"During our expedition, we will be participating in Sir Robert Swan's Leadership on the Edge programme, listening to talks, workshops and lectures from environmental activists, conducting daily excursions in Antarctica, visiting the renowned Vernadsky Research Base and leaping into the sub-freezing waters during the world-famous Polar Plunge."
Bon voyage
Although Vice-Chancellor Professor Mamokgethi Phakeng was set to meet Dunn and Mothupi for a UCT T-shirt signing before they left, only Mothupi was able to take up the offer. Nonetheless, she left with Professor Phakeng's best wishes to both.
In her message of congratulations, the head of UCT's Department of Oceanography, Professor Isabelle Ansorge, who has led many student expeditions to the Antarctica aboard Agulhas II, underscored the massive achievement: selection from among thousands of applications. Professor Ansorge said it was "an incredible achievement and an opportunity to fly UCT's flag high in Antarctica".
As Dunn concluded, "We are a powerful generation with so much hope and potential."
---
This work is licensed under a Creative Commons Attribution-NoDerivatives 4.0 International License.
Please view the republishing articles page for more information.
---