A special permit now allows specially trained malaria programme staff to treat malaria cases, advancing malaria elimination efforts by reaching more of those infected and treating them earlier. This intervention has been led by Professor Karen Barnes, from the Division of Clinical Pharmacology and Founding Director of the UCT MRC Collaborating Centre for Optimising Antimalarial Therapy (CCOAT). She co-chairs the South African Malaria Elimination Committee.
South Africa has set the ambitious target of eliminating the local transmission of malaria by 2023. Currently local malaria transmission occurs along the north-eastern border regions of Limpopo, Mpumalanga and KwaZulu Natal provinces. A key step towards reducing the burden of malaria and advancing its elimination is the decision to permit Malaria Programme Environmental Health Practitioners (EHPs) to treat malaria cases. Up until now this has been the sole preserve of doctors and nurses.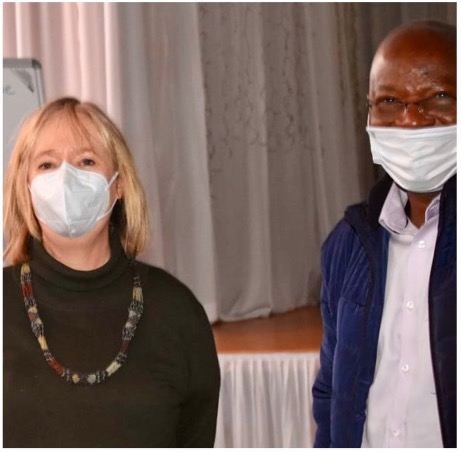 Earlier this year the Director General approved a Section 22(A)15 application which permits malaria programme health workers on the ground (Environmental Health Practitioners, EHPs) to treat malaria cases and thus not only expand the number of professionals able to treat malaria, but also reach more of those infected and treat them earlier. Until now, malaria cases detected in the field were asked to go to the nearest health facility for treatment. However, many would go untreated as they were unable or unwilling to visit these health facilities. Travel costs were prohibitive, people did not appreciate the need for treatment as they were asymptomatic or, as undocumented migrants, they feared attending a public facility. COVID19-related concerns have further contributed to reluctance to seek malaria treatment promptly.
Delays in malaria treatment of even a few days can result in progression from uncomplicated to life-threatening severe malaria and increase malaria transmission in their community. This highlights the public health value of malaria treatment being provided in the field by EHPs, who are best placed to reach unreachable infections.
The National Department of Health Directorate of Malaria, Vector- Borne and Zoonotic Diseases and the SAMEC Case Management sub-committee has been key in developing the application and progressing it through to signature by the Director-General. The Limpopo MEC for Health, Dr Phophi Ramathuba was the first to award her province's malaria EHPs with training certificates, when she led the malaria team on door-to-door community rapid testing & treatment together with launch of indoor residual spraying season.
Most malaria programme EHPs have now been trained how to treat malaria, including the assessment of malaria disease severity, identifying those at higher risk of severe malaria and the appropriate use of first line treatment. UCT-accredited CPD certificates are being issued to those who have successfully completed this training. Pharmacists at selected hospitals who will be responsible for the weekly supply of patient-ready packs of artemether-lumefantrine to trained EHPs have also been trained. Thus, the malaria programmes are now poised to roll out EHP treatment of malaria cases detected during routine field surveys.
Did you know?
Among all communicable diseases, malaria is the third largest killer of children under 5.
This achievement, together with community health workers now being trained to perform malaria rapid diagnostic tests, will enable the malaria programme to reach most malaria infected individuals and significantly decrease the malaria parasite reservoir. These are key components for reducing the burden of malaria and advancing its elimination in South Africa.
---
This work is licensed under a Creative Commons Attribution-NoDerivatives 4.0 International License.
Please view the republishing articles page for more information.
---