As the new president of the South African Institution of Civil Engineering (SAICE) for 2022, the University of Cape Town's (UCT) Professor Marianne Vanderschuren will tackle two immediate priorities: restoring the professional body to full capacity in the wake of the COVID-19 pandemic and working with government to urgently tackle the country's crumbling infrastructure.
SAICE is the professional home of around 15 000 civil engineers, technologists and technicians. Its mission is to advance professional knowledge and improve civil engineering practice. The institution has 19 branches around the country and 11 divisions, including marine, project management and consulting, railways and harbours, transportation, fire, water, environment and geotechnology.
The Faculty of Engineering & the Built Environment's Professor Vanderschuren is SAICE's 119th president since its inception in 1903. She is the third SAICE woman president and UCT's second president after Professor Alfred Snape in 1916.
With a PhD in Intelligent Transport Systems from Twente University and an MSc in Systems Engineering Policy Analysis from Delft University, both in The Netherlands, Vanderschuren is the Department of Civil Engineering's only female full professor and the faculty's deputy dean for Transformation. She is based at the department's Centre for Transport Studies.
In the same week the SAICE announced her presidency, Vanderschuren was awarded the DST-NRF/CSIR Smart Mobility Research Chair, part of the South African Research Chairs Initiative (SARChI). The chair is co-funded by the Department of Science and Technology (DST), the National Research Foundation (NRF) and Centre for Scientific and Industrial Research (CSIR). SARChI was created by the DST and NRF in 2006 to attract and retain research and innovation excellence at South African public universities.
SAICE role
Vanderschuren's SAICE inauguration will take place on 26 November when she will deliver her presidential address. A SAICE fellow, Vanderschuren has served on its Western Cape branch committee since 2002 and was branch chair in 2008/09. She has also served on SAICE's national executive board and council for many years.
"We need to make sure the organisation is functioning smoothly and supporting the industry to become economically active."
A proponent of participatory leadership, Vanderschuren is upbeat about the opportunities the role brings, particularly the strategic and leadership and the education and outreach components.
Her immediate priority will be to "reboot" SAICE following the economic malaise that followed the COVID-19 pandemic.
"Civil engineering has been hard hit. We need to make sure the organisation is functioning smoothly, attracting membership and supporting the industry to become economically viable again."
D+ report card
The second priority is communicating with government departments at all levels to tackle the country's ailing infrastructure – neglected and poorly maintained over many years, resulting in poor service delivery to the country's most vulnerable citizens.
"Many government departments, especially the smaller municipalities, have lost their engineering knowledge base."
"The biggest issue in Africa, southern Africa and South Africa is that our civil engineering infrastructure is ageing and many government departments, especially the smaller municipalities, have lost their engineering knowledge base. These are the vital professional, registered engineers."
The five-year SAICE 2017 Infrastructure Report Card for South Africa, a snapshot of a broad range of public infrastructure (from water to electricity and solid waste management to education facilities), gives the country a D+ score.
A D+ indicates infrastructure at risk of failure and reflects "an ongoing and unchanged norm of poor maintenance and insufficient engineering capacity in the public sector", and the likelihood of "severe inconvenience and even danger without prompt action".
It's bad news, said Vanderschuren, the situation compounded by a lack of commitment to long-term planning and dedicated budget provision, poor management systems, data collection and skills deployment.
"Over the past five years since its publication [the next Report Card is due in 2022], nothing much has changed; the gap is becoming bigger and bigger," said Vanderschuren. "If you don't do the regular maintenance required, you must rebuild, which is costly. In South Africa a lot of the infrastructure must be rebuilt.
"We need to start brainstorming with government how we can close the service delivery and civil engineering asset gaps."
Skills and gender
Vanderschuren and her SAICE executive team will also address the severe shortages of skilled personnel in the engineering profession. This has been compounded by deployment problems: The public sector is simply not employing the available skilled personnel.
She is also keen to get to grips with the transformation challenges of race and gender. Here Vanderschuren will bring her experience to bear as the faculty's deputy dean for Transformation. SAICE is working hard to address the gender gap, she said.
Vanderschuren's -elect (for 2023) is also female. However, globally approximately 15% of the engineering profession is female, so more needs to be done to make the profession attractive to women. Within SAICE, there is a special "Diversity and Inclusivity" panel addressing this. Race equity in the profession is also slowly being addressed.
Currently the membership is:
49% African
39% white
7% Asian
4% coloured
1% unspecified.
The student membership is more transformed:
87% African
6% white
5% Asian
2% coloured.
But equity is more than numbers, said Vanderschuren.
"It includes important gender perspectives on infrastructure during the planning process."
This approach is integral to her academic research. Last year Vanderschuren published an award-winning paper that showed why train transport is the least safe public transport mode for women and called for more gender-sensitive transport networks and services.
"Males and females look at the world differently and we can build better infrastructure if we work together, because we can enrich each other's perspectives."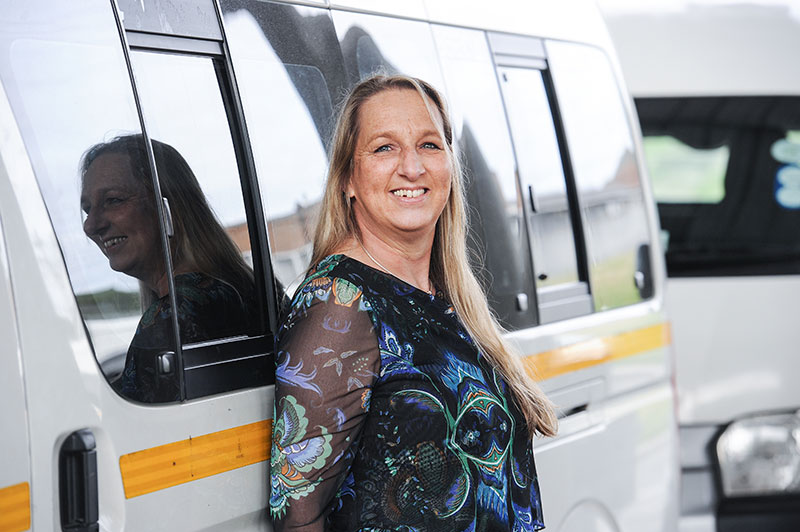 Commitment to adding value
The role requires a big commitment and Vanderschuren is grateful to UCT for her upcoming six-month sabbatical that will allow her to focus on ploughing in her knowledge, experience, time and energy.
Personally and professionally the accolade means a lot, she said. Tributes have flowed in by the hundreds, many from former students. Yes, it's a feather in her cap, but it's also gratifying that her election recognises the depth of her commitment to the country and the specific solutions it requires.
"These are people who walk and cycle, children and the elderly and people with disabilities who need to move about on our roads and use our transport services."
Her systems thinking has enabled her to unpack issues differently to most engineers and provide additional insights on how infrastructure can meet the needs of society's most vulnerable people. In the 68th Snape Memorial Lecture she delivered online at UCT last year, Vanderschuren revealed that 75% of our society is overlooked in the provision of engineering solutions.
"These are people who walk and cycle, children and the elderly and people with disabilities who need to move about on our roads and use our transport services."
"When I came here 20 years ago, I worked hard to keep the human element central in my work, and the country's huge needs are at the fore of everything I do. That has been reflected in my research, teaching and social responsiveness. And SAICE is part of that.
"It's also a recognition from the civil engineering industry that although I'm an academic, they believe in my leadership and guidance to take them and SAICE forward in 2022."
---
This work is licensed under a Creative Commons Attribution-NoDerivatives 4.0 International License.
Please view the republishing articles page for more information.
---