Groote Schuur Hospital is set to become the first public-sector hospital in Africa to offer robot-assisted surgery, following the launch of the R38 million Da Vinci Xi surgical system on Wednesday, 13 October 2021.
The system, which represents four generations of refinement and nearly 20 years of learning, is optimised to enhance surgical performance in a minimally invasive way by creating a natural extension of the surgeon's eyes and hands.
The surgeon console comprises a three-dimensional viewfinder that allows for greater depth perception, as well as finger callipers with which the operating doctor is able to control the instrumentation. On the other side of the room, the patient cart features four robotic remote-centred arms that allow for 360-degree articulation.
This, said Groote Schuur's robotic surgery coordinator, Dr Samkele Salukazana, offers a variety of benefits for both surgeons and patients. "For the surgeon, the benefit of having a 360-degree, three-dimensional view is that you've got better visualisation of tissue and surrounding structures.
"This translates into minimised invasiveness, ease of doing surgery and therefore limited trauma, which means better outcomes for the patient. Greater precision means less blood loss, reduced pain, less inflammation; and ultimately, a reduced hospital stay," he explained.
World-class patient care
While the introduction of the Da Vinci Xi is certainly exciting for the staff of the hospital, Groote Schuur Hospital's chief executive officer, Dr Bhavna Patel, noted that the real victory is for the patients.
"The Da Vinci Xi is the first of its kind being used in Africa."
"We at Groote Schuur Hospital are proud to continue innovating with this cutting-edge technology. The Da Vinci Xi is the first of its kind being used in Africa, and we are the first public-sector hospital to start robotic surgery, in South Africa.
"We are proud to be able to offer our patients the benefits of these new techniques that lessen operating time, complications and hospital stay, with a quicker recovery time. After 20 months of COVID-19, we need things like this to uplift our staff; but also to show that we remain at the cutting edge of innovation, and we are still committed to patient care," she remarked.
Western Cape Minister of Health Professor Nomafrench Mbombo agreed. "The timing of the launch of this innovation is perfect. After these surgeries, patients have a shorter hospital stay and recovery time, which allows them to get home quicker to be with their families, and gives us more space to accommodate more people," she said.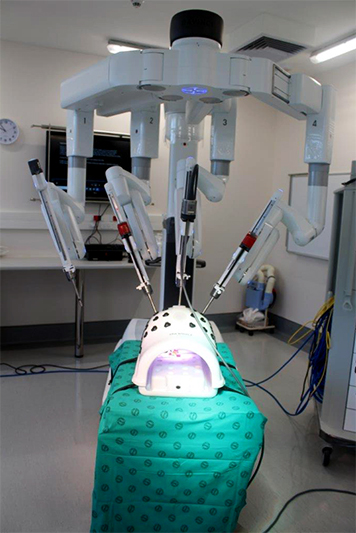 "The focus has been on COVID-19 for the past 20 months, but now we are phasing in non-COVID illnesses. We are facing what may have been an insurmountable backlog; but with this innovation, we have hope of catching up."
Echoing Professor Mbombo's sentiments, chief operating officer, Dr Saadiq Kariem, highlighted the opportunity this system presents, not only for reducing backlogs but also for providing a greater range of services.
"We have plans to increase the services lists in all of our public hospitals so that we can address these surgical backlogs. This robot will certainly assist with this, because it will allow us to be more efficient in terms of the services we provide, while also allowing us to provide a wider range and scope of clinical services to provide to the people in our province," he said.
Unmatched opportunity for teaching and learning
The Da Vinci Xi system can be used across a wide spectrum of minimally invasive procedures to treat complex diseases and conditions, in gynaecological, urological, cardiothoracic, colorectal and general surgery.
More than 8.5 million surgical procedures have been performed on these systems worldwide, and over 55 000 surgeons have been trained to use the surgical robots. This, says Paul Landman, General Manager Pharmacy Specialised: Robotics and Orthopaedics at Medhold Medical Equipment, is particularly exciting for the company.
"We are most excited to be the first state hospital to acquire the state-of-the-art fourth-generation Da Vinci Xi system."
"Ultimately, what Intuitive [the company that designed the Da Vinci Xi] and Medhold Medical aim to achieve is improved clinical outcomes for patients, through both cross-innovation and continued training for healthcare professionals. This continued training is a critical part of the success of the systems, and the reason why we are excited to be in a teaching institution," he said.
Dr Salukazana echoed this emphasis on the opportunity for teaching and learning. "Robot-assisted surgery has become the new standard for care as an option for minimally invasive surgical intervention. This new technology allows surgeons to perform many types of complex procedures, with more precision, flexibility and control than is possible with conventional techniques.
"We are most excited to be the first state hospital to acquire the state-of-the-art fourth-generation Da Vinci Xi system. Acquiring a robot for our institution will improve our multi-disciplinary approach to complex surgery, training and clinical outcomes for our patients."
---
This work is licensed under a Creative Commons Attribution-NoDerivatives 4.0 International License.
Please view the republishing articles page for more information.
---