Are you a University of Cape Town (UCT) student with entrepreneurial flair and a big idea but stuck about what to do next? Leopard's Lair is waiting for you. This annual Investment Society (InvestSoc) competition has up to R240 000 worth of prizes to be won to help students further their business idea or start‑up.
All you need to do to is enter and prepare to present a three‑minute pitch of your big idea – in any field or stage of its development – to a panel of top judges (also potential investors) in the virtual Leopard's Lair. If it gets a thumbs up, you proceed to the next of two preliminary rounds. The finalists' pitch will be livestreamed.
This year's judges are:
Magda Wierzycka, Braavos Investment Advisers
Precious Mdlalose, IDF Capital
Anton Baumann, Imvelo Ventures (first‑prize sponsor)
Jason Basel, Qoorio.
The competition is open to students in all faculties as well as to UCT alumni who graduated no more than two years ago. Leopard's Lair is a new iteration of InvestSoc's popular Shark Tank (the latter name protected by copyright) and is being run in collaboration with UCT's Entrepreneurs Society and Akro Capital.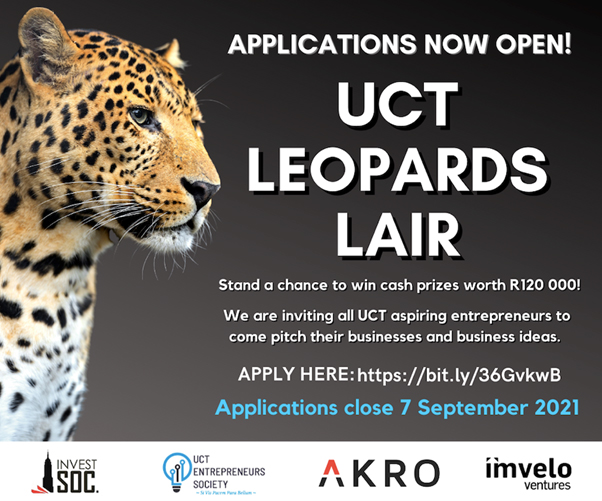 Last year's winner, Shruti Dowlath, had no concrete business plan or prototype for UnifySA, her student networking business, before she pitched it to the judges. However, the thinking behind UnifySA had enough potential, and Dowlath walked off with a suite of prizes valued at R50 000.
Among the over 100 UCT student societies and organisations, InvestSoc was formed 20 years ago and is now South Africa's largest executive student society. Each society is run by students with the aim of building their skills and offering them new opportunities to connect with the broader university community.
Important details
Applications are open and close on 7 September 2021. Pre-selection begins on 11 September 2021 and the first round begins on 23 September 2021, with the final taking place on 5 October 2021.
"We [graduates] are going into a very uncertain job environment. We want to encourage students to create employment for themselves."
Third‑year BCom student and project manager of InvestSoc's Entrepreneurs Connect, Simon Shelton, said even the experience of entering would benefit student entrepreneurs.
"We are going into a very uncertain job environment. We want to encourage students to create employment for themselves. That's what Leopard's Lair is all about," said Shelton.
Entrepreneurs Connect sub‑committee member Kayla Barnes, a first-year BCom student, added, "It's such a great way to showcase the potential this generation has. There are so many leaders and potential entrepreneurs among them, and this is a really cool opportunity for them to shine."
The panellists are also individuals with relevant experience to share.
"We're living in a difficult time, when everyone is so discouraged by what's going on around us. These people have great business experience and perspectives to guide the next generation," said Barnes. "They have worked hard to get where they are today. They've made mistakes and sharing their insights will give us different perspectives."
There are also plans to grow the competition, said Shelton.
"The goal for Leopard's Lair is to create an inter‑university competition. Next year we'll be talking to other universities. The aim will be to encourage student entrepreneurship over the entire country."
As for this year's Leopard's Lair, students are encouraged to give it a go, even if they have no pitching experience. The Entrepreneurs Connect team will provide entrants with resources such as pitching coaching sessions to develop their confidence.
"And confidence is key," said Shelton.
---
This work is licensed under a Creative Commons Attribution-NoDerivatives 4.0 International License.
Please view the republishing articles page for more information.
---