Nolundi Luwaya is the director of the Land and Accountability Research Centre (LARC), which is based in the Department of Public Law at the University of Cape Town (UCT). LARC recently played a significant part in the Ingonyama Trust case in KwaZulu‑Natal (KZN) regarding the Trust's charging of rent on communal land, which had an adverse effect – mostly on women – in rural KZN.
The Pietermaritzburg High Court made a landmark ruling on 11 June 2021 when it declared that the Ingonyama Trust had acted unlawfully and in violation of the Constitution by concluding residential leases with persons who are true owners of the land in terms of Zulu customary law. LARC provided significant research support in the case.
Reflecting on the success of the case, Luwaya paid tribute to the Rural Women's Movement (RWM) and its founder, Sizani Ngubane, for its contribution. Luwaya is a UCT graduate, having completed both her LLB and LLM at the institution. In 2011 she took up a position as a junior research assistant at LARC's predecessor, the Rural Women's Research programme at the Centre for Law and Society. In 2019, she was appointed director of LARC.
Customary rights to land
LARC was established in 2016, with a focus on customary law and on how to build one system of law for everyone in South Africa. The centre's work focuses on rural communities in the former homelands, which were areas set aside for black South Africans under apartheid. LARC is active in five of the nine provinces.
"The impact of the case is profound."
Their work revolves around three themes: land rights, traditional governance, and mining. A significant portion of LARC's work is in breaking down the artificial binary between urban and rural areas, and bringing supposedly rural issues onto the radar of people living in urban areas and into the national debate.
LARC works with many partners, such as the RWM and the Alliance for Rural Democracy, and LARC's work in research, advocacy and litigation led to its involvement in the Ingonyama Trust case. This case began in 2015, when LARC researchers found that the Trust was encouraging people to convert their customary rights to their land into lease agreements. This effectively downgraded people's rights to their land. LARC was part of a collective effort to challenge the legality of this practice.
"The impact of the case is profound," said Luwaya.
The court ordered the Ingonyama Trust to refund all money paid to it in terms of these leases, and further ordered that until such time as the minister adopts appropriate mechanisms for protecting customary rights, proper processes must be reinstated to allow for the granting of rights in terms of applicable KZN legislation.
Rural roots
More than 25 years into democracy, there is still no law that recognises customary land rights. The judgement in the Ingonyama Trust case affirmed the rights of the most vulnerable people; and it's this kind of work that motivates Luwaya.
She regards Ngubane as a role model, and someone from whom she has drawn strength.
"She is possibly one of the most incredible women you're ever going to meet," Luwaya enthused.
Unfortunately, Ngubane passed away in 2020, due to COVID‑19.
"What the Constitution does in terms of recognising customary law is to give us an opportunity, and it's one that I take up."
Luwaya's family has roots in the Eastern Cape. Her grandmother lived in the rural Eastern Cape her whole life, and her aunt still lives there.
"Watching them navigate that space really triggers an interest for me in how it is that one begins to address the vulnerabilities that those women are in," she said.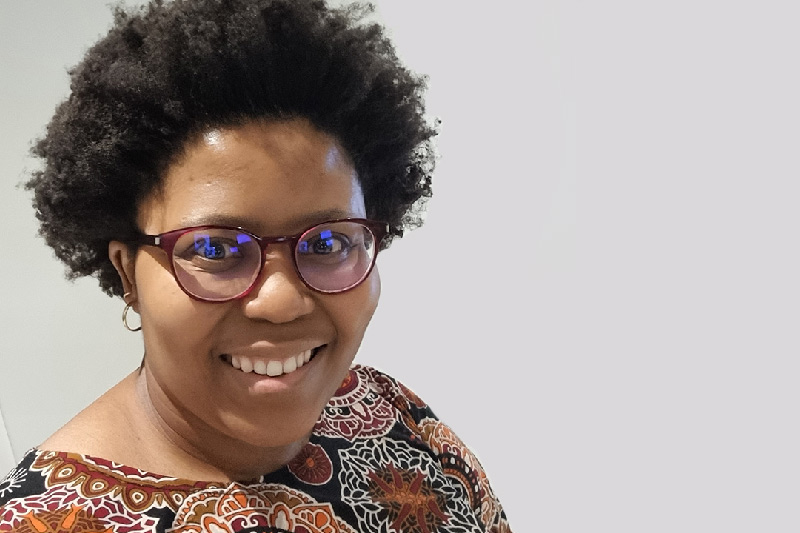 She grew up in Firgrove, tucked in between Stellenbosch and Somerset West, on the farm of the family that her parents worked for as a farm labourer and domestic worker. She attended a private (predominantly white) school, and often visited the homes of friends from school who spent holidays overseas while she spent holidays in the rural Eastern Cape. Out of such apparently incompatible worlds came Luwaya's interest in navigating custom, culture and difference in order to realise our constitutional democracy.
"What the Constitution does in terms of recognising customary law is to give us an opportunity, and it's one that I take up – partly because of my own personal experience, growing up sort of straddling these two worlds and trying to find a sense of belonging. But also because I feel a deep sense of responsibility."
Her decision to study law was partly the result of an aptitude test, as well as her own curiosity in wanting to make sense of South Africa's past and present.
"I always knew that I didn't really want to practise," she said. "I was more curious about the ways in which law could help one think."
LARC has grown into a team that is incredibly diverse, and the majority of the team is female.
Luwaya's future plans are informed by her real interest in bringing the work of LARC into classrooms. She is also keen to build the research profile of LARC, and to expand its reach.
"Without our partners, without the communities who trust us enough to let us work with them, our work would lose a significant amount of its impact," she said.
---
This work is licensed under a Creative Commons Attribution-NoDerivatives 4.0 International License.
Please view the republishing articles page for more information.
---