When Gordon 'Goy' Herbert graduated from the University of Cape Town (UCT) in 1955, he'd spent six years swimming against the stream. In 1949, Herbert was one of only five 'Cape coloured'* students chosen to study at UCT – but part‑time, only after 18:00, once the white students had left. And he was not permitted to take out books from the library.
Gordon died on 21 May this year, aged 90. UCT is fortunate that his son, Reuben, reached out from the United Kingdom (UK) to share his father's story earlier this month. In a week when the university was (virtually) capping thousands of students – of diverse races, languages and cultures – it was a moving reminder of some of the losses and gains of the intervening decades.
Gordon ('Goy') Henry Herbert was an early pioneer. He eventually left UCT with two qualifications: a Bachelor of Arts awarded on 9 December 1955, and a Bachelor of Education on 13 December 1962.
Reuben sent a worn black and white photograph of his late father, taken on upper campus on his first graduation day; dapper in an in-vogue double‑breasted suit, holding his Bachelor of Arts scroll, hood draped over his slender shoulders.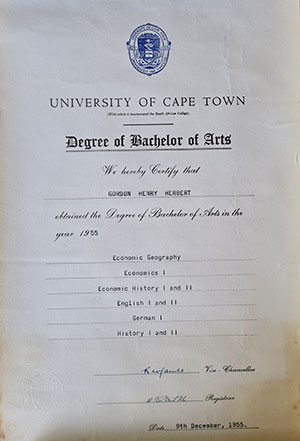 But the picture doesn't tell the whole story.
In 1955 South Africa was a colony, with Queen Elizabeth II as head of state and Johannes Strijdom as prime minister. It was the year African‑American Rosa Parks was jailed in Alabama in the United States for refusing to give up her bus seat to a white man. It was the year the Black Sash was formed in South Africa, and the year of the African National Congress's 44th annual conference in Bloemfontein. Jonas Salk's polio vaccine was declared safe and effective. Albert Einstein (76) died in Princeton, New Jersey. And President Dwight Eisenhower sent the first US military advisors to South Vietnam.
Sorting through his father's personal effects after his death in May, Reuben found his father's silver wire-embroidered UCT badge, and copies of his graduation certificates. His experiences as a UCT student in the 1950s were recounted in his eulogy to his father.
Seminal moment
Herbert was born in Goran Road, Wynberg, to William and Cecilia Herbert. He attended Battswood School and later Trafalgar High School, where he matriculated. Dad William was a carpenter, and keen that Goy follow in his footsteps; his mother, Cecilia, insisted he took up the university offer.
"Thankfully she got her way, which was to prove a seminal moment in our family history," said Reuben.
Herbert paid his way through university and teacher training college by working as a teaching assistant at St Luke's School, Diep River, and in a shop on Saturday mornings.
"It must have been difficult for a young coloured kid from Wynberg to walk into such a great institution."
"At the same time [he was] playing cricket, rugby and football. Goy's main sporting love was cricket; [as a] player (he was a batsman who kept wicket), spectator and later an England fan, and the very best batting coach," said Reuben, an all‑rounder and off‑spinner who later played professional cricket for Essex.
"It must have been difficult for a young coloured kid from Wynberg to walk into such a great institution [UCT], at a time when the government had tightened its apartheid grip on the country. I never asked him the direct question, and don't think he would have wanted us to know the truth."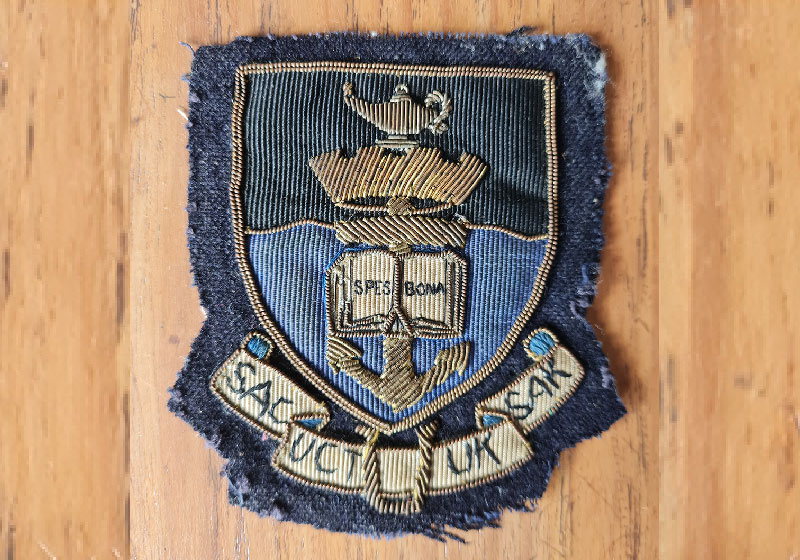 But Goy was a distinguished and brilliant student, Reuben recalled. He graduated with flying colours. Three weeks after graduating in 1955, he married Felicity Fillmore Sharpe. They were married for 72 years.
After UCT, Herbert completed a year's teacher training at Hewat Teacher Training College, and took up his first teaching post at Oaklands in January 1956.
"It was ideally situated at one end of Racecourse Road. The other end of the road was Kenilworth Racecourse, where they spent many a happy Saturday afternoon with mum's brother, Melville, and their friends, with parties that followed on. His next job was at Hewat."
Upheaval and a new home
But politics intervened.
"They loved their country; but it was all too apparent their country did not love them," said Reuben. "The reality became clear soon after they met, when the South African government brought into law its apartheid policies. Love across [the] racially segregated divide, [and] a regime that was to split our family apart."
It forced the couple and their children Sandra (8), Reuben (10) and Vincent (11) to emigrate to the UK in 1967. Another photograph (this one in colour) shows their ship leaving inky-blue Table Bay, the flat‑topped mountain behind. The simple caption reads 'On our way to the UK – October 1967'.
"Fil and Goy showed true courage when they relocated their young family to the UK to give us a better chance in life. We owe them so much," Reuben was to write in his eulogy.
"There was no knowing what lay ahead, and no turning back."
"We always thought the move was meticulously planned. But, it turns out, the dream [was] born out of pure naivety. Neither knew what to expect. Goy didn't have a job in the UK when he left a few months before us. Fil was forced to renounce her SA citizenship on leaving. There was no knowing what lay ahead, and no turning back.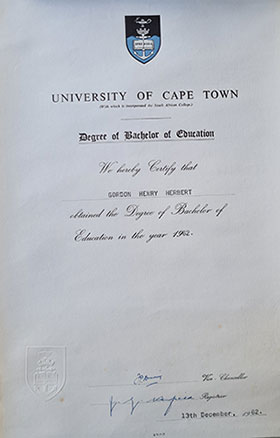 "They went through many big life‑changing moments together. The move from Cape Town to Essex – sensible, in [the] cold light of day, but a huge emotional break from all they held so dear. They would only ever see their parents a handful of times after that day."
Goy took up a teaching job in Basildon – first at Craylands, and then "his perfect job" at Barstable School, when the headmaster allowed the creative Herbert to explore new ideas in mixed-ability teaching.
"His methods were subsequently adopted by [the] school and taken up by the Welsh Joint Education Board," Reuben noted. "But dad was never given the credit he deserves for this body of work and unique thinking.
"It took some unique talent to kill off Goy's spirit for education, but [prime minister] Margaret Thatcher managed it. He fell out of love with teaching through the mid‑80s, and finished at Barstable in July 1988."
Herbert also set the tone for his children. Sandra studied at the University of Sussex, and went on to get a first in maths at the Open University. Vincent studied stage management at London Academy of Music and Dramatic Art, and went on to be head of lighting at the Royal Shakespeare Company in Stratford. Reuben played professional cricket for Essex, and went on to work in the family business.
"He was immensely proud of what his granddaughters achieved."
Herbert's legacy continued through his granddaughters, Jasmine and Olivia. Jasmine attended the University of Hull, and Olivia the University of Sussex.
"He was immensely proud of what his granddaughters achieved," said Reuben.
But like many of his generation, his father rarely spoke about himself, he added.
"We knew little of his time at UCT, and nothing ever prompted us to have the conversation."
In a later note, Reuben wrote: "I know little of the day‑to‑day life. He travelled there and back [to UCT] by train. He sometimes got a lift from a university gardener who lived nearby."
But more was revealed just before his father died.
"Earlier this year, coming up to his 90th birthday – two months before he passed away – I noticed he was sad, almost moved to tears. He'd just heard news of the fire which destroyed the university library. It must have brought back many memories, and it was the catalyst to open a conversation. If I knew what was to happen two months later, I would have asked more.

"It was only then I realised the huge sense of pride he had in being a graduate of UCT."
*'Cape coloured' refers to a racial sub-category imposed by the apartheid regime.
---
This work is licensed under a Creative Commons Attribution-NoDerivatives 4.0 International License.
Please view the republishing articles page for more information.
---