The Water Institute of South Africa (WISA) has awarded a prestigious Senior Fellow Membership to Dr Kirsty Carden, interim director of the University of Cape Town's (UCT) Future Water Institute (FWI). Dr Carden is an applied scientist in civil engineering, and the fellowship honours her 34-year-long career and many contributions to the country's water sector.
In his tribute to Carden, WISA board chairperson, Dan Naidoo, said, "This exceptional honour is not bestowed lightly, and considers the consistency of support that you have shown WISA over many years. It is, however, not restricted to support for WISA, but also takes note of the contributions you have made to the enhancement of the water sector overall, and the esteem that your actions have brought to the stature of the South African water industry."
Carden said she was delighted that a "holistic, changing and varied contribution is still recognised".
As a young UCT chemistry graduate, Carden began her water career as a pollution control officer at the Department of Water Affairs in 1987, and joined WISA at the same time. A long stint with an engineering consultancy followed, which inspired her to complete her PhD in civil engineering at UCT in 2012.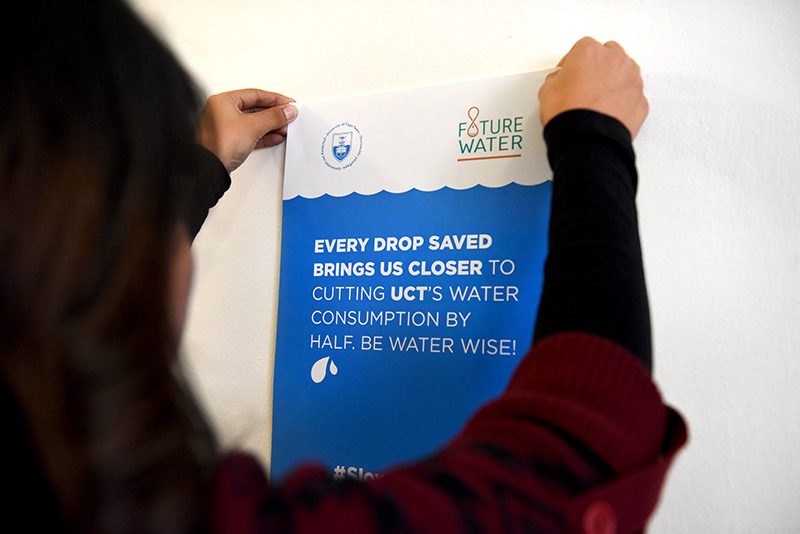 Carden has come a long way with UCT and WISA, and sees the FWI interim director's role as an opportunity to effect change by training a new, younger generation of researchers who are passionate about water. There is a countrywide shortage of well-qualified water professionals, specifically those able to respond to new ways of thinking towards the implementation of water-sensitive cities, she said.
The institute is a cross-disciplinary hub that harnesses water research across all six academic faculties. Their research vision is a sustainable and resilient water future for the country, building on water-sensitivity principles.
"My role is coordinating that research process, encouraging partnerships and participation, and building relationships with provincial and local government and other organisations that can help our research find its way into policy."
In an increasingly water-scarce country, this work is close to her heart. Years of capacity and skills shortages, crumbling infrastructure, huge financial losses and drought, compounded by climate change, have left the sector in crisis. With a daily per capita consumption of around 230 litres, South Africa's average demand is significantly higher than the estimated world average of 173 litres – and unsustainable, said Carden.
Teach water values
"We know from the Day Zero crisis in Cape Town that it is possible to reduce consumption to below 100 litres per person per day. It's not comfortable, but we can do it, and we must think of ways to reduce our water demand. But linked to that are the ways people understand, think about and value water."
Many of the challenges lie in the country's social, cultural and economic conditions, and involve people: how they perceive, manage, use and value water.
"And water can be guaranteed only if it's available."
Ultimately, we do not value it appropriately, added Carden.
"It's a contentious subject, because the Constitution guarantees a free basic water provision, and if you are indigent or poor, you should not have to pay for access to water. Those who can pay are not valuing it in the way they should. And water can be guaranteed only if it's available."
The prognosis for shortages is sobering. The country is getting drier, especially in the interior. In the worst-case scenario, temperatures along the coastal areas are predicted to rise between 3°C and 4°C by the end of the century, and up to 6°C inland.
Climate models show that the western parts of the country (including Cape Town) will become drier and experience lower rainfall and water availability. Some models suggest that the country's eastern parts could become wetter. But that rainfall could be more erratic and destructive, with shorter, sharper storms causing flooding.
The country must start building resilient infrastructure and processes to adapt its water management systems: demand management, leakage reduction, and 'fit for purpose' sources (including non-potable water) – and a new generation of canny water experts.
Catchment-area yields that feed the big dams must be protected, managed and maximised by removing alien vegetation and plantations such as pines from these water-rich zones.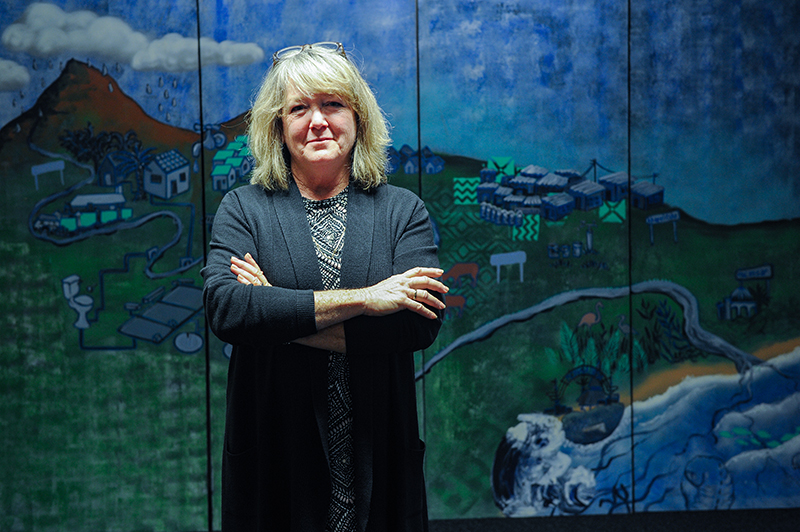 Urban catchment management is another priority.
"Up to three times the amount of water we use in Cape Town falls on the city as rain, but we capture hardly any of it," said Carden. "It's channelled out to sea – and is generally heavily polluted by the time it gets there."
The answer lies in creating water-sensitive, blue-green cities that are more resilient to water scarcity. One solution is to implement sustainable, nature-based drainage systems to filter and clean stormwater, instead of allowing it to escape into the ocean.
Here the FWI works closely with City of Cape Town authorities.
"Following the drought, we are all aware of impending climate change impacts," said Carden. "The city recently published a resilience strategy as well as a new water strategy, which both show new levels of commitment to thinking differently about the city's water."
Make research accessible
Education is key, said Carden.
"There are some wonderful NGOs and people working to change how people think about water, as well as initiatives to share knowledge. We are building that into a lot of our research."
Carden also runs a water-sensitive design community of practice programme on behalf of the Water Research Commission (WRC). This trains people in the sector to appreciate new ways of working with and thinking about water, which is then incorporated into their projects.
"We're exploring ways to include the learners in our research, bringing them into design activities and working with them."
But education must begin at school. Carden cites an example of a current project on stormwater harvesting, which is based at a detention pond located next to a Mitchell's Plain private school.
"We're exploring ways to include the learners in our research, bringing them into design activities and working with them to understand how important stormwater is and what it means in an urban environment."
This is where her relationship with WISA is invaluable, said Carden.
"WISA is very proactive in the training space and partnering with organisations that are able to conduct training, such as continuing professional development; but also other forms of training, and developing thinking and processes for water management."
Working alongside government
At a higher level, the institute works closely with provincial and local government in the Cape Town, Johannesburg, Durban and Tshwane metros. Through their WRC links they've also been able to work with the national Department of Water and Sanitation to provide guidelines for alternative water resources and greywater use. Those have been incorporated into national policy and strategy.
"So that work has started to become embedded at national level," said Carden.
It's a slow process but an invigorating space to work, said Carden – especially in the FWI, with its "young, passionate" water researchers in disciplines as diverse as environmental anthropology and eco-toxicology.
"We're building some exciting questions and research around these merging concerns in water. Many are deeply rooted in the social space: about how people and issues of social justice and inequality intersect with the research that we do.
"We're new on the block, but it's coming together."
---
This work is licensed under a Creative Commons Attribution-NoDerivatives 4.0 International License.
Please view the republishing articles page for more information.
---