Energetic discussion and enthusiastic participation underpinned the first in-person Vision 2030 workshop, which brought together leaders from across the University of Cape Town (UCT). Asking the question "Where are we with now with Vision 2030?", the aim of the workshop was to inspire participants to think critically about the opportunities and challenges presented by the new strategy, and how to move forward together.
Taking place on Monday, 10 May, the workshop was attended by university leadership, including UCT Vice-Chancellor Professor Mamokgethi Phakeng; Deputy Vice-Chancellor (DVC) Associate Professor Lis Lange (DVC: Teaching and Learning); Deputy Vice-Chancellor Professor Sue Harrison (DVC: Research and Internationalisation); Emeritus Professor Martin Hall (Acting DVC: Transformation); UCT's chief operating officer (COO) Dr Reno Morar; faculty deans; heads of professional, administrative support and service (PASS) staff; and Students' Representative Council members. It was facilitated by Abbas Jamie and Zoë Palmer from the UCT Futures Think Tank.
"At the very heart of UCT's Vision 2030 strategy lies its massive transformative purpose: unleashing human potential to create a fair and just society."
"We saw this workshop as an opportunity to reconnect, to bring new people in and to get really genuine feedback. It's a reality check of where we are," said Dr Morar, who along with Associate Professor Lange has been put in charge of driving the development of the new strategy.
"It allowed us to reflect and ask the question: How do we go ahead and move this Vision 2030 into reality, into our workspaces, new language, and into the areas of work where we actually sit and live, both at home and physically at the university?"
At the very heart of UCT's Vision 2030 strategy lies its massive transformative purpose (MTP): unleashing human potential to create a fair and just society.
Harnessing disruption, breaking down silos and pursuing deep-rooted transformation were some of the recurring themes to come out of the discussion.
Harnessing disruption
In her welcoming address, Professor Phakeng reflected on the discomfort associated with the terms "disruption" and "change". This, even though UCT has been living in a state of disruption for more than half a decade.
Starting in 2015, the university has had to deal with a range of unprecedented events, including student protests (first Rhodes Must Fall and then Fees Must Fall), the tragic passing of the former dean of the Faculty of Health Sciences Professor Bongani Mayosi, and the devastating rape and murder of first-year student Uyinene Mrwetyana.
More recently, COVID-19, a crisis in higher education funding and the fires that affected campus have brought additional challenges to the table.
"Today we face a combination of factors that contain very real threats to us," said Phakeng. "But fortunately, disruption can always push us into action."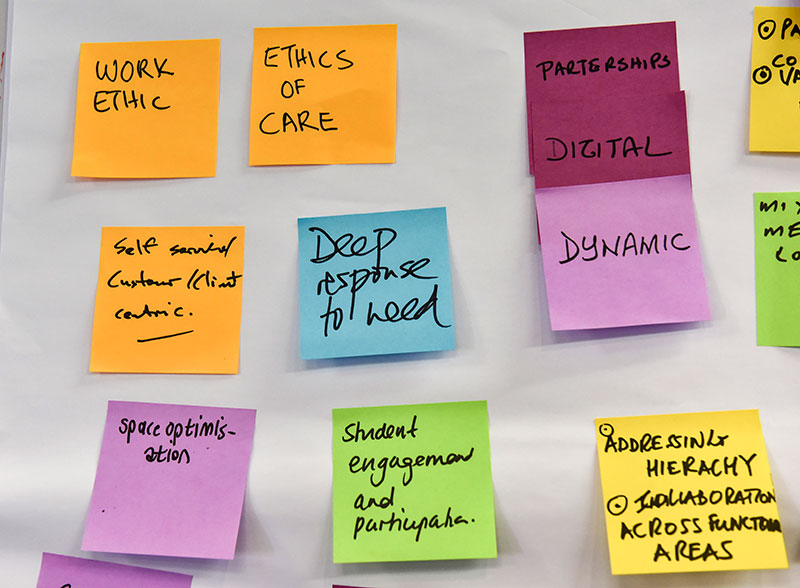 However, there's a fine line between embracing disruptions as catalysts for institutional change, and constantly working reactively instead of proactively, said Jamie.
"The problem with responding to disruption is that you end up in someone else's future," he explained. "So it's very important that as a future-focused organisation, we design what our future looks like."
This is ultimately what Vision 2030 is all about, Jamie added – setting a strong 'North Star' that can serve as a guide through problematic disruptions.
"It's not about getting the strategy perfect; rather, it's about identifying our North Star – in this case, our MTP – and following it. It's about making sure that [our] strategy is agile enough to respond to whatever disruption we encounter along the way."
Adding to this, Morar said that to achieve Vision 2030, there must be a good conceptual framework, active experimentation, and the acceptance that the process will not necessarily happen sequentially.
"For those who want to go from A to B to Z … unfortunately, it's not going to happen. Why? Because life and change don't work that way," he said.
Breaking down the silos
For an institution such as UCT, comprised of myriad components, following one's North Star requires extraordinary collaboration and teamwork – something which is often hamstrung by a siloed approach to work.
Phakeng asked the question: How can we make the transition from being an institution of many different units to an organism where our excellence flows more organically?
"Dismantling silos will not be easy, because we feel comfortable in and gravitate towards them," she added.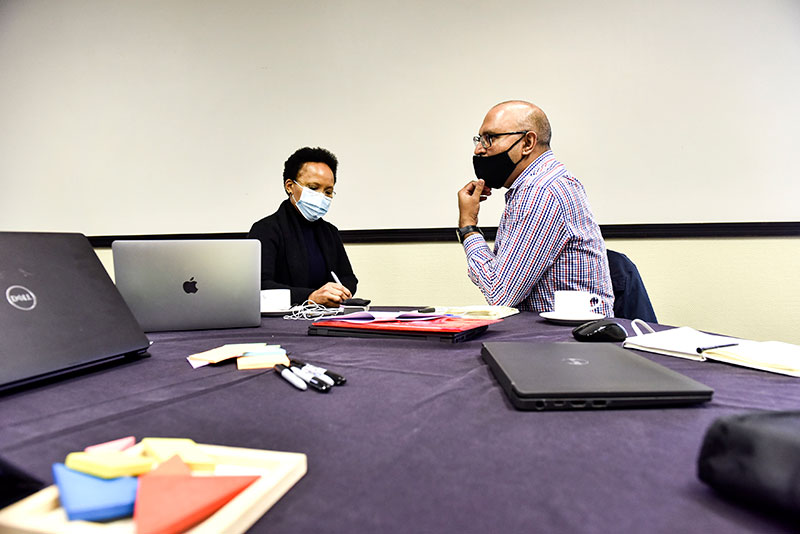 In terms of research collaboration, Professor Harrison said that working across silos at UCT is still challenging; if not intellectually, then certainly organisationally.
"We need to address that and find ways of facilitating working across the university in an un-siloed way," she said. "We can't contribute substantially to the core global challenges without working as teams."
Adding to this, Emeritus Professor Hall pointed out that one of the things that most inhibits transdisciplinary work is spatial constraints, and having too few physical spaces that encourage collaboration.
During the workshop, attendees were encouraged to start putting the work of transcending boundaries into action by interacting with those with whom they were not yet familiar.
"I want to encourage us to stop seeing those boundaries as solid lines, but rather as doorways for us to work together in new ways," Phakeng concluded. "This is important for us to achieve the goals we've set for ourselves as part of Vision 2030. It can also result in all of us enjoying our work more, because we are learning to see each other in different ways."
Pursuing deep transformation
In many ways, transformation is the "golden thread" connecting all the different facets of Vision 2030.
With the latest statistics showing that 41.4% of UCT's 2021 undergraduate student population are the first of their families to attend university, it's becoming increasingly important to consider where students come from and what knowledge they bring with them. It's also increasingly important to create more accessible and welcoming campus space – not only for these first-generation students, but also for the wider community.
In his presentation around transformation, Hall framed the recent UCT fires as an opportunity to start the work of reimagining and rebuilding a campus that truly reflects UCT's place as a beacon of Afrikan excellence.
Concluding her address, Phakeng upheld "humility to acknowledge and correct mistakes" as one of the most important traits needed for successfully achieving Vision 2030.
"As we launch the implementation of Vision 2030, we need to ask ourselves: What does it mean? What are the opportunities? And are we humble enough to critique ourselves as an institution?"
---
This work is licensed under a Creative Commons Attribution-NoDerivatives 4.0 International License.
Please view the republishing articles page for more information.
---