Hey,
My name is Jade. I am in my 4th year of civil engineering.
Sunday:
A few friends and I decided to have a late breakfast at a restaurant on Lower Main Road, Observatory. When we were walking back at 12:30, we noticed a curved strip of fire running from the base of the mountain all the way to the top, past the Block House. We were intrigued so we all stopped to take videos and photos. It felt like we were watching a big sports match, cheering the helicopters on when they managed to relieve a big chunk of fire with their (what looks like compared to the fire) small bucket of water.
We stayed for 10 minutes and then went back to the house. I decided to have a nap at 13:30, and a few minutes into this nap, Scott , my flatmate, calls me to tell me to come home immediately as people in Mowbray had been told to pack up their essential items and evacuate the area.
I began to organise an uber to my house which was about 8 minutes away on a normal day, however, the Ubers were at closest, 10 minutes away. I decided instead to ask my friend to drop me off instead, not too concerned about the severity yet as we were unaware of what we were about to encounter.
As we reach Main Road, we hit what could have been peak hour traffic, however it was 13:45 on a Sunday afternoon. There is a swarm of cars hooting and moving slowly down Main Road towards Mowbray, and large crowds of students moving just as slowly from a res located along Main Road.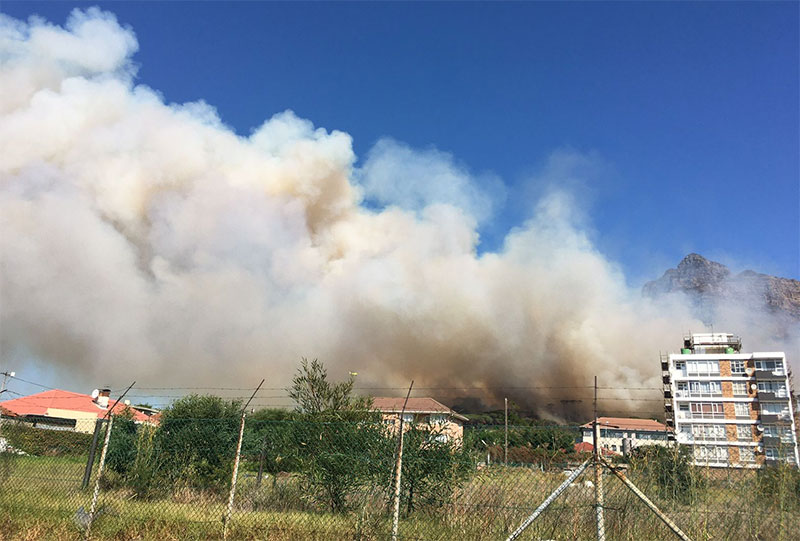 I tell my friend to turn right to get into Mowbray at the robot. When we get to the intersection and indicate right, a traffic officer insists we cannot turn right. I shout that I have to evacuate my house, that I am just being dropped off, but the traffic officer gets more and more annoyed as he is working alone in the middle of a busy intersection, dealing with many panicking drivers and pedestrians.
I start to get out the car so that I can run up the road and get home, when he says in a stern loud voice that our car is blocking the way and we cannot just park in the middle of the road! (On any normal day, we would not have been so careless). We decided to turn left instead. It had been more than 10 minutes at that point and my flatmates start to wonder where I am. My phone keeps buzzing but I can't answer it as I am running through a large crowd of students who were heading to the Police Station (which is where the students were initially told to evacuate to before it was decided that the Rondebosch common would be a safer place to evacuate to).
I decided to take my sandals off and started running towards my house. Now, I am aware that running during a crisis is exactly what they tell you not to do in this situation. I realise this quickly because I could feel the adrenaline increasing the more I was running. I finally reach the gate of my house on Welgelegen Road, when I see the car has been packed and all my flatmates were just waiting for me to grab what I could. (Looking back, I didn't realise this at the time, but the whole road was covered in smoke, it looked like an apocalypse. The sky was orange and grey, the ground was hot, and I was thirsty).
I finally get into my room and the second I stop running, I am overwhelmed by an intense amount of emotion and anxiety that I stop being able to breathe and burst into tears.
Michaela (who also lives with me) and Scott had lived through the heart of the Knysna fires, so they knew exactly what to say and do in the situation, even though they seemed a lot more on edge. They manage to calm me down and helped me find my important documents. Perhaps a minute later, we are squeezed into a car with 3 guitars, a tv, and bags of other essential items (It is very difficult to decide what is important to you when you cannot even remember your name!)
We arrive at Josh's (flatmate) aunt's house in Rondebosch, where we have nothing to do but watch the fires and try to calm down.
This is not very easy to do when you are a student that has assignments and projects to do, tests to study for, and a degree to pass ... where time is a problem. Now, the 5 of us are at this house, too panicked to work, but not calm enough to relax. It took a few pep talks to get us to relax finally.
Josh had his scooter which he used to get to the house and back in order to assess any damage and whether we could go back or not. He had informed us that there was a palm tree at the top of our road that had caught fire, as well as the res at the top of the road, and that there was smoke enveloping the whole area.
We were finally allowed home at around 7pm that evening, much to our relief. We were fortunate enough to come back to a perfectly upstanding house, and intact neighbouring houses, too. The fire had just missed the bottom of the road.
Big thanks to my digs: Michaela for keeping me calm and helping me find everything I needed, to Josh for remaining calm and doing the heavy lifting, to Patrick for being an aura of peace and remaining calm – especially for reminding me that sometimes you are not in control of your life, and it's really okay. And Scott for smiling through the whole thing, except perhaps when his TV got scratched because I put the guitar in a little too hastily.
It's wholesome to see our community being so helpful and thank you to all our friends that offered us a place to stay!!
Jade Buitendag
This content has been published with little editorial intervention from UCT News.
---
This work is licensed under a Creative Commons Attribution-NoDerivatives 4.0 International License.
Please view the republishing articles page for more information.
---