Researchers from the University of Cape Town's (UCT) transdisciplinary Future Water Institute recently highlighted some of their projects that explore different ways of valuing water. This is in keeping with the theme for this year's World Water Day on 22 March: "Valuing water" – determining what water means to people, understanding its true value and learning how best to protect this vital resource.
Four of the institute's emerging researchers – Jessica Fell, Emily Nicklin, Kalpana Maraj and Amber Abrams – presented at a webinar hosted by the Water Institute of Southern Africa on some of their research projects that intersect with this theme.
Fell, a PhD candidate, provided an overview of the Future Water Institute's multifaceted research offering, highlighting its vision of sustainable and resilient water futures. She explained that the institute's mission is to conduct engaged research on water-sensitive approaches that sustain society's current and future water needs, while recognising the diverse meanings and values attached to water for and by different people.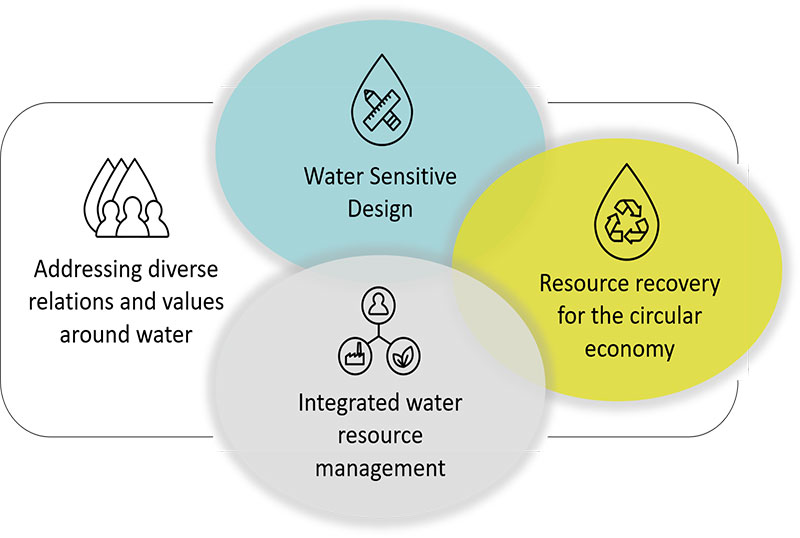 One of the four key research themes at the Future Water Institute is water-sensitive design, an approach that gives expression to the numerous values of water through the elements of physical infrastructure, governance arrangements and social engagement within the ultimate goal of a water-sensitive city.
One of the main ongoing projects under this research theme concerns the management of a dedicated community of practice funded by the Water Research Commission, which facilitates the widespread implementation of the water-sensitive design concept in South Africa through its focus on knowledge sharing, stakeholder engagement and capacity development activities.
Another current project that broadly considers the question of what water means to different people is titled "Pathways to water-resilient South African cities" and is being undertaken in partnership with the University of Copenhagen, Denmark. This project explores both the physical and institutional pathways to water resilience. By considering these two elements in tandem, it assesses the means of alleviating water stress sustainably, specifically through transition experiments on the repurposing of storm-water ponds in collaboration with local residents.
Recovering resources
Valuing water is a key theme in Nicklin's MSc research, which explores the role and importance of nature for recovering resources from polluted water and reusing these productively.
Her research on nature-based processes for cleaning and treating contaminated surface water run-off from an informal settlement, and then using the water to irrigate vegetables, is taking place at the Water Hub, a developing living laboratory and research site near Franschhoek.
The work is being undertaken together with other members of the Future Water Institute, postdoctoral fellow Charles Teta and founding member of the Future Water Institute, Dr Kevin Winter.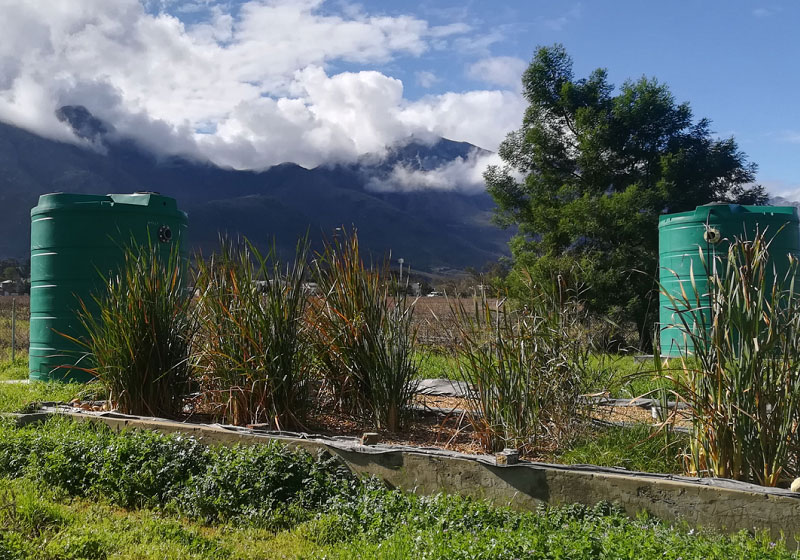 Focus on filtration mechanisms
Maraj's MSc research, jointly supervised through the Centre for Bioprocess Engineering Research (CeBER) and the Future Water Institute, explores water values in yet another way; this time, a more technical rendering of value is needed in this chemical engineering-based biofilms project.
The research is focused on filtration mechanisms in a laboratory setting, with the aim of evaluating the treatment capability of the biofilters that have been installed at the Water Hub – and thereby providing insights into the potential of nature-based methods to treat polluted run-off from informal settlements.
This project is aimed at understanding the physical and biological processes that govern these biofiltration systems through nutrient degradation studies conducted at pilot scale. The results obtained thus far have been promising, with significant reductions in the main nutrient-based pollutants (ie an ammonia reduction of up to 85% and an orthophosphate reduction of up to 83%) being observed.
This provides scope for further consideration of this treated water for a range of purposes associated with sustainable livelihoods.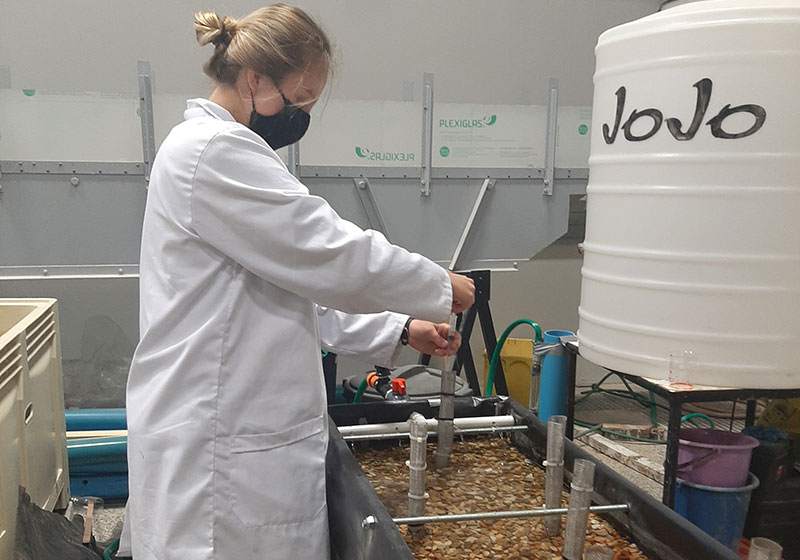 Social relations and public environmental health
"All of the research at Future Water is underpinned by our research theme: 'Addressing diverse values and relations around water'," Abrams said during the webinar. She is a Carnegie Developing Emerging Academic Leader research fellow at the institute, whose work has a strong focus on the intersecting themes of social relations and public environmental health around water. She presented on "water-world mapping" and other engaged and arts-based research methods, while introducing the newly developed Water Map and the Cape Town Museum of Watery Relations and Uses.
This map is an interactive and growing effort to develop an understanding of how different people value water. The map aims to gather a broad range of "watery" landscapes that citizens feel are important, to provide an overview for "watery" engagements (projects, groups, activists, etc) and also to provide a space for visitors to the site to upload their own experiences and information.
"Through this map we invite you, the UCT community, to engage, explore and add your own input."
The map forms part of the Cape Town Museum of Watery Relations and Uses project and also contributes to the Water Research Commission's Water Sensitive Design Community of Practice programme, led by the acting director of the Future Water Institute, Dr Kirsty Carden.
The water map provides an interactive space, where:
individuals can input their own water sources and related stories, images or efforts
groups and organisations linked to water can share their projects and network with others
researchers and funders can begin to understand the water-use and watery-engagements landscape
we can all come together around the vital resource of water to better understand our watery needs, relations and uses.
"Through this map we invite you, the UCT community, to engage, explore and add your own input (here is more information on how to get involved)," said the researchers.
"Join us in gathering stories, projects, groups, efforts or your drawings, perspectives and interest groups around water in this online interactive space by visiting the South African Water Sensitive Design Community of Practice website and the Future Water Institute website to learn more about the work we do."
---
This work is licensed under a Creative Commons Attribution-NoDerivatives 4.0 International License.
Please view the republishing articles page for more information.
---