The University of Cape Town's (UCT) new executive director of research, Dr Linda Mtwisha's, first morning in a near-empty Bremner Building was an "unusual" experience. And although COVID-19 has brought turmoil, she's upbeat about the possibilities of the times. She spoke with UCT News about her first 100 days in (a virtual) office.
Helen Swingler (HS): Joining UCT in October 2020 meant moving from Johannesburg – a significant change in environment and culture. How have you settled in?
Linda Mtwisha (LM): It has been a significant move, leaving behind my family and the rest of my support base. Even though I grew up and studied in Cape Town, it has not been easy coming back after living in Johannesburg for 15 years. The cities have distinct cultures with unique offerings. True to its coastal city way of doing things, I was particularly shocked to learn that most Cape Town offices shut at 17:00, unlike Johannesburg. But it's a difference I'm willing to embrace as I believe a balance between work and life is critical.
"I was particularly humbled by the vice-chancellor's gesture of making me a warm cup of my favourite tea on my first day at work."
The reception from Sue Harrison, the deputy vice-chancellor for research and internationalisation, the Research Office [RO] team and the broader UCT community has been welcoming and warm. I was particularly humbled by the vice-chancellor's gesture of making me a warm cup of my favourite tea on my first day at work, which was a cold morning. This left a warm impression and an indelible feeling of caring and humane leadership at UCT.
HS: You've returned to your old academic home (you did your PhD in biochemistry here) under circumstances dominated by a pandemic. Has this been a baptism of fire?
LM: There is no doubt that the empty, echoing corridors of the Bremner Building as I made my way to my introductory meeting with Sue was unusual and peculiar! Starting a new job during a lockdown has its pros and cons. It has certainly tested and stretched us to levels we never imagined. Yet I believe there could have been no better time to arrive, since the prevailing circumstances call for all of us to review, adjust, innovate and reimagine new ways of doing things to ensure we remain agile, responsive and relevant; to ensure continued delivery of excellent performance. I'm thrilled by the opportunities to facilitate growth and introduce innovative ways, something my role and the current times afford me.
Having to establish relations and a rapport with team members and colleagues virtually has been unusual, not easy at times, although doable. To a great extent, relationships facilitate ease of doing what we do. How do we create a connected and meaningful engaged workforce under remote working conditions?
I realise that remote working has also provided me with a soft landing as I navigate my new role in a new environment and city. I hope that, despite challenges, we can all move forward with the confidence that we can learn, unlearn, reinvent and adapt.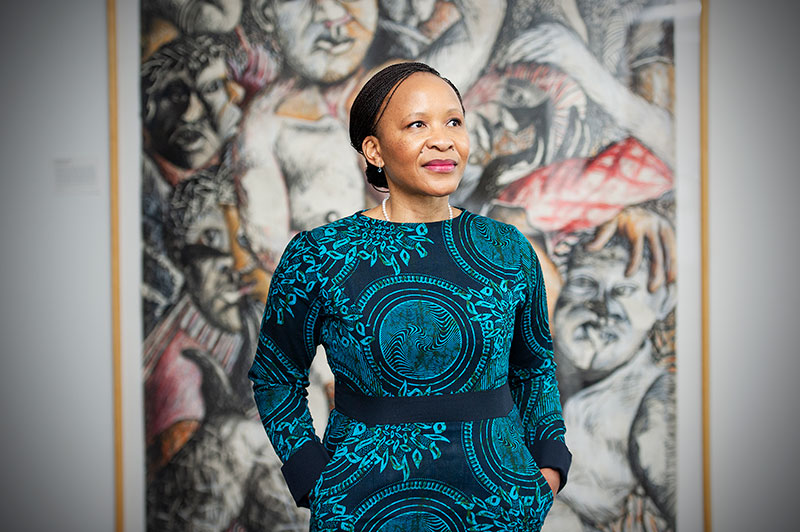 HS: What have been your main achievements and challenges, and what have you enjoyed most?
LM: Research at UCT is doing very well and the RO provides incredible support. However, Vision 2030 provides new opportunities to reinvent and adapt. This year's theme, and my past 100 days in particular, can be characterised by these two words. I am committed to understanding how to introduce this innovation and agility in a balanced way. I don't believe that we must change all that is old. We must retain what is working while creating the environment that enables us to respond to what is to come. I aspire to provide meaningful and significant value, and the past three months have been about understanding the context I've found myself in. My philosophy is to move slowly at first to move faster later.
HS: COVID-19 has shrunk economies around the world. In every sector budgets have been cut and priorities reassessed. How has this affected the funding environment?
LM: Most funding agencies are having to respond to the challenges brought on by the pandemic – this has been a trend we have been seeing. However, COVID-19 has accelerated the processes. The question is: How do we respond? In response to Vision 2030, efforts will be made to fundraise or solicit funding that will give the university flexibility to support strategic areas in a way that will enable us to achieve our 2030 research strategic goals. The RO's International Grants Hub does hugely important work, helping researchers with research proposal development. Last year alone they provided support on submitted research grant applications of over R900 million. It's a small team, and we are working to ensure we optimise their efforts in supporting our researchers and transferring the skills where possible. We want to link funding opportunities to the right people in creative and efficient ways, offering more than just a database of opportunities they can peruse.
"The [funding] challenge is real; it requires strategic and prioritised allocation of resources."
We also have to ensure that we efficiently manage our research grants and deliver on contractual obligations. Sue is championing a project to streamline our post-awards processes to ensure we accommodate different funding entities' requirements.
We also want to strengthen support interventions for all our researchers – from emerging to established researchers – to help them translate their research findings to publications as well as to successfully train and mentor postgraduates. These provide an alternative source of revenue, through publication and graduation subsidies.
The [funding] challenge is real; it requires strategic and prioritised allocation of resources but, most importantly, we need all hands on deck to secure third-stream income and the systems that make it easy to manage funds efficiently.
HS: UCT has been able to maintain its international rankings, and our commitment to high-quality research has played a large role. Do you foresee that the events of 2020 will affect research outputs?
LM: We do anticipate knock-on effects on research outputs and productivity to some extent. However, I believe these will be evident in a year to two years' time, taking into consideration the cycle of research activities and the publishing cycle. I expect to see a continued trajectory in our research outputs this year. Despite the challenges of 2020, I believe that many members of our research community as well as professional, administrative support and service (PASS) staff remained committed and demonstrated a great spirit of tenacity and diligence. I hope that mitigation plans put in place by the university will also provide the required buffer. For example, in bringing academics and students back to campus, UCT prioritised those who needed lab access to ensure they could continue with their research activities.
"To ensure [our] continued reputation of excellence, we need to make certain deliberate choices now."
The research community has also responded in many creative ways. This has been the inspirational side of the crisis; people became more creative. We saw researchers developing online research questionnaires and conducting interviews virtually. They swiftly adjusted. We're constantly looking at avenues to mitigate the effects of the COVID-19 pandemic on research, publications, graduating students on time and even the potential loss of funders.
While globally higher learning institutions are affected one way or the other by the COVID-19 pandemic, I believe that UCT is not, at least yet, in a precarious position and that we can maintain our stature. However, to ensure [our] continued reputation of excellence, we need to make certain deliberate choices now.
HS: What are the RO's main priorities for 2021? With vaccine roll-out bound to be slow, I'm assuming it won't be business as usual for some time.
LM: 2021 will not be business as usual. The effects of the pandemic will continue beyond 2021. One of our priorities will be to facilitate access to funding opportunities at individual (researcher) and institutional levels, in line with strategic research priorities. This will be supported by targeted showcasing of our research to facilitate and stimulate strategic partnerships. The RO will support the (research component) implementation of Vision 2030. This will mean aligning resources to institutional strategic goals.
"Our focus on human capacity development – to build a diverse and inclusive research community – remains a priority."
Focus areas include a business processes review – streamlining and taking our workflow online to ensure we offer agile and responsive services. There is a concerted effort driven by Sue to provide solutions to the historical challenges of some university-wide business systems and processes. We're also working to increase collaborations within the RO, across the university and between institutions. I am particularly keen on developing our data analytics capabilities to support strategic and data-driven decision-making within the RO and institutionally. I believe data is the new currency. Our focus on human capacity development – to build a diverse and inclusive research community – remains a priority. We particularly want to improve the postdoctoral research fellows' experiences and culture at UCT. People are key to the RO's success.
The well-being of the staff members is of utmost importance to me.
---
This work is licensed under a Creative Commons Attribution-NoDerivatives 4.0 International License.
Please view the republishing articles page for more information.
---