For those who enjoy the fishy things in life – rods and reels, hooks, sinkers, floats and lures – lockdown has been a time of patient resignation (read frustration) for fisherpeople. But the University of Cape Town's (UCT) Dr Rob Little found a way to keep his fly-fishing wrists flexed. All it needed was a stretch of the imagination.
The manager of the FitzPatrick Institute of African Ornithology Centre of Excellence, Dr Little has been fly-fishing since his teens. He managed the Cathedral Peak Mountain Catchment Reserve in his early career, a bonus for his young family who grew up enjoying regular trout dinners.
While studying for a BSc in Wildlife Resources at the University of Idaho, Little caught cutthroat trout in the alpine lakes of British Columbia, Canada; the seep hole lakes of Washington state; and in the Clearwater, Lochsa, Salmon and Snake rivers flowing out of the Rocky Mountains. He's also caught brown trout in Scotland, tarpon and cubera snapper at Kwanza Lodge in Angola. In the 1980s he fly-fished most of the rivers of the KwaZulu-Natal Drakensberg.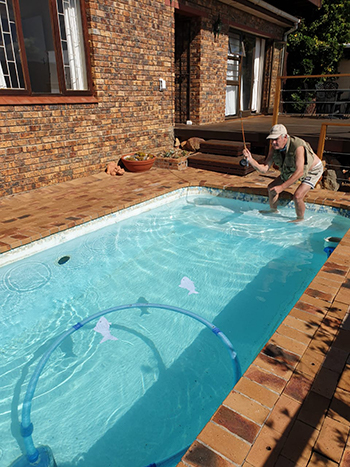 This year, he arranged a fishing trip to the Orange River in April but was bitterly disappointed when lockdown scuppered his plans. With his casting practice suffering, Little needed a strategy.
His was simple and pragmatic – and brought new meaning to home schooling. If Moses baskets could float on the Nile, he figured paper fish would float on his pool, giving him something to aim for casting from the step (no waders required), knee-deep in its crystal water (yes, a chlorinator runs through it).
Question: Did he use a lure or bait? Bits of peanut butter sarmie perhaps? Answer: Ha ha. No bait, but flies, some of which he tied himself.
Going north
Come late September and lockdown Level 1, Little was in fine casting form. Orange River holiday plans resurrected, he hit the road north.
"The dry, rugged Kalahari system with quiver tree patches and sociable weaver nests has a special attraction for me, and we also visited the Augrabies Falls when we were up there," he said.
The backyard practice paid off. In one holiday snap, Little is just managing to hold up the weight of a magnificent specimen of the elusive largemouth yellowfish.
"It's one of the biggest freshwater fish that I've caught on a fly."
"It's one of the biggest freshwater fish that I've caught on a fly," he affirmed.
How was that done on a river that flows steadily towards the Atlantic?
"We stopped against a rock and fished from the inflatable canoe, or we'd get out of the boat onto a rock to cast. We used large streamer flies."
How far up or down the river? (Fisherpeople can be coy about these details.)
"We'd leave the camp at Onseepkans and work our way down the river for about 5 km, which took about five hours as we were fishing as we went. The camp manager would then fetch us with a bakkie and trailer."
For all the fish?
"Ha ha."
Little's experience is not limited to inland waters, suburban or wild. He's a regular estuary and surf fisher, his favourite being grunter fishing in the Breede River at Witsand.
River birdlife
What of the birdlife he saw along the Orange River? Anything unusual to 'bring home' to the FitzPatrick Institute?
"The birdlife is interesting because it is an extension of eastern South African riparian birds into a sliver or narrow oasis along the Orange River. Some special birds are rosy-faced lovebirds coming into the riverine vegetation from Namibia, lots of little bitterns and even African jacanas, which are unusual for this otherwise desert environment.
"We also had Palearctic migrant icterine warblers in the camp, which is very far west and early in the season for that species. The little Orange River white-eyes, which are a sister species to our Cape white-eye, are also always nice to see."
The Orange River fishing and birding interlude was most welcome in what has otherwise been a long home stay. Besides backyard fly-fishing, Little has used lockdown to publish some new research papers (one on Egyptian geese on golf courses) and a few popular articles, and update his book Terrestrial Gamebirds & Snipes of Africa: guineafowls, francolins, spurfowls, quails, sandgrouse & snipes. This will appear early next year as a new edition titled Gamebirds of Africa.
"Perhaps the most humorous and practical anecdote from this time is that 2020 is my final year before retirement – and lockdown has given me the sternest test of what that might be like. However, I also found that it was generally easy to cope with, which is a pleasant relief!"
---
This work is licensed under a Creative Commons Attribution-NoDerivatives 4.0 International License.
Please view the republishing articles page for more information.
---